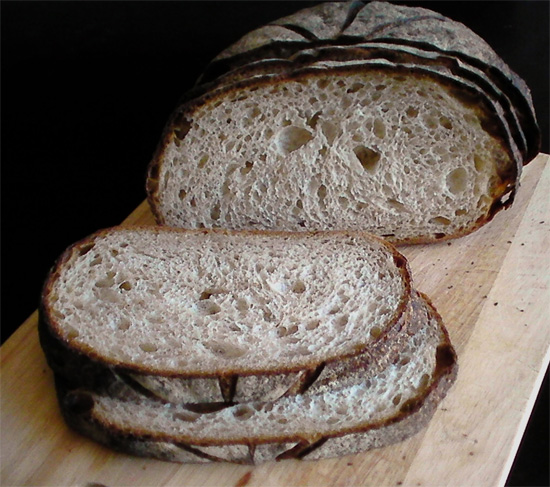 Here is a boule I made last weekend that is worth sharing.  I had replenished my starter but didn't have enough bread flour on hand to make up my usual dough. I knew if I made a trip to the store, by the time I came back, my starter would be past its peak, so I just made up the difference with the flours I had on hand. 
I really liked the flavour of this loaf and it improved throughout the week.  Here is the recipe:
150g starter @ 100% hydration
300g water
3g diastatic malt
50g whole wheat
25g rye
25 all purpose
100g semolina
250g bread flour
9g salt
 Whisk up starter, water and diastatic malt.  Add remaining flours in increments and mix until all the flour is hydrated.
Add salt and knead until medium gluten development.  I don't have a mixer, so I always knead by hand.  It takes about 8 to 10 minutes of quite vigorous slapping and folding. 
bulk ferment 2 hours with a stretch and fold at the one hour mark
Pre-shape, rest 20 mins, shape.  Allow to rise to about three quarters of its final volume, then retard in the fridge overnight or for about 8 - 12 hours.  Bake, with steam, at 230C for 10 mins, turn oven down to 200 - 210C and bake for another 40 mins.  Keep and eye on it to see that it is not over browning and turn oven down, if necessary.
Syd