Sourdough recipe for beginners
In response to a thread, I thought I'd start a thread with simple sourdough recipes for beginning sourdough bakers.
The idea is that the recipes are:
use steps that build upon well-established baking techniques
forgiving enough if starter hydration is not exactly 100%
use common ingredients (that you can find at any supermarket)
use a minimum of ingredients (no more than 7)
The recipe does assume that you have a healthy starter which:
is well-established (at least 14 days old and has lived at moderate room temp (between 65F and 75F) for that period of time); 
has been fed regularly (i.e., 2x or 3x per day) for the last 3 days, and is being stored at moderate room temp (between 65F and 75F) for that period of time; 
is active (can double within within a 4-6 hour interval) and (again!) is being stored at moderate room temp (between 65F and 75F) for the last 3 days; and
is at 100% hydration (that is, it's fed using 100g flour and 100g water for every 50g of reserved starter)
If your starter can't do all of these, the recipe might still work, but won't work nearly as well.  Requirements: You'll need a small digital scale to weigh out the ingredients in grams (if you're a beginner who's serious about baking, you'll find this a cheap and worthwhile investment).  
cranbo's Beginner's Sourdough - makes one good-sized loaf
(OP updated 2013-06-06)
Originally posted Sept 2011
Flour (100%): 550g* 
Water (56%): 308g**  
Starter @ 100% hydration (20%): 110g
Salt (2.2%): 12 g
Wheat germ (1%): 5.5g (or 1 tbsp) (optional)
Total (179%): 986g
*This recipe was originally designed for all-purpose flour or bread flour, which most people have; you can use whole-wheat flour but the result will be more dense; 100% rye flour not recommended for this recipe. 
**if you use only whole wheat/wholemeal flour, use 378g water, whole wheat absorbs more moisture, and if you don't add more water, your loaf will be dry. 
Dissolve starter in a portion of the water.
In mixing bowl, add starter, remaining water, flour & wheat germ.
Stir/mix to combine, until all raw flour is incorporated, 1-2 minutes.
Let rest for 20 minutes.
NOW ADD THE SALT. 
Knead for 5 minutes in mixer on lowest speed, or 10 minutes by hand. It might be a little sticky still, that's OK.
Stretch and fold the dough 4 times, with 30 minutes rest in between. (search TFL for "stretch and fold"; this means:

flatten your dough into a rough rectangle
tri-fold your dough like you would a letter: first top-to-bottom, then left-to-right. You will end up with a nice package. Flip it seam side DOWN back into the container where it will rest. 
NOTE: it helps to dip your hands in water, or spray them with cooking spray, to keep the dough from sticking to your fingers when doing stretch and fold. 

Shape into desired shape (boule, loaf pan, etc.; read up on shaping techniques here on TFL). 
Now cover the shaped dough, and refrigerate overnight. This will help develop a lot of flavor. 
The next day, let it rise, covered, in a warm place until a bit less than doubled. This can take a long time, plan for 3-6 hours. Pay attention to the bread (learn how to do the poke test to know when it's ready). As I said, it should be just a bit less than doubled. 
About 1 hour before you think you're ready to bake, preheat your oven to 450F.
Right before baking, SLASH YOUR LOAF with a knife or a razor. 
Next, create some steam in your oven (1c of hot water on a hot sheet pan is one way to do it).
Bake at 450F for about 40-45 minutes; check at about 30 minutes, reduce heat to 400F.
Remove and let cool on rack at least 1 hour before eating.
Baking Variation: instead of Step #12, carefully place the uncooked dough in a cold Dutch oven. Then follow the remaining instructions, baking the bread in the cold dutch oven for 20 minutes, uncovering, and baking for 20-25 minutes uncovered (for the same total baking time, around 40-45min). The Dutch oven technique gives you great oven spring and nice browning. 
My results: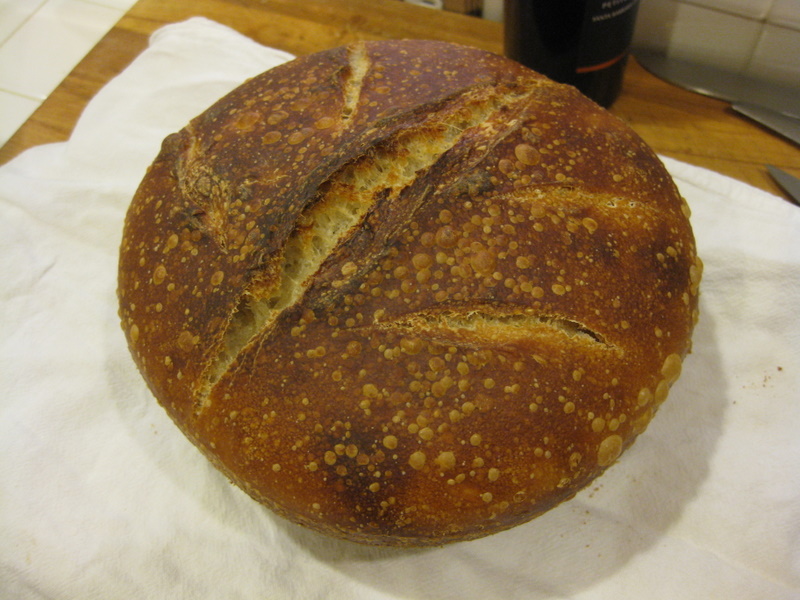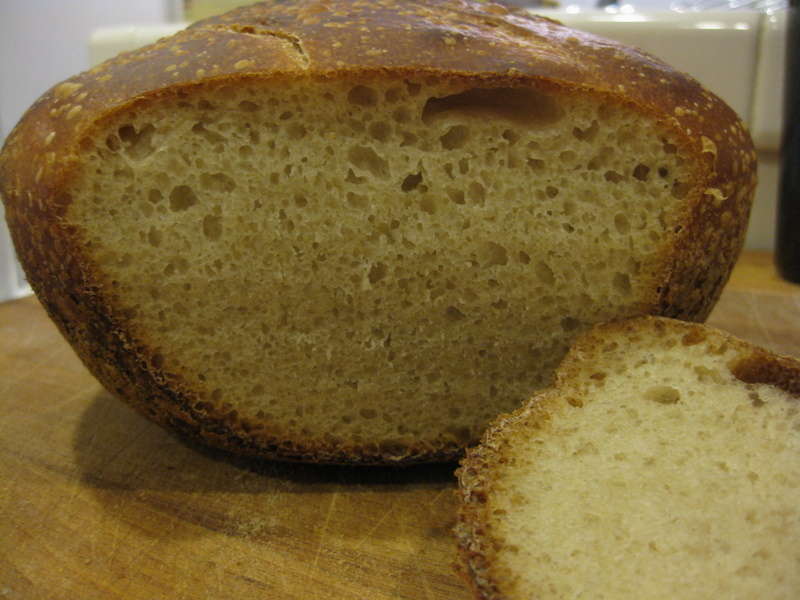 The funny shape is due to the shape of the enameled cast-iron pot I baked it in. 
If you try it out, let me know what you think.