2nd attempt at a Pain Rustique
I'm new to this and have only done around 7 breads so far (each one progressively better than the last for the most part)  However, since my first attempt at a pain rustique didn't fair well, I decided to give it another shot today.  I mixed my poolish last night (100% hydration) but ended up having to t'fer it to a larger bowl very early this morning (put it in one that was way too small for some reason).  I have to say, the wonderful fragrance that leaps from the bowl when you first remove the plastic wrap from this stuff is just incredible!  Here's what it looked like after 13 hours: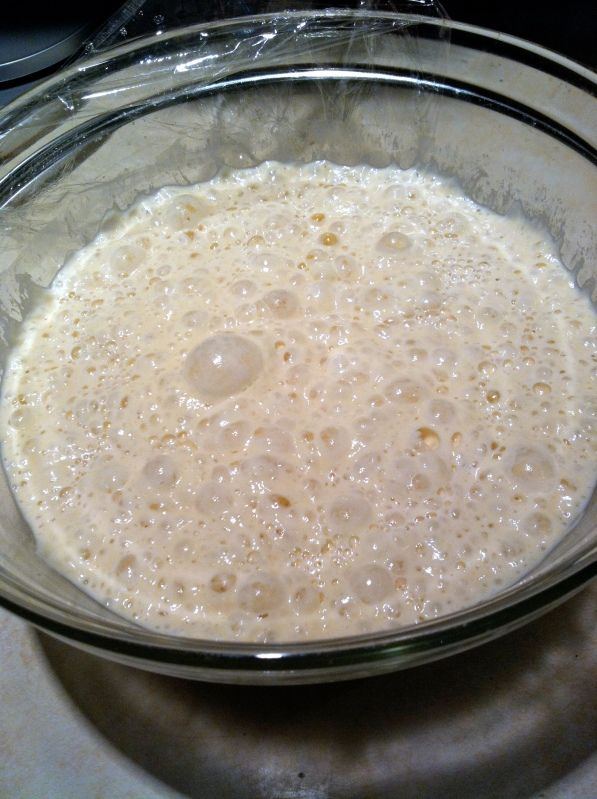 Here's the formula that I calculated based on Hamelman's pain rustique.  I simply typed in my figures into a  "design worksheet" pdf along with my notes.  I guess I got it right considering the end result :)
I proofed 900g of dough in a 8" X 10" X 3" homemade banneton (cost me all of $2).  After 20 min I inverted it onto a peel.   I had trouble scoring (as usual).  The dough, while manageable after the stretch and folds, was still pretty sticky so the knife tugged on the surface of the dough.  Maybe this will be easier after I get my lame this week.  After my pitiful scoring, the dough somewhat deflated...
However, after just  10 minutes (at 465F on a stone), it seemed to perk up a bit.  I did pour a cup of hot water into a pan on the bottom of the oven for steam as well as sprayed the top of the loaf and the oven walls (twice).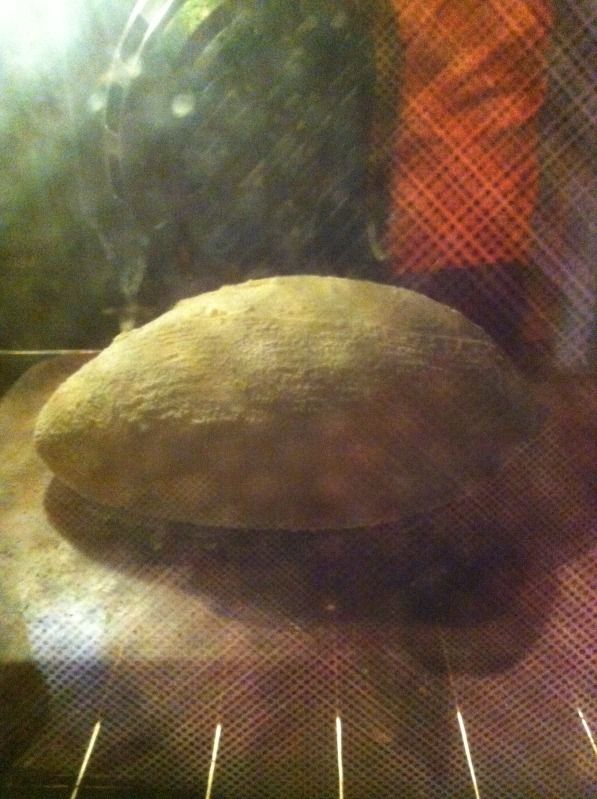 I continued baking while keeping an eye on the color... at 40 minutes, I decided to take it out.  The internal temperature was 205.  Overall, this one looked the best to me.  No "singing" was heard but there was a lot of nice crackling going on.   (The oval shape somehow got a little distorted getting it from the proofing basket to the peel)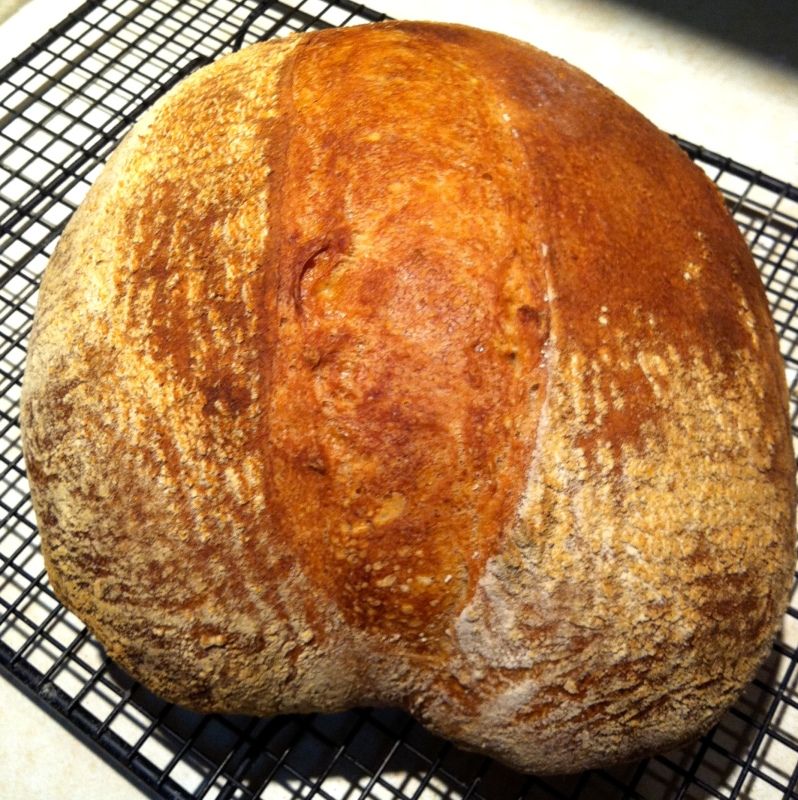 The crumb came out better than any of my other breads.  It smells and tastes great but I'm wondering just what the "bite" of the crumb should be like?  This has some resiliance to it; chewy but not tough and it does dissolve in the mouth nicely.  Is it that I'm tasting good bread for the first time or did I screw this up and simply produce bad bread?  :) )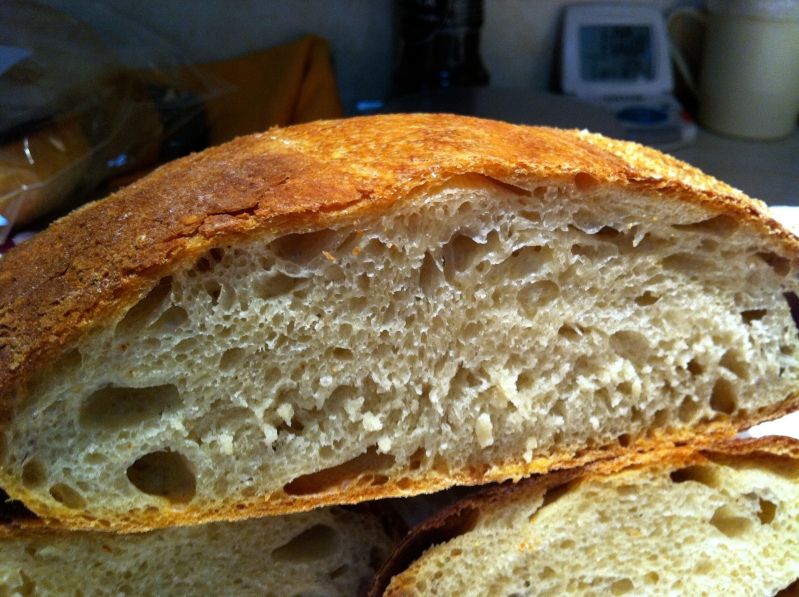 Here's a cross-section of an end piece.  The larger air pocket has a bit of a sheen to it.  I've read somewhere this is a good sign?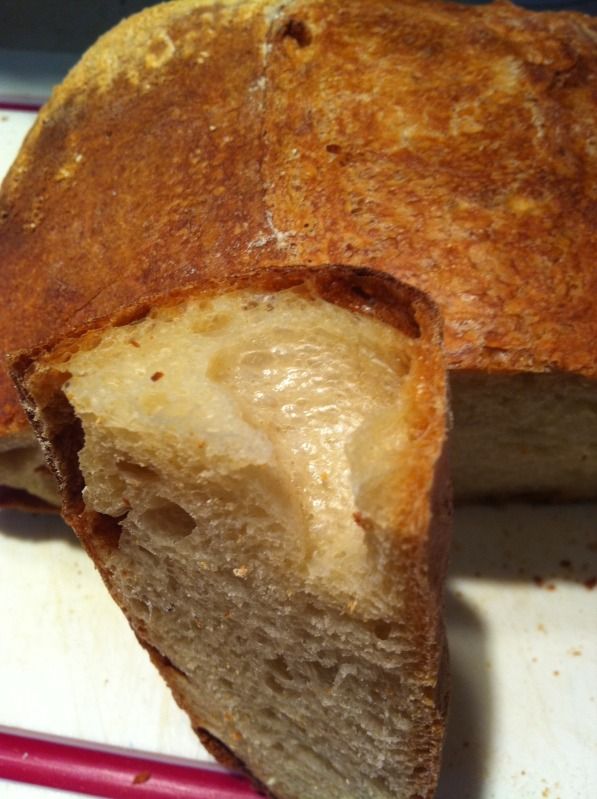 One would think that making bread would be relatively easy but I'm learning that's not necessarily the case :) Well, that's about it :)  Thanks in advance for any advice or comments.
Po Jo