VII - Our Current Favourite : Are We There Yet? .....Almost!....maybe....
The original formula of this bread was based, at first, on Pain de Lodeve, a French levain bread which became very popular in Japan some years ago among both professional bakers and amateur home bakers; so popular someone even held an one-day "Pain de Lodeve Appreciation Society" to which fans of this bread flocked to a famous bakery to admire the bread, watching pros baking loaves of it and devouring them together afterwards. (Have you ever heard of Japanese tendency for extremism?)  It is…or the Japanese interpretation of this bread is made with levain and mostly white flour with, often, small amount of rye flour and has very high hydration of at least 80-85%, occasionally even more. And because of this hydration, the crumb is very moist with lots of large holes……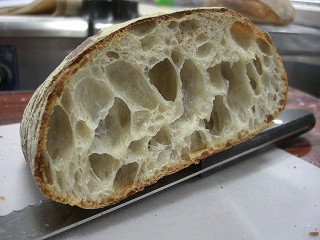 Above two pictures are Pain de Lodeve a la Japone, made by the most reputed baker of this bread in Japan.…..which could be a bit different from its original version in the mother country…..
 The origin of Pain de Lodeve and how it looks like….in France
Google translation of the text : "In honor of St. Fulcran, Bishop of Lodève that this bread was created.
It was first called bread bench because he had been forgotten at the bottom of a bench!
is a bread Rustic enriched sourdough bread for a very convoluted. Note: the bench is a kind of rye straw basket used to set the bread in shape. benchtop Bread is a bread with white flour sourdough. The dough rises slowly mass in the ancient vaults in large baskets, called benches, hence its name. before cooking is cut with a large blade pieces of the dough in the mass, they are shaped to floured hands and put in the oven. The bread is a bread bench much honeycomb sandwich to creamy and crunchy crust. Lodève The bakers have developed a strong reputation for the manufacture of bread. It is said that this bread is special LODEVE due to water entering its composition."  (It's not my fault this text is weird! Blame Google!! :p)
….oh well…..
Anyhoo…..I found a recipe for this bread in a book I bought a few years ago, baked it and quite like it. But I wanted to make an 'alternative Lodeve,' too, with more 'normal' hydration, so that 1) I could proof it in a bannetton (which is IMPOSSIBLE with that wet dough), 2) the crumb would be not as moist. So I've been tweaking the formula here and there and reached to this present formula quite recently.
As I mentioned in my earlier blog,  I've been trying to re-create a beautiful Pain de Campagne we had in Dijon many years ago on holiday. Interesting thing is, this multitude of tweaking on Pain de Lodeve formula over the years unexpectedly led me to a formula which produced rather acceptable imitation of Pain de Campagne of Dijon. It's not completely there yet, but quite close….
Pain de .... "Suburb of Dijon" (=almost there!)
INGREDIENTS
S/D 125g (75% hydration)  - Fed with 50% WW and 50% Strong flour
Strong flour  200g
Plain flour  60g
Rye flour  30g
Spelt flour  10g
Wheatgerm  1 1/2tbs
Water (filtered or bottled) 220~230g .....or 240-250g, if you dare.
Instant dry yeast (optional)  0.2g  optional (Note- Nov. 2012: Been making this without added yeast for a while now since my sourdough starter is much stronger and more realiable than when this entry was original posted. )
Good quality sea salt  6g
METHOD
Feed the starter twice during 8-10hr period before you use it. (total flour for feeding = WW 36g + White Strong 36g = 72g, water 54g. I usually use 22g mixed WW+White flour and 17g water for the first feed and the rest for the second feed.)
 When S/D is peaked, mix it with the water in a small bowl and stir to loosen a little.
In a large bowl, mix all the flours and wheatgerm, add S/D+water. Mix to a shaggy mess and autolyse for 40 minutes.
After autolyse, sprinkle dry yeast, if using, and S & F in the bowl for 8-10 strokes, turning the bowl. Rest for 40-45 minutes.
Repeat two more S & F at 40-45 minutes interval.
Cover the bowl and cold retard for 12-16 hrs in the fridge.
When you see a few large bubbles on the surface of the dough, take the dough out of the fridge and leave it at room temperature for 30 minutes.
Pre-shape → rest for 15-20 minutes → shape, and proof in a banetton for 3-4 hrs.
Pre-heat the oven @ 240C with a lidded casserole/pyrex/cast iron pan in it.
Check the dough with finger-poke test, and when it's realdy, turn it out on a piece of baking parchment and score.
Place the dough in the heated casserole, load it in the oven and bake for 20 minutes with the lid on.
After 20 minutes, remove the lid and lower the temperature to 200-210C (or 220C, if you want bold-bake….like me at the moment)
Bake for 20-25 minutes.
best wishes,
lumos