Dan Lepard's Cider Vinegar English Muffins
A few years back I was testing English muffin recipes on TFL.  After I posted a recipe I received a comment from Dan Lepard who provided a recipe for excellent English muffins.  The other day I decided to give the recipe another try.  The only thing I changed was a couple of stretch and folds at 20 minute intervals after the dough came out of the refrigerator, after reaching room temperature.  This is a really good recipe which produces a light, flavorful muffin, and it's easy to make.  They take about 7 minutes per side on a medium low grill or in a cast iron skillet.  Don't try to hurry them or the outside will be brown before the inside is done.  I used a digital thermometer to check the internal temperature.  These reached an internal temperture of 202-204 deg. F.  Incidentally, I quadrupled the recipe to make 4 times the amount of dough, which is the reason the dough amount in the first photo under the recipe is fairly large.
Edit: I also added 3 Tbs. ripe 100% sourdough starter to the dough mix.
Below is the recipe that Mr. Lepard published in the Guardian newspaper.
Howard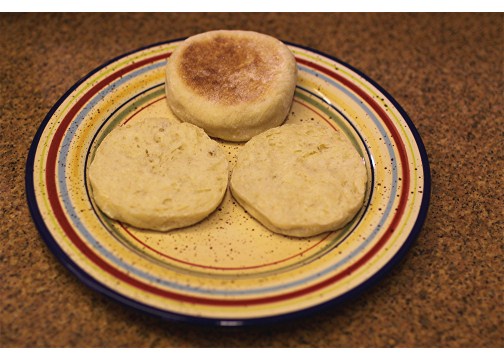 Cider vinegar English muffins
Saturday November 24 2007
Article history
What the Americans call an English muffin we used to call, well, a muffin. But since those little cakes in paper cases have invaded the supermarket shelves and stolen the name, our own little plain bread muffin has become neglected in Britain. In the US, bakers have raised the quality of their English muffins to something close to perfection. Crisp on the outside, sour and holey inside, and chewy when toasted and slathered with butter. Make these and you'll see what we've been missing all these years. In this recipe, the dough gets mixed and lightly kneaded the night before and is left in the refrigerator overnight to rise slowly. You can even leave it until the following evening if that works better for you.
Makes 8-10 muffins
50g unsalted butter
100ml warm water (by weight: approximately 4 oz. or 116 g.)
50ml cider vinegar [by weight: approximately 2 oz. Or 58g.]
100ml plain live yoghurt [slightly less than ½ cup]
1 large egg
1 level tsp salt
375g strong white flour
2 tsp easy-blend yeast [I used instant yeast and it worked fine]
Oil for the bowl
The night before, melt the butter in a saucepan [use stainless steel with the vinegar], then remove from the heat and beat in the warm water with the vinegar, yoghurt, egg and salt until smooth. Measure the flour and yeast into a bowl, tip [pour] in the butter and vinegar mixture and stir to a thick batter. Cover the bowl and leave for 10 minutes. Lightly oil the work surface and knead the dough gently for 10-15 seconds (see Basic techniques). Scrape the bowl clean of scraps of dough, wipe the inside with a little oil, place the dough back in the bowl, cover with a plate or cling film and place in the refrigerator overnight.
The following morning (or evening), lightly oil a dinner tray and upturn the dough on to it. Stretch and fold the dough in by thirds (see Basic techniques), then cover with a tea towel and leave to rest for 1-2 hours until it warms and begins to rise again. [It takes a full 2 hours at 75 deg. F.]
Line a dinner tray with a tea towel and dredge the surface liberally with flour. Gently roll out the dough [on a work surface] about 1½ cm [approximately 5/8 inch] thick, trying not to knock too much of the gas from it. Cut the dough into discs using a 12cm-diameter [approximately 4 ¾ inches] cutter (yes, that large, as they'll pull inwards as they bake), or take a sharp knife and cut the dough into 6 rectangles or something close to that. Carefully lay the cut dough on the floured cloth. Dust the tops with flour and cover with a tea towel. Leave for 1½-2 hours [they'll take the full 2 hours at 75 deg. F.] or until doubled in height.
Get a large heavy-bottomed frying pan with a snug-fitting lid if possible. Place on a moderate heat until the surface is hot but not scorching.
Uncover the muffins and flip them one by one on to your hand with the cloth, then slide them into the pan. You should be able to fit 3 or 4 in at a time. Cover the pan with the lid to create a bit of steam to help them rise and cook for 2-3 minutes.  Then check to see that they're not burning. If the bottom is a good brown, flip them over using a spatula. Cook on the other side for about 3-4 minutes. [I used an electric skillet with a lid, set at 340 deg. F. cooking them in a dry pan for 6 minutes on side 1 and 4 minutes on side 2 until they reached an internal temperature of 190 deg. F.] When done, remove to a wire rack, drape a tea towel over to keep them soft, and continue with the remaining muffins. Freeze in a zip-lock bag as soon as they're cold.