Well, what a cute loaf!
Using the recipe from Franko
http://www.thefreshloaf.com/node/24172/first-success-altamura-project
which builds on others - I thought I'dgive it a go.   I'd tried a version with some white flour added - but not this time...
Building the Preferment:
I used the white wheat starter I have, and couldn't measure out a small enough quantity, so ended up with
30g starter (wheat, 100%)
50g durum flour
50g water
This was in the kitchen for around 6 hours I reckon?  Bubbly and light at the end
Main Dough:
135g preferment (yes, high, I wanted to use all I had)
135g water
252g durum flour
(after autolyse, 5.6g salt)
Autolyse for around 30mins - I find the durum flour really soaks up the water!  A few S&F over the next 3 hours - fairly thorough after adding the salt, and less later.  Into the fridge overnight in a plastic container
Today - out of the fridge but still in the container for around 90 mins (driving from Cambridge to London!).  Shaped here (roughly) and covered - it didn't rise much, but I was concerned as it had had a long bulk fermentation.  About 90mins from shaping into oven
Baking: 250C for first 10 mins under a metal cloche (equals steam) then 10m at 220C, 10m at 200C, 10m at around 140C, then 10m with oven switched off (it is a small loaf!)
Results: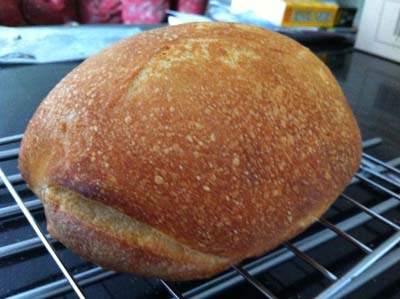 A very cute little loaf - I could improve my shaping, as although I did follow instructions, it is not quite right.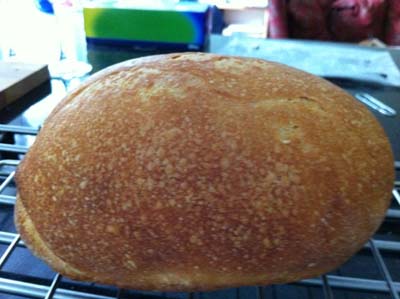 However - after about 20m out of the oven (singing for at least 10m) I had to eat - really yummy!  One of the few I have felt are really successful - I could easily eat the rest of the loaf now!  Sweet taste, lovely golden crust, I'd prefer more of an open crumb but definitely worth repeating...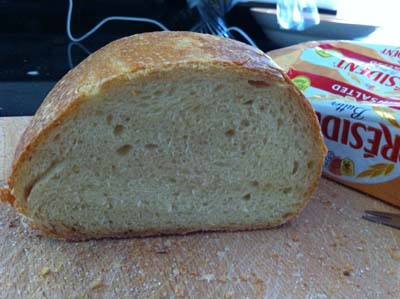 Very pleased - I will make this again (need to buy more flour) - a cute little lunchtime loaf!