A HINT OF PROVENCE - LAVENDER BREAD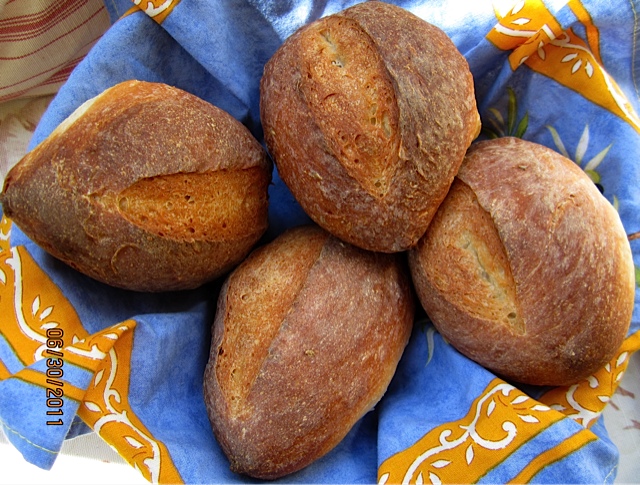 In front of the store where I sell my breads I saw a bed of lavender in full bloom. The smell was wonderful, recalling memories of glorious summer holidays as a student in the Provence. It also reminded me of a bread recipe with lavender that I always wanted to try, and some lavender cupcakes I had made last year, but wasn't quite satisfied with.

The lavender buds in my garden have not opened, yet, but I have some dried lavender flowers, and the assurance of reliable sources in the internet that fresh and dried lavender had the same strong aroma, and were therefore interchangeable.

At the first bite the breads' seasoning appears a bit unfamiliar, but then the taste buds open up, and welcome the subtle lavender flavor - a hint of Provence.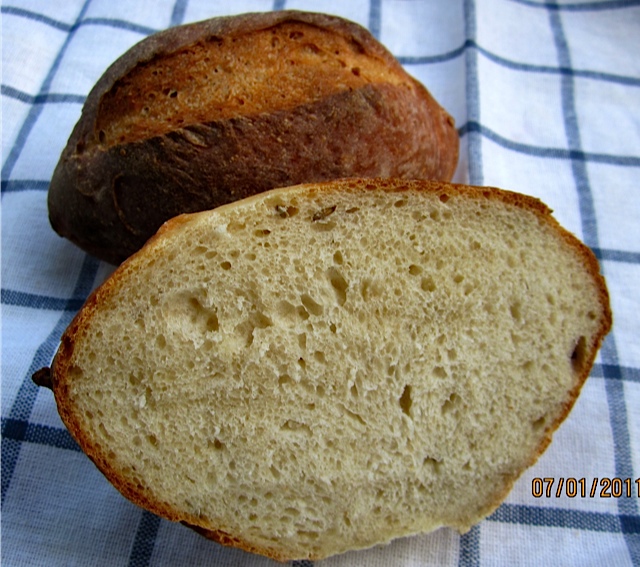 LAVENDER BREAD (6 mini breads)

STARTER
22 g whole wheat mother starter (or white starter)
63 g all-purpose flour
45 g water

DOUGH
3 g instant yeast
270 g water, lukewarm
all starter (130 g)
400 g all-purpose flour
100 g bread flour
20 g sugar
12 g salt
1/2 tsp. vanilla extract
1 1/4 tsp. dried lavender flowers, or fresh lavender flowers (from 6 stems)

DAY 1
In the morning, mix starter. Cover, and let sit at room temperature.

In the evening, dissolve yeast in warm water. Add to all other dough ingredients. Mix at low speed (or by hand) for 1 - 2 minutes, until all flour is hydrated. Let rest for 5 minutes.

Knead at medium-low speed for 2 minutes, adjusting with more water as needed (dough should still be sticky). Continue kneading for 4 more minutes, the last 20 seconds at medium speed (dough should still be somewhat sticky).

Transfer dough to lightly floured counter, and (with wet hands) stretch it gently into a rough square, and fold it like a business envelope. Turn it 90 degrees, and, from the small sides, fold it again in thirds.
Gather dough package into a ball, tucking edges under, and place in lightly oiled bowl (seam side down). Cover, and let rest for 10 minutes. Repeat Stretch & Fold 3 more times, with 10 minute intervals. After last S & F place dough in oiled container with lid, and refrigerate overnight.

DAY 2:
Remove dough from refrigerator 2 hours before using. Its volume should triple.

Preheat oven to 425 F/220 C, including steam pan.

Divide dough into 6 equal pieces, and shape first into rounds, then roll them into strands. Score, cover, and let rise at room temperature for ca. 45 minutes.

Bake breads at 425 F/220 C for 12 minutes, remove steam pan, rotate loaves, and bake for another 13 minutes, until golden brown (internal temperature at least 200 F/95 C)

Let breads cool on wire rack.

This recipe is an adaptation of Richard Ploner's Lavendelbrot (from: Brot aus Südtirol).