Light Rye with Granola - with homemade granola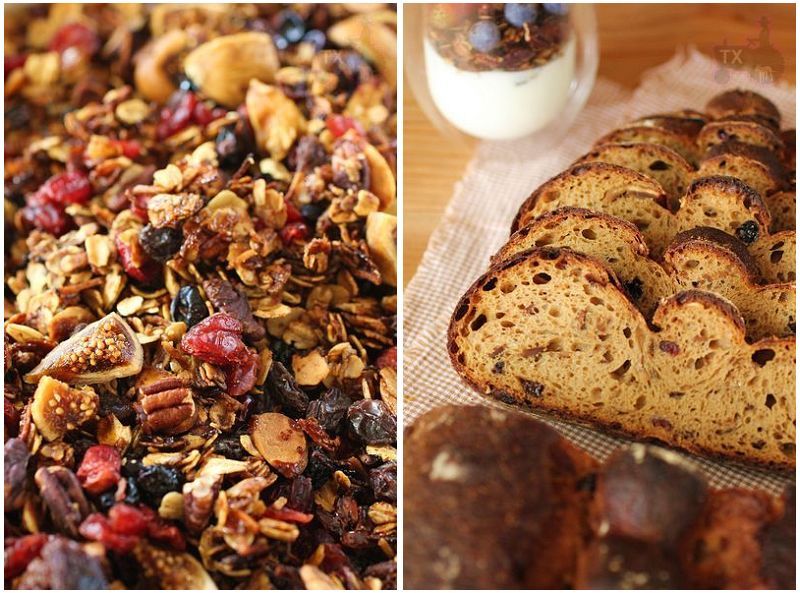 There are things I just refuse to buy from store, one of them is granola. I mean it's SO EASY to make granola at home, with ingredients that I like, at a much cheaper price. I have made granola so many times that I don't really follow a recipe anymore, just wing it with whatever I have on hand. However, if you have never made it before, a good guideline to follow is this one: http://smittenkitchen.com/2007/10/pumpkin-butter-and-pepita-granola/ . Mostly because I like her oil/honey ratio, granola ends up clumpy, but not too clumpy.
Usually I eat them straight, or with greek yourt/cold soymilk, always throw in some fresh fruit of course.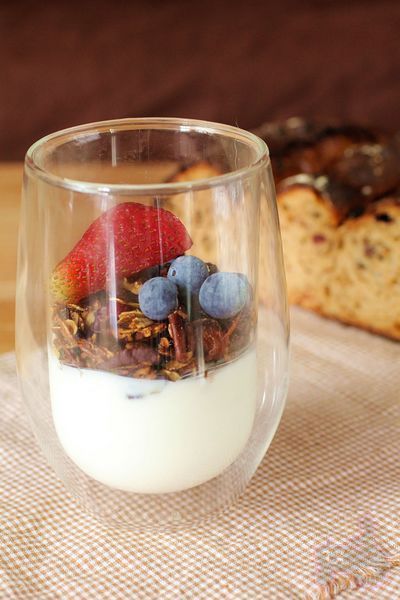 This time, I used some of those granola to make a light rye bread. My formula here is very loosely based on what wildyeast used here: http://www.wildyeastblog.com/2008/04/10/granola-bread/ (hers was in turn adapted from King Arthur Flour). The major difference is that I used rye starter instead of yeast: 15% rye, all in levain, with rising schedule changed accordingly. The shaping method is from here: http://techno.boulangerie.free.fr/09-ReussirLeCAP/03-lesFormesEnVideo/22.LeChapelet.html
Light Rye With Granola
- levain
whole rye, 57g
water, 45g
rye starter (100%), 6g
1. Mix and let rise 12-16hours.
- final dough
bread flour, 340g
salt, 8g
granola, 160g
milk powder, 48g
mashed potato, 124g
water, 240g
all levain
2. Mix everything except for salt & granola, autolyse for 20 to 60min, add salt, mix @ medium speed for 3-4 min until gluten starts to develope. Add granola, mix @ slow speed until evenly distributed.
3. Bulk rise at room temp (~75F) for about 2.5hrs. S&F at 30, 60, 90min.
4. Take out a small portion of dough (about 100g), round both dough, rest for 20min, shape as instructed here: http://techno.boulangerie.free.fr/09-ReussirLeCAP/03-lesFormesEnVideo/22.LeChapelet.html .
5. Proof face up on parchment paper or in basket until the dough spings back slowly when pressed, about 90min in my case.
6. Bake at 450F with steam for the first 15min, lower the temperature to 430F, keep baking for 30 to 35min.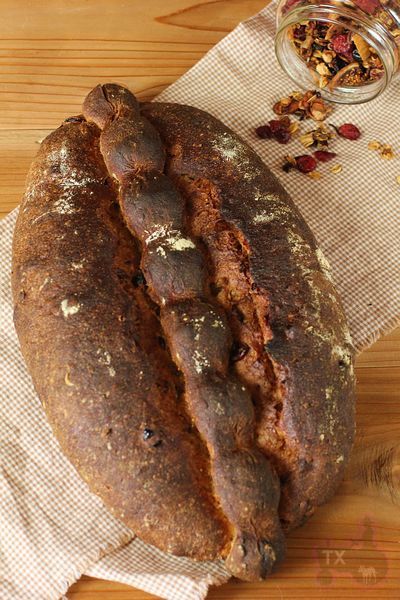 Milk powder and mashed potato soften the crumb a little, which complements the large amount of granola well.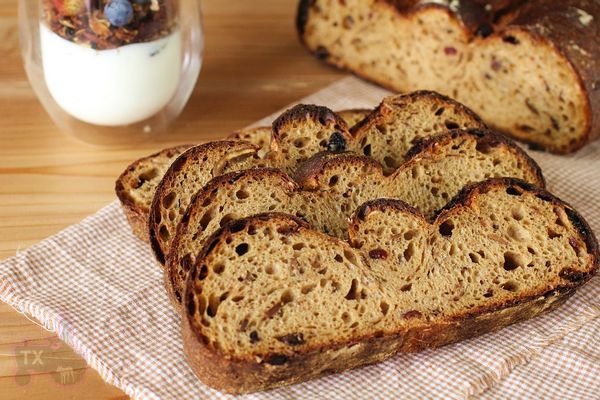 A very flavorful fruit/nuts bread, makes a good breakfast or snack.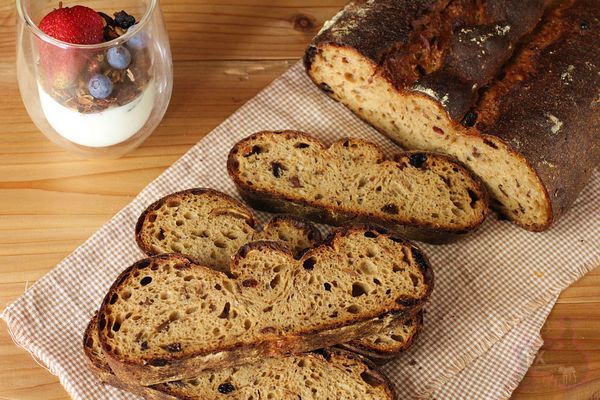 Sending this to Yeastspotting.