Pane di Altamura...my ongoing project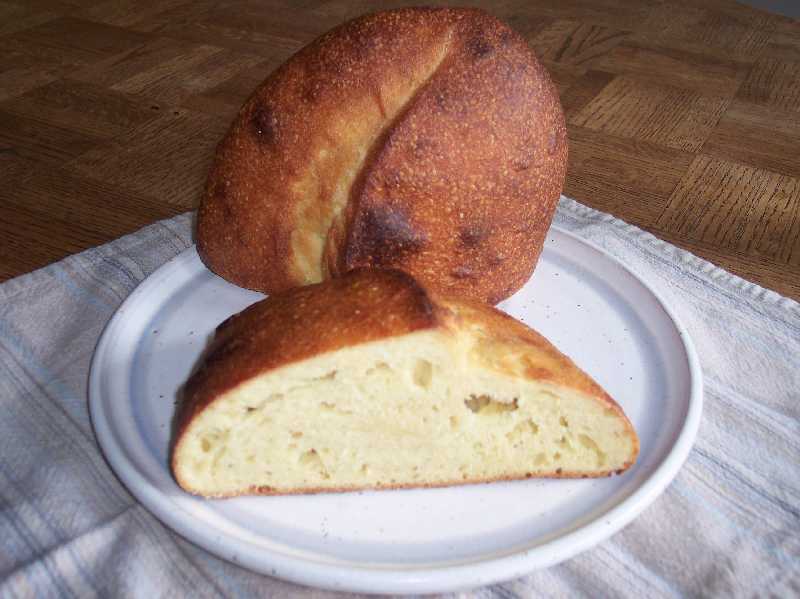 Carol Field's 'Italian Baker' is the oldest book in my ever growing collection of books on bread and pastry making, and still one my stand-bys that I refer to often. One of the breads included in her chapter on regional and rustic breads is the Altamura bread from the town of the same name in the region of Puglia. The bread is one I've wanted to make for many years but have never run across a local source for the type of durum flour needed to make it. Finally this Spring, as some folks may remember from previous posts to this blog, I was able to have some shipped from Giusto's in San Francisco to my home on Vancouver Island. A bit of an indulgence as far as the shipping costs involved and not one I'll be repeating anytime soon.
While I was waiting for the flour to arrive I began doing some online research on Pane di Altamura, as well as putting in some queries to Nico/nicodvb and Andy/ananda , both of whom kindly responded with lots of useful information from their own experiences with the bread. Many thanks to both of them for sharing their knowledge with me! One of the things I wasn't aware of, and that Andy mentioned in our correspondence is that Altamura bread has protected or 'DOP' status in the EU. "The bread of Altamura is 'officially the first product in Europe to bear the DOP in the category''Bread and bakery products.'' http://translate.google.co.uk/translate?hl=en&sl=it&u=http://www.panedialtamura.net/&ei=z8ypTaaxK5CahQe2kdzFCQ&sa=X&oi=translate&ct=result&resnum=11&sqi=2&ved=0CHQQ7gEwCg&prev=/search%3Fq%3Dpane%2Baltamura%26hl%3Den%26rlz%3D1R2ADFA_en%26site%3Dwebhp%26prmd%3Divnscm
With further searching I found the EU document proclaiming the status and historical background of the bread, along with information outlining the material and methods used to produce authentic Pane di Altamura, here; http://eur-lex.europa.eu/LexUriServ/LexUriServ.do?uri=OJ:L:2003:181:0012:0019:EN:PD

After reading through this document I decided to try and follow the authentic formula as much as possible rather than using Ms Field's recipe, which she describes as an "Altamura type" that uses a biga instead of the traditional natural leaven called for in the DOP formula outline. Developing an active durum/semolina flour starter from scratch takes a little less than 48 hours I discovered. Natural yeast just gobbles up the available nutrients of durum at a rate I've never seen before with other grains. This fact has been the biggest obstacle to me in trying to achieve a reasonably acceptable loaf, simply because the starter or the leaven was reaching it's peak long before my sleep and work schedules permitted me the time needed get a mix going. The first mix I made was pretty much a disaster and needed to be rescued with baker's yeast, the second and third attempts had slightly better results but still not great. This last attempt, while not a home-run by any means, is the best to date in terms of the final shape. This one has a much better flavour than the last three as well, but the crumb is not as open as I think it could be and the crust is not at all crusty. The original formula indicates a 60% hydration level, however I increased this by 9% as the dough was a little stiff for my liking. This, along with the fact I used steam instead of baking with the oven door open for the first 15 minutes as indicated in the DOP procedure,was likely a critical error on my part towards achieving a proper crust. Old habits die hard, so I've highlighted that part of the procedure in my notes for the next attempt.
Regardless of the fact I've only had what I'd call marginal results with this project so far, I am enjoying the challenge of trying to reproduce this ancient and venerable bread.
Best Wishes,
Franko