Five-Grain Sourdough with Rye Sourdough
Another classic from "Bread". As always, I eliminated commercial yeast and extended rising time accordingly. So fragrant and delicious. Original recipe makes a lot of bread, which is a good thing, because they disppeared really fast. Of course I increased hydration, because my whole rye flour is very thirsty - and because I am a sucker for wet dough. My rye starter is way fast, especially in this weather, and this bread has a very high levain ratio, which means that it's a pretty fast bread to make.
Shaping method for the round loaf can be found at: http://techno.boulangerie.free.fr/09-ReussirLeCAP/03-lesFormesEnVideo/20.LeCordon.html
Five-Grain Sourdough with Rye Sourdough (adapted from "Bread")
Note: makes 3X730g loaves
- Levain
whole rye flour, 226g
water, 190g
rye starter (100%), 11g
1. mix and let rise for 12 to 16 hours.
- Soaker
flaxseeds, 82g
rolled rye, 82g
sunflower seeds, 68g
oats, 68g
salt, 20g
water, 374g
2. mix and cover, leave overnight
- Final dough
bread flour, 680g
water, 340g
honey, 14g
leavain, 417g
soaker, all
3. mix everything and autolyse for 30min.
4. knead until low-medium gluten development. rise at room temp (74F) for 2 hours, S&F @ 30 and 60min.
5. divide, preshape, let rest for 20min.
6. shape and proof for about 70min.
7. bake @450F with steam for 15 min. lower to 430F, let go of steam, keep baking for another 30 to 35min.
Wrapped up and ready to be eaten.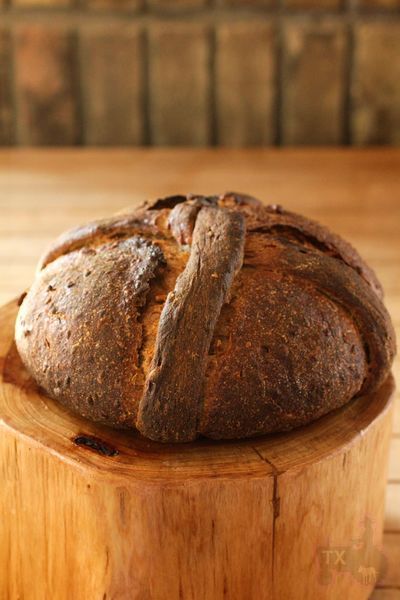 How can it NOT be delicious with this many seeds and grains?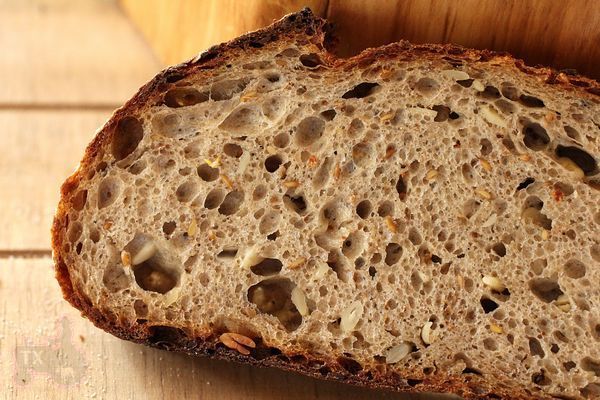 Crumb is pretty open for a bread with 25% whole rye, and this much seeds.
Sending this to Yeastspotting.