SD 100% WW Hokkaido Milk Loaf - an oxymoron?
Recently, I have posted about my SD version of the classic Hokkaido Milk Loaf (see here: http://www.thefreshloaf.com/node/23662/sourdough-hokkaido-milk-loaf-classic-shreddable-soft-bread), this time I adapted it to use all ww flour. Yes, the original Hokkaido Milk Loaf is quite enriched, and this ww version is not any "leaner", however, I do think ww flour adds more dimension to the flavor, and all the enriching ingredients bring incredible softness to this 100% ww loaf. To me, "healthy eating" is not about restricting, on the contrary, it's about bringing in different kinds of natural food groups into my diet and thriving for a balance.
SD 100%ww Hokkaido Milk Loaf
Note: 19% of the flour is in levain
Note: total flour is 420g, fit my Chinese small-ish pullman pan. For 8X4 US loaf tin, I suggest to use about 450g of total flour.
- levain
starter (100%), 22g
milk, 37g
ww flour (I used KAF ww), 69g
1. Mix and let fermentation at room temp (73F) for 12 hours.
- final dough
ww flour, 340g
sugar, 55g
butter, 17g, softened
milk powder, 25g
egg whites, 63g
salt, 6g
milk, 150g
heavy cream, 118g
1. Mix together everything but butter, autolyse for 40-60min. Add butter, Knead until the dough is very developed. This intensive kneading is the key to a soft crumb, and proper volume. The windowpane will be thin and speckled with grains, but NOT as strong as one would get form a white flour dough. For more info on intensive kneading, see here.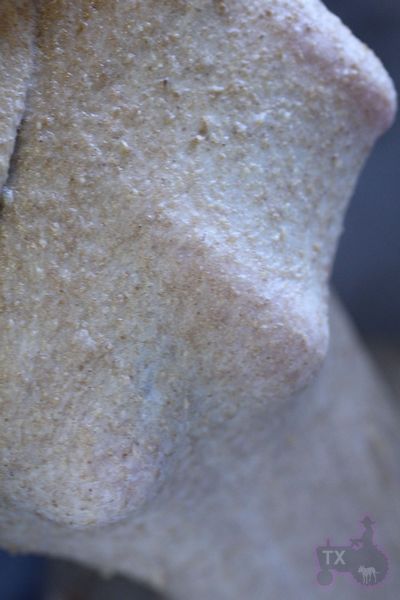 2. rise at room temp for 2 hours, punch down, put in fridge overnight.
3. Take out dough, punch down, divide and rest for one hour.
4. Shape into sandwich loaves, the goal here is to get rid of all air bubles in the dough, and shape them very tightly and uniformly, this way the crumb of final breads would be even and velvety, with no unsightly holes. For different ways to shape (rolling once or twice, i.e. 3 piecing etc) see here.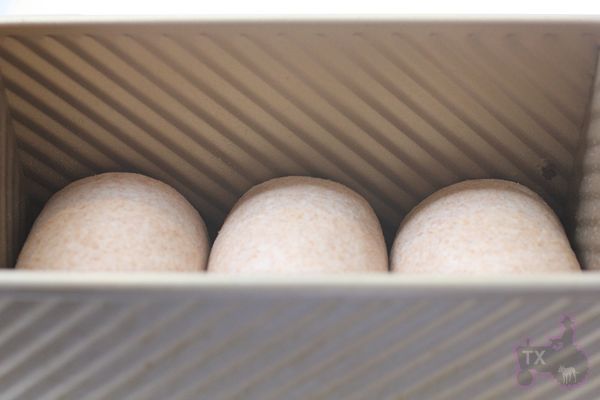 5. Proof until the dough reaches one inch higher than the tin (for 8X4 inch tin), or 80% full (for pullman pan). About 5 hours at 74F.
6. Bake at 375F for 40-45min. Brush with butter when it's warm.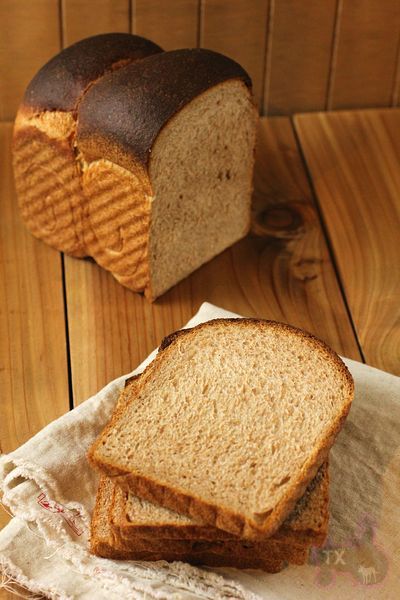 A crumb and flavor even whole grain haters would love.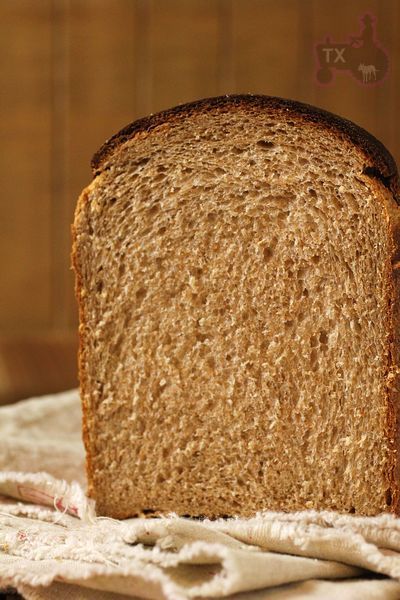 Tear/shread away...
Sending this to Yeastspotting.