SD 100% WW banana sandwich loaf - still not the quick kind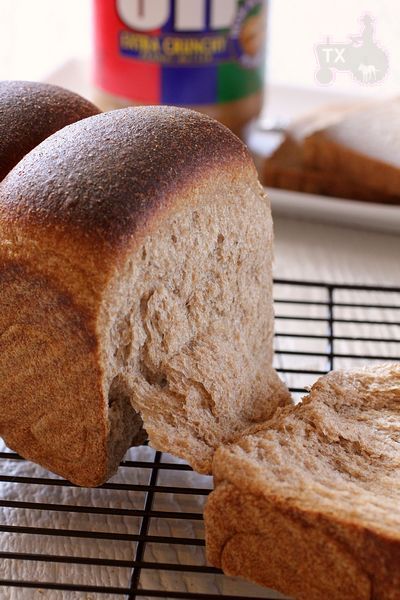 Another soft SD 100% whole wheat sandwich loaf from me - these are our favorite breakfast item. The inspiration came from the super light banana sandwich bread in Rose Levy Beranbaum's "Bread Bible" (Farine adapted it into a free form loaf with great scoring pattern here, she also has the original formula there), I replaced all of the flour with KAF ww, dry yeast with sourdough starter, and changed fermentation schedule accordingly. Sticking to the method of intensive kneading + long cold fermentation, it was another soft, tall, flavorful ww loaf.
Sourdough 100% Whole Wheat Banana Sandwich Bread
Note: 15% of the flour is in levain
Note: total flour is 420g, fit a my Chinese small-ish pullman pan (shown in picture), for US 8X4 loaf pan, I would suggest 455g of flour.
- levain
ww starter (100%), 18g
milk, 29g
ww bread flour, 54g
1. Mix and let fermentation at room temp (73F) for 12 hours.
- final dough
ww flour, 357g (I used KAF)
banana puree, 168g
honey, 29g
water, 130g
butter, 29g, softened
milk powder, 29g
salt, 8g
all levain
2. Mix together everything but butter, autolyse for 40-60min. Add butter, Knead until the dough is very developed. This intensive kneading is the key to a soft crumb, and proper volume. The windowpane will be thin and speckled with bran grains, but NOT as strong as one would get form a white flour dough. For more info on intensive kneading, see here.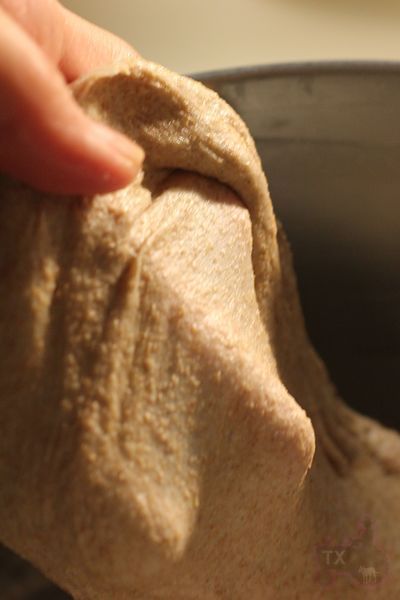 3. Rise at room temp (74F) for 2 hours. Punch down, put in fridge overnight.
4. Take out dough, punch down, divide and rest for one hour.
5. Shape into sandwich loaves, the goal here is to get rid of all air bubles in the dough, and shape them very tightly and uniformly, this way the crumb of final breads would be even and velvety, with no unsightly holes. For different ways to shape (rolling once or twice, i.e. 3 piecing etc) see here.
6. Proof until the dough reaches one inch higher than the tin (for 8X4 inch tin), or 80% full (for pullman pan). About 5 hours at 74F.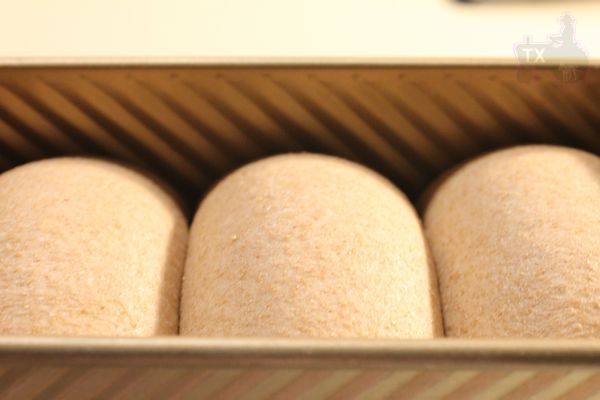 9. Bake at 375F for 40-45min. Brush with butter when it's warm.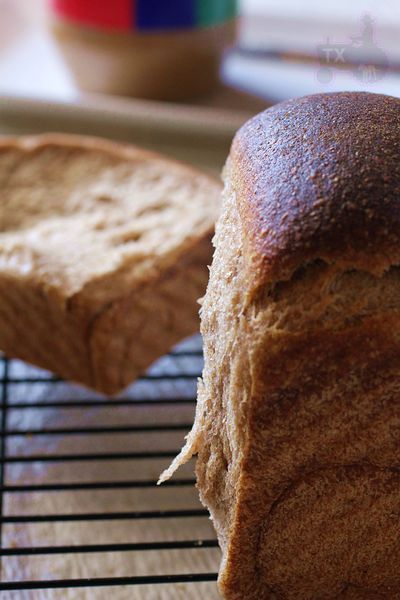 You can't really taste the banana, but it does soften the crumb and lends a very subtle sweetness. Perfect with some PB, one of my favorite SD 100% ww sandwich loaves so far.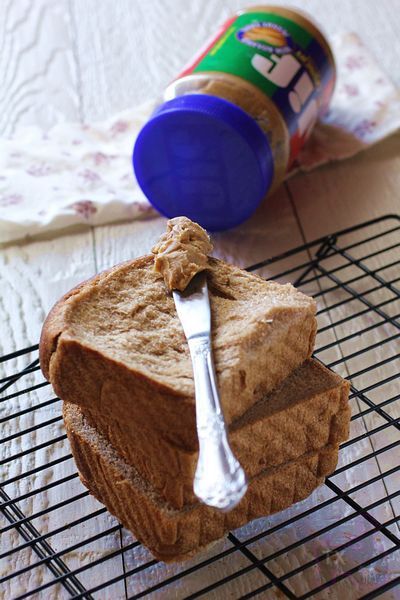 Sending this to Yeastspotting.