I really like the Multigrain Bread Extraordinaire or Struan from the BBA and have been modifying since I first made it with the hope of using sourdough as the main leavening, since Struan is an old Scottish bread I thought it would be good to have it all sourdough.
So with my Spelt starter in hand I changed the recipe once again:
My soaker was:
2 Tbsp Organic Polenta

1 Tbsp Organic red and white Quinoa
3 Tbsp Organic steel cut oats
2 Tbsp organic wheat bran
1/4 cup room temp Kefir milk
Mixed the grains together in a small bowl and poured the Kefir over, then covered bowl and left on the table overnight. I really like the flavour of Kefir soaked grains.
My dough was:
9 ounces organic hard flour
4.5 ounces organic whole spelt flour
1.5 ounces brown sugar
1 1/2 Tsp sea salt
3/4 Tbsp instant yeast
3 Tbsp cooked organic brown rice
1 1/2 Tbsp Buckwheat honey
1/2 cup Kefir milk
3 ounces Spelt starter
2.5 ounces room temp water
handful of poppy seeds (Floyd, I now know your nightmares)

I mixed the flours, sugar, salt, and yeast in a large bowl and then added the soaker, rice, honey, Kefir, starter, and enough water to make the dough tacky. After it was well mixed, I transferred it to the counter where I kneaded it for 20 minutes until it passed the windowpane test, then I misted the top with some spray oil and covered it with plastic wrap.
I folded it once every half hour for the next 90 minutes at which point it had nicely doubled in size. Whereupon I placed it in my loaf pan, misted the surface with water and coated the loaf with poppy seeds. I sprayed the loaf with spray oil and covered it with plastic wrap and left it until the loaf had risen about 2 inches above the top of the pan, this took about 5 hours. I had left it to rise so high because I had a pork loin taking up the oven, but it worked out well just the same.
I baked the loaf at 350 F for 20 minutes and after turning 180 degrees I baked for another 20 minutes. The bread turned out nice and soft and with a good spring to the crumb. It was incredible toasted with either raw honey or my wife's strawberry jam.
This is after the first folds and rising (the picture is actually of 12 pounds of dough, not the 2 pound loaf stated above)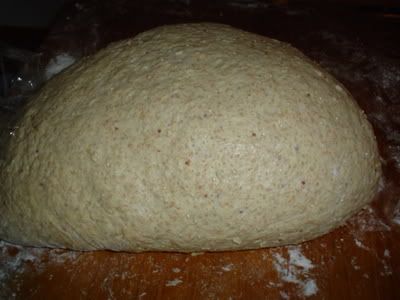 And the final loaf, or what is left of it. I actually did this recipe times five and I now have half of a free standing loaf remaining after making it on Thursday evening. This picture doesn't show it well but the loaf is 4 inches high.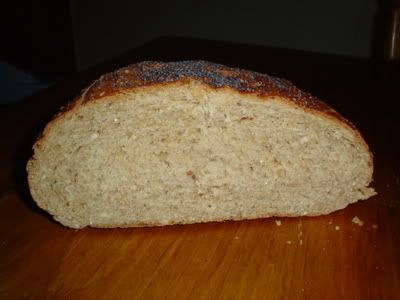 Next time I will be going with less yeast and more starter and a mix of whole grains too.