Blueberry Sourdough with Hazelnuts - fresh blueberry that is
Many have made similar breads, notably:
http://noelsbread.wordpress.com/2010/02/24/blueberry-hazelnut-bread/
http://www.farine-mc.com/2009/06/apple-blueberry-bread-with-spelt.html
http://www.thefreshloaf.com/node/12702/alternate-quotrustiquequot-caramelized-hazelnut-and-blueberry-spelt-sourdough
http://www.thefreshloaf.com/node/22508/blueberry-maple-walnut-spelt-bread
Here's my version, inspired by all the posts above, adapted to use ingredients I have on hand, and a fermentation process that works for me.
Fresh Blueberry Sourdough with Hazelnuts
Note: makes one 650g boule.
bread flour, 195g
ww flour, 60g
blueberry puree, 45g
water, 115g
maple syrup, 15g
salt, 4.5g
starter (100%), 90g
fresh blueberries, 84g
hazelnuts, 66g, toasted and skin peeled off
1. Mix everything together, autolyse for 30min, knead at low speed for 1min, medium speed for 3min.Gluten is mediumly developed. Add in blueberries and hazelnuts, mix in gently with hands.

2. Bulk rise at room temp (74F) for 3 hours, S&F as needed. I did 3 times at 30min, 60min, and 90min.
3. Round, rest, shape into boule, drop into basket smooth side down. Cover and put in fridge overnight.
4. Next morning, finish proofing at room temp for another 80min, until the dough bounces back slowly when lightly pressed.
5. Bake at 450F for 40 to 45min, the first 13min with steam.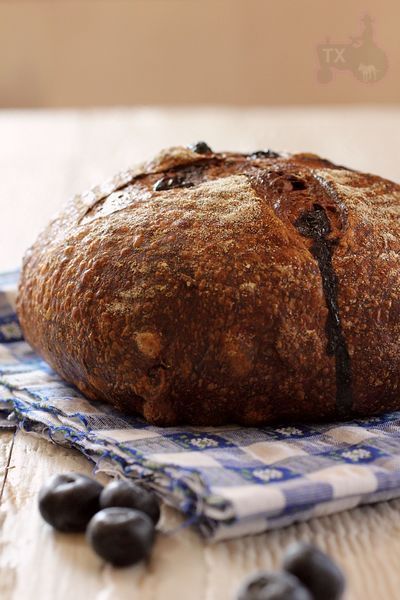 While blueberry puree adds a lot of blueberry flavor to the bread, if too much is added, the acidity would disintegrate the dough completely, no amount of S&F can save it. Don't ask me how I know. Stick to fresh blueberries, frozen ones are too easy to break, release juice, then make the dough too wet - a tip I could've learned from Shao-ping's post if I had read it BEFORE making the bread. This version was my 3rd try, with the appropriate puree amount, and fresh berries, it's actually not difficult to make.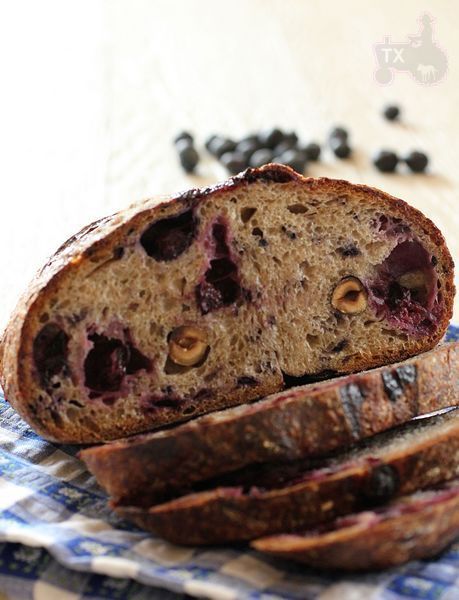 A whole wheat bread with strong blueberry flavor, while hazelnuts add a contrasting texture/taste, I would choose it over blueberry pies anyday!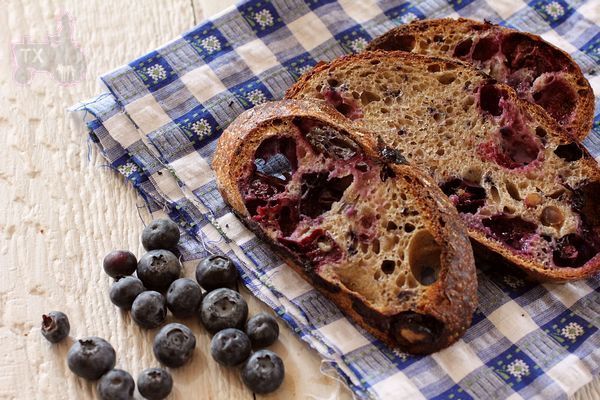 Sending this to Yeastspotting.