New England Style Hot Dog Buns
After having delicious lobster rolls with New England style buns at RM seafood in Las Vegas, I became obsessed with soft, toasty rolls with just the right amount of crunch. I decided to buy a New England hot dog bun pan (of course, the buns can be made with an ordinary sheet pan, but I just felt like purchasing a unique piece of equipment).
I used a 3/4 recipe of the  golden pull-apart butter buns on King Arthur Flour's online blog, replaced all the liquid with milk for flavor, and increased the hydration to about 70%:
| | |
| --- | --- |
| 314 g | ap flour |
| 16 g | potato starch |
| 15 g | dry milk |
| 18 g | sugar |
| 43 g | soft butter |
| 220 g | milk (scalded and cooled) |
| 1 tsp | salt |
| 1 tsp | instant yeast |
I followed the instructions on KAF's blog, but I divided the dough into 10 equal pieces, and in the shaping step, I rolled each piece out to a thin sheet and rolled them up into logs. Each log was placed into a groove in the pan: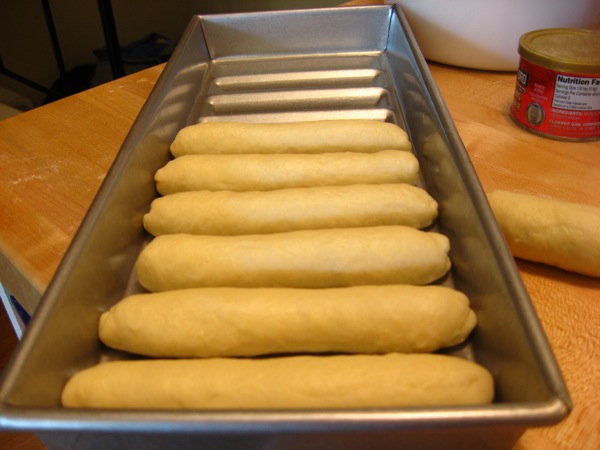 Here they are, fully risen and just placed into the oven. A 3/4 recipe makes a pretty good amount of dough for the size of pan. The proper amount of kneading will allow this dough to triple, almost quadruple in size.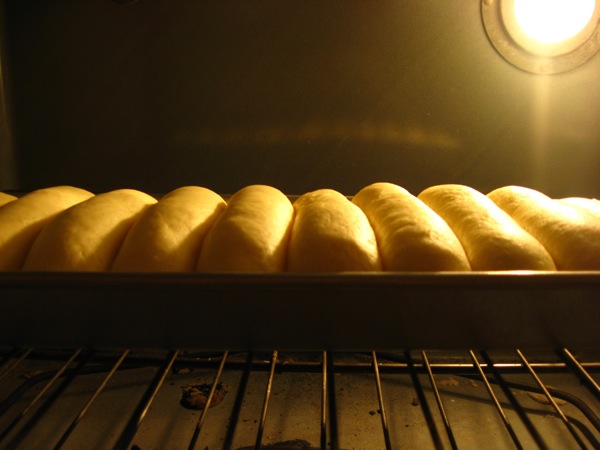 Immediately after taking them out of the oven, they were brushed generously with butter to soften the crust: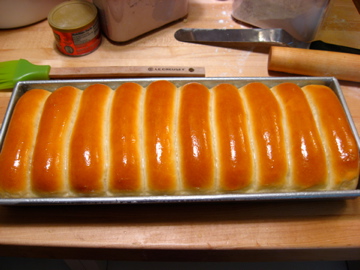 Just before eating, they were sliced apart and then slit in the middle, like so: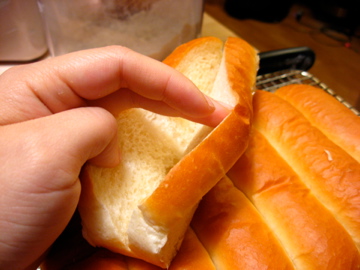 Toasted them on each side with a little butter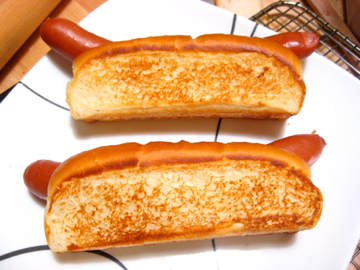 The crunchiness of the toasted surface went perfectly with the snap of the natural casing hot dog. The king arthur recipe is very rich, buttery, and sweet.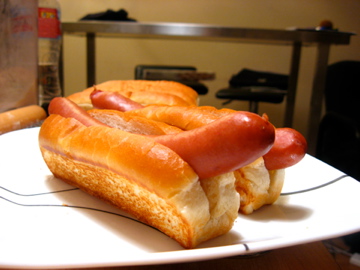 I love how these buns stand up so straight:-). I'm pleased with how this pan makes a bun that's not too big and not too small. One of my pet peeves is a hot dog that's drowning in a mountain of bread. Personally, I'm addicted to the toastiness of the New England style roll. I don't think I'll go back to regular soft hot dog buns. Was it worth the $25 to buy this special "unitasker?" I would say yes, but I just wanted a new toy. I'm thinking of it as a pre-moving gift to myself, before I make the great schlep from San Francisco to New Haven, CT.  Maybe there are other uses for it, too. Enchiladas?
There are 2 of us in this household, so the 10 buns give us enough for dinner and plenty for leftovers tomorrow. I'll probably use the remaining 6 buns to use up the leftover chicken meatballs in marinara and the leftover Italian sausage.