Croissant with Sourdough Starter - TXFarmer VS. TX summer
In my last croissant post(see here), I said I am practicing once or twice every week to perfect my lamination skill. It's been more than a month, and my croissant fever is getting hotter -- sadly, what's heating up faster is TX temperature. If you look up "mission impossible" or "self punishment" in the dictionary, you might see the following picture (28C is about 82F):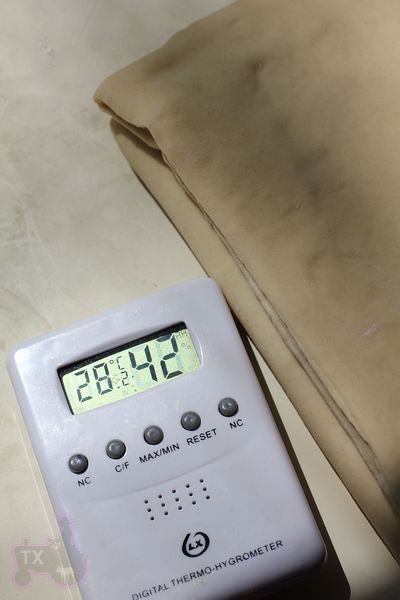 However, making croissant in warm weather is "mission difficult", not "mission impossible", the following are some tips I learned in the past month, I hope they will be helpful to my fellow warm weather TFLers.
1) Avoid direct sunlight. My kitchen has huge windows, and the counter space that's large enough to roll out the doug is right by the window. Under direct sunlight, the temperature could shoot to 90F in no time. My husband jokingly calls me "cold blooded" since my hands are always freezing cold, however, the few times when I was rolling out dough under the sun, my hands quickly warmed up -- so did the dough. Not a good thing. Lately, I have figured out the optimal schedule: Sunday at 5pm, mix dough and put in fridge for 2 hours; make butter block during that time; at 7pm enclose the butter and do the roll out. The temperature at 7pm is uaually still 28C (hence the picture above), but since the sun is on the way down, it won't keep heating up. After that just follow the schedule and do two more folds, usually I am done by 9:30 or 10pm. Next morning I usually get up early to run, so I do the final roll out before/during/after the run. 5am is the coolest time of the day, which is still around 24C/75F, but that's the best I can get. Usually by 7:30am, after resting a few times in the fridge, I can finish shaping. I usually freeze half for later, and put the other half in fridge until after work to bake.
2) Use the right butter. Not all European style butter are created equal, even if they have the same butterfat content. I have tried 4 or 5 different brands, when it's cooler (like a month ago), most of them would work, but now, only Plugra gives me consistent results, other brands are simply too melty.
3) Use the right rolling pin. I use a heavy duty metal rolling pin to make up for the lack of arm strength. However, lately, when it's this warm, I find it's necessary to put the pin in fridge along with the dough. At first I put it in freezer, thinking "the colder the better", nope. It was too cold for the first two folds, butter simply broke between dough layers, creating uneven crumb. Now I put it in fridge for the first two folds (when butter layers are still thick), freezer for the last fold and final roll out (when butter layers are thin and easier to melty but less likely to break).
4) Only work on the dough a few minutes a time, and put it in fridge more often than you would expect. That's the most important thing. When it's this warm, time is not on your side. Several times I tried to push my luck and roll the dough for a bit too long - warm dough == melty butter, never fails. This is where practicing comes in handy - at first I can't roll out much in the 3 to 5 min time span (longer for the first two folds when butter layers are thicker, shorter time for later folds and rolling out), which means the whole process drags on forever since the dough has to be in and out of the fridge many times. However, as I practice more, 3 to 5 min is more than enough for me to roll out the dough completely. For the last fold and final roll out I still let the dough rest in fridge once during rolling just so it's relaxed and easier to roll, but for the first two folds, it's all done in one shot.
Other than dealing with the warm temperature, I am also adjusting the formula to get more flavor. I replaced the poolish in previous attempt with 100% white starter. Since there's still dry yeast in the final dough, I though it would be an easy switch - not so. Starter is more acidic than poolish, which made the dough too soft. I then mixed it longer and reduced hydration slightly. Got the even layers with no butter leakage, however, the crumb is not open enough, indicating that the dough gluten is still too weak (shown in the following picture).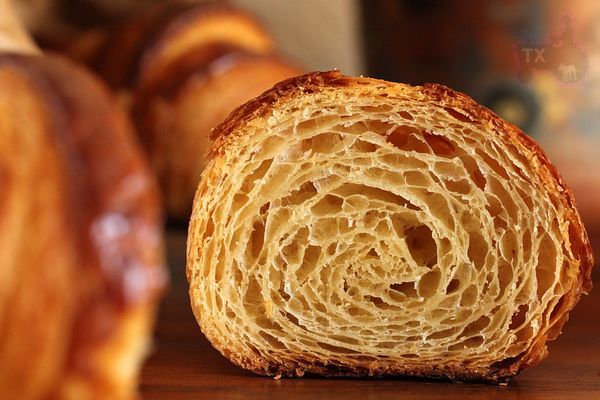 So I changed the AP flour to Bread flour, KAF bread flour at that, which has very high protein level. To my surprise the rolling out was not as impossible as I expected (or maybe I have practiced enough so it seems easier?), but the crumb became a lot mroe open (shown below).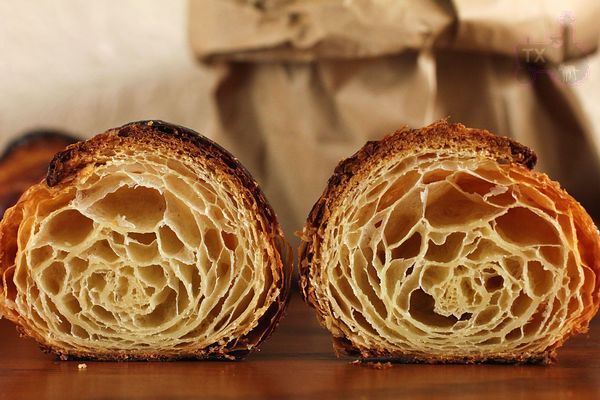 The formula I am using now is as following:
Bread flour (KAF), 362g
milk, 130g
sugar, 67g
salt, 10g
osmotolerant instant yeast (SAF gold), 3.55g, 1tsp+1/8tsp
malt, 3.55g (I used a tsp of barley malt syrup)
butter, 22g, softened
100% white starter (fed with bread flour), 320g
roll-in butter, 287g
1. Mix everything but the rolling butter, knead until gluten starts to form. In my KA mixer, 3min at first speed, 4 min at 3rd speed.
Then following the procedure illustrated here.
Other things I have noticed:
1) For the final roll out, while it needs to be as thin as 3mm to 5mm, don't go over board and roll it too thin, other than it will look like this - not bad, but not as open as possible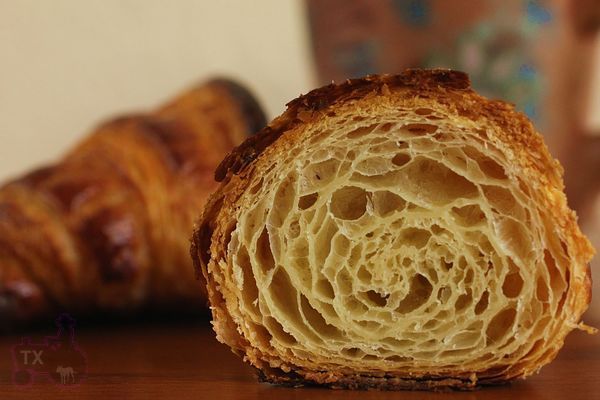 2) Don't squish any parts of the dough during shaping, here I must've pressed down the tip a bit too hard, look at the thick top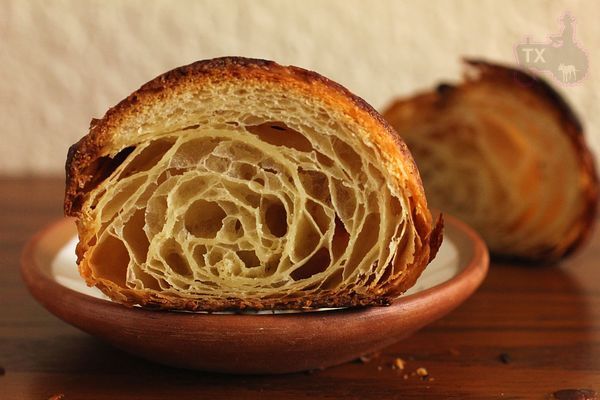 3. Don't roll the croissants too tight during shaping, it will explode as following, even when proofed fully (no leaking butter during baking)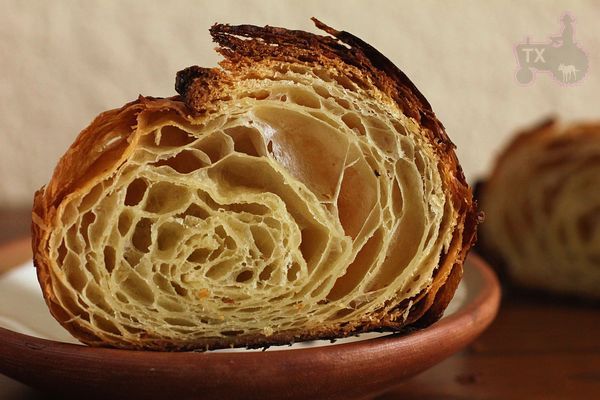 My ideal croissant has very open, but even crumb with honeycomb holes, and thin walls. Still not quite there yet, but heading in the right direction. The addition of starter in the dough adds another dimension of flavor. When I brought some to my coworkers, who has no knowledge about yeast/starter, they all much prefer the starter version.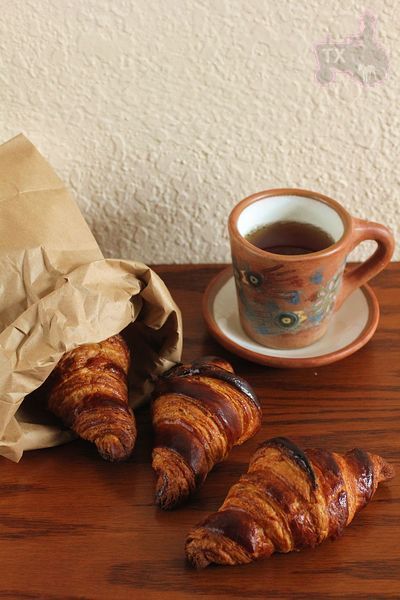 Sometimes I would make some chocolate ones, those are always gone first.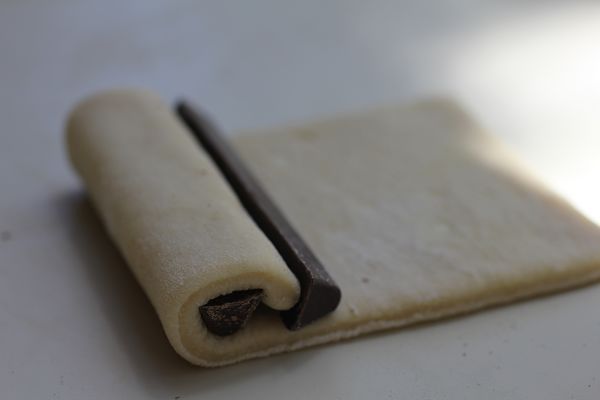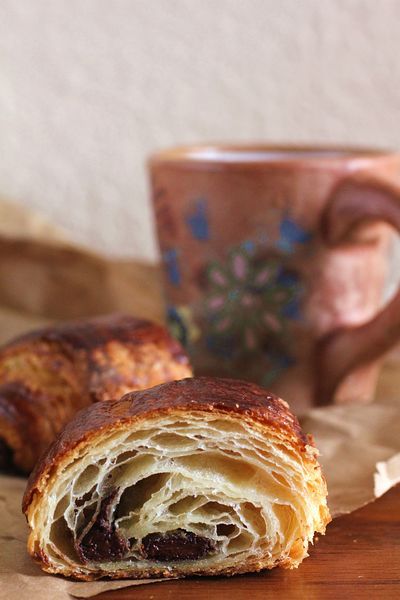 The temperature is still rising here in TX, let's see how far into the summer I can keep up this crazy croissant project.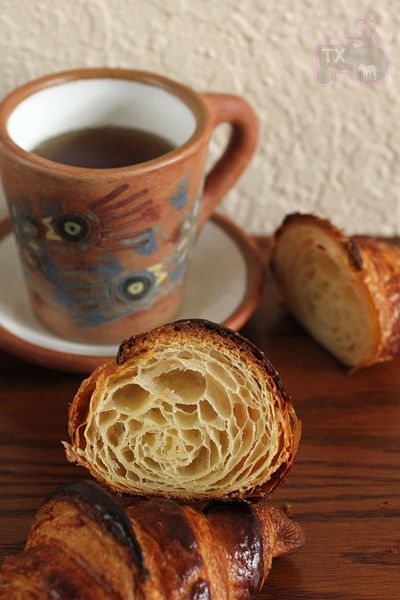 Sending this to Yeastspotting.