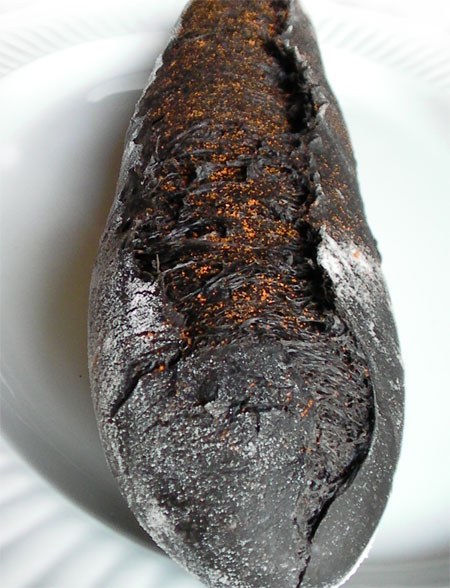 This is my version of a local speciality:  squid ink baguette.  Actually, I am not even sure if this kind of bread was first made in Taiwan, or even in Asia for that matter, but nowadays you can find it in almost any bakery. It is often sold as a sandwich with a seafood filling.
Locally, it is called Squid Ink French Bread and so I have always assumed that it was basically a baguette dough with the addition of squid ink.  It seems that I was wrong, though.  On Friday I found this recipe posted by one of my favourite local bloggers.  I recently used her formula in my Asian Style Pain de Mie post.  Her post includes two formulas: a Taiwanese version of squid ink baguettes and a lean version.  The Taiwanese version includes sugar, butter and vital wheat gluten.  Both recipes use a 70%/30% mix of bread flour/cake flour. 
I made this last weekend but wasn't happy with the result: my hydration was too high and I didn't include enough s&f's with the result that the baguettes flattened out.  The colour wasn't dark enough either.  They looked grey instead of black.  I used the ink sacs from two squid and probably should have used double that amount. 
So I had a fresh go at it again this weekend.  This time I bought a bottle of squid ink.  It was quite pricey but saved me the effort of having to clean the squid myself and I can use it for future bakes or for squid ink pasta.  I stuck to my same lean dough but included 妃娟 suggestion of using 1% Asian basil which she said would suppress the fishy smell from the squid ink.  She recommended using 3%-5% squid ink.  I used 5% because I didn't want to end up with the grey mess that I got last weekend.  I also stuck with 100% all purpose flour.
Overall Formula

350g all purpose flour    100%
220g water                      63%
17.5g squid ink                  2%
1.5 g yeast                     0.4%
7g salt                               2%
3.5g shredded Asian basil 1%
[Hydration = 65% (squid ink is included in overall hydration)]
Poolish
140g all purpose
140g water
1/16 tsp yeast
Allow to ferment for about 12 hours.
Main dough
210g all purpose
70g water
1.5g yeast
17.5g squid ink
7g salt
3.5g finely shredded Asian basil
Bulk fermentation: 3 hours.  Divide dough into three.  Pre-shape. Rest 15 mins.  Shape.  Final proof 1 hour 15 mins on floured couche.  Scoring:  one single slash along the length of the baguette.  Bake at 230 C on a pre-heated stone for 18 mins with steam for the first 10.  Remove from oven.  Allow to cool on wire rack.  Dust with chilli pepper or paprika if you can't take the heat, but I really recommend the chilli as it is the perfect partner to this bread.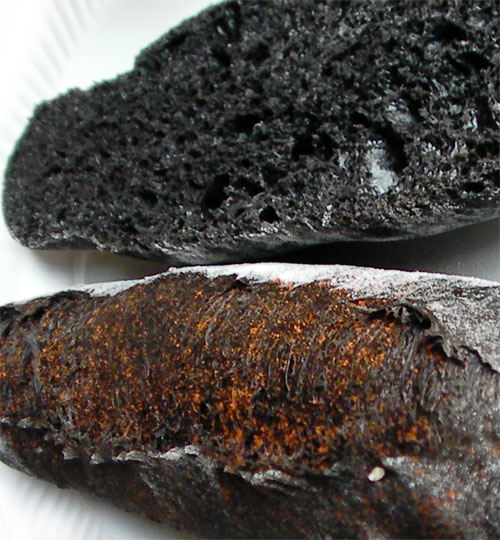 Be warned: squid ink is an acquired taste.  It is not for the faint of heart.  Best eaten as a filled sandwich.  Suggestion: lettuce, crab meat, mayonnaise, squeeze of lemon, salt and pepper and fresh cilantro.
Syd