Pane Integrale with Garlic and Olive Oil
This post is about sourdough made of whole-milled grains which are grown locally. 
Just before I scaled back my bread blogging last July, a project that I was looking into was home milling my own flour.  I thought that was one way that I could take my sourdough to the next level - go to the freshest and purest ingredients possible.  I had even decided on a home mill brand.  But before I could execute that idea, I lost my drive.  Even the publication of Chad Robertson's book, which I so waited for, couldn't save me from my doldrums because, at that stage, I had basically worked out for myself what I wanted to find out.  I did bake a couple of Chad Robertson's Country Sourdough last October: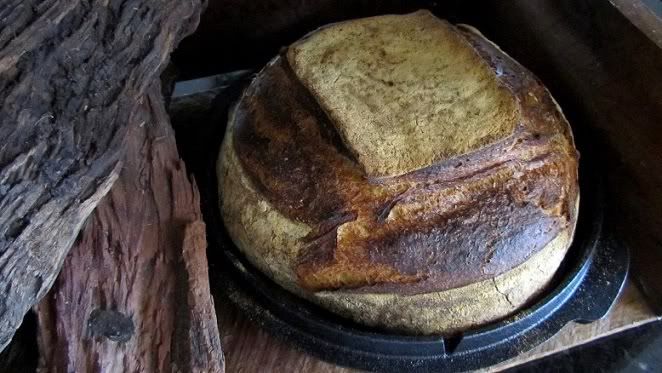 baked in a covered cast iron camp pot, without steam, at the end of our last Australian winter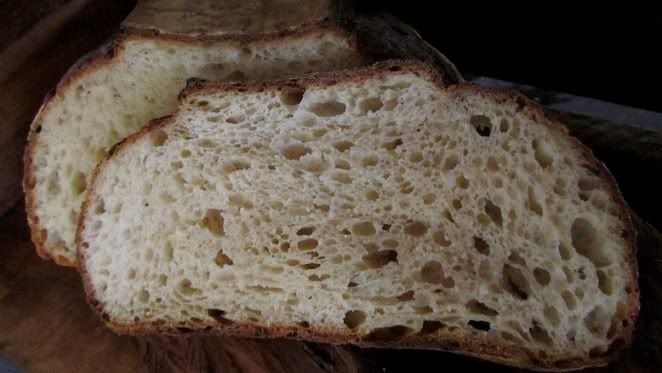 baked on a stone, with steam, at the start of our spring 
Summer came and went; it is now autumn.  Preparing our beautiful lawn for winter, my husband works in the yard to give his brain a rest, as he always does.  My daughter is now second year in Uni and my son, last year in high school.  Polly, our dog, is getting older, but still behaves like a child.  (Do you think dogs dream in sleep like humans?  I can tell you they do.)
Dropping my son in school one morning I went to my favorite coffee shop for some reading.  I read an article in Bread Lines (page 24, Volume 19, March 2011), quarterly magazine of The Bread Bakers Guild of America (BBGA), by Joe Ortiz, the author of The Village Baker.  The title is "Local Grain, Whole Grain Milling."  He talks about how a restaurateur (Bob Klein of Oliveto Restaurant), a baker (Craig Ponsford, Board Chairman of BBGA until end 2010) and a miller (Joseph Vanderliet of Certified Foods) got together in California on a community grains project.  Why?  To find more flavors in whole grain breads! 
Eco-consciousness is not normally my first and foremost concern when I bake and consume.  My efforts are geared toward achieving the most flavors for my bread using only the simplest ingredients.  But, what is with this community grains project and "local grain economy" whereby locally grown grains are whole-milled between tones (not re-constituted as in many modern industrial roller mills-produced flour)?  The answer: more vibrant flavors.
Aa an artisan baker, wouldn't you just love to use flour that is "more alive and brimming with its natural nutrients and structure!"? 
Imagine combining such flour with an artisan baker's hands: reduced mixing (gentle or no kneading), some type of preferments, long fermentation....
Let's get started.  But before we do, I have a confession to make.  FOUR times I tried making Mr. Ponsford's Integral Bread (formula in Bread Lines, Volume 19, BBGA), each time a 2kg loaf, without success.  I almost used up my 5 kg bag of organic WW flour.   After that, I went on my own, doing my own formulas, for another FOUR loaves of 1kg each (can you imagine anyone else more brave and no brain?).  The bread still came out quite dense.  I finally rang up the miller for some data, and you know what I was told, "Oh, we don't work with bread bakeries."  Sweet!  Was I shooting the moon with a wrong spear?  Was that pastry flour that I used for my sourdough?
I gave up.
The bread below uses only 50% of whole wheat flour.  That is the only way that I could make it work.  This wholemeal flour is produced by stone-milling the whole wheat grain and the wheat is grown in Darling Downs, Queensland, 170 km south-west to where I live.
FORMULA for my Pane Integrale with Garlic and Olive Oil
200 g liquid starter (50/50 in white and whole wheat flour)
300 g organic stoneground wholemeal plain flour (Kialla Pure Foods)
300 g bread flour (Laucke's unbleached bakers flour)
446 g water
14 g salt

garlic olive oil mixture for brushing the crust

: two cloves of garlic + about 1 - 2 tbsp. of olive oil + a pinch of salt.
Final dough weighs 1.25 kg at 78% overall hydration.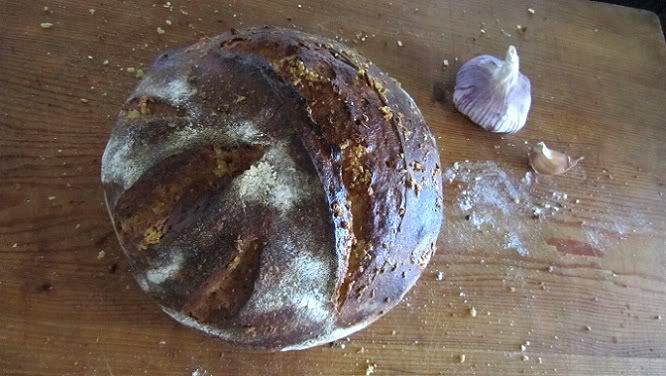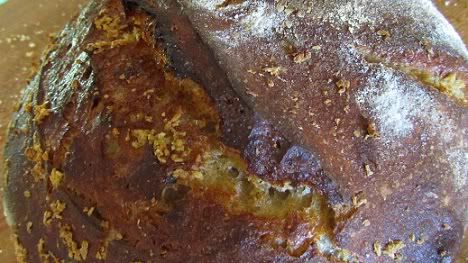 My Procedure
Adjust water temperature. (Aim for a final water/flour temperature of 25C/77F.)
Start by adding water a little bit at a time into the starter to dilute it.
Once the starter is diluted, measure flours and salt into it.
Mix the flours and water to just combined. (I used a blunt dinner knife and stirred for one minute.) Cover.
First fermentation (from time-off mixing to the time I placed my shaped dough into the refrigerator) was 5 + 1/2 hours. During this time, I did four stretch-and-folds in the bowl at 30 minutes intervals: 1st time - 12 strokes, 2nd time - 12 strokes, 3rd time - 6 strokes, and 4th time - 6 strokes. At about 3 + 1/2 hour mark, I shaped my dough. There was enough strength in the dough and I didn't need to pre-shape it. The shaped dough was left out on the kitchen bench for about another 2 hours. For the whole time of this leg of fermentation, my ambient temperature was 25C/77F and so I was able to keep the dough temperature constant. Your may not need this long. My dough rose about 60 - 70% before the next leg of fermentation.
Second fermentation was done in the refrigerator for 12 hours.
The night before sleep I set my oven on timer to bake the next morning. The oven was to pre-heat to its max. temperature with my cast iron pot inside.
On the morning, I scored and baked the dough cold straight out from the refrigerator at 230C/446F for 25 minutes; then with the pot cover open, it was baked for a further 15 minutes at 220C/430F.
While the bread was being baked, I made the garlic olive oil mixture. (I used a garlic press for this. If you don't have a garlic press, use a mortar and pestle; if you don't have a mortar and pestle, chop garlic finely, then use the back of your knife and press the garlic into a paste.) You will only need half of this mixture. With the rest, I made it into a garlic butter.
After 40 minutes of baking, take the bread out, and very quickly, brush the crust with the garlic olive oil mixture, and bake for a further 5 minutes. (After that, check if your bread is done, if not, leave the bread in with the oven turned-off for another 5 minutes. Be careful for the garlic on the crust may burn.)
I couldn't wait. I sliced my bread after 45 minutes rest and here it is:
With this post, I encourage you to seek out your local grains and whole-milled flour and see for yourself how much more you like your bread.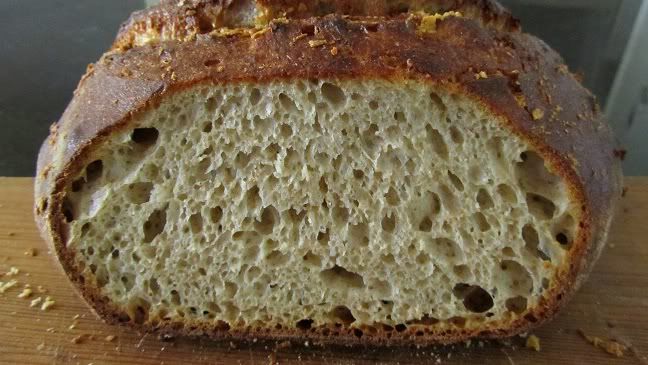 If you are like me who doesn't like the taste of 100% wholemeal, try substitute up to 50% bread flour or other type of flours.   The garlic and olive oil mixture has done its trick and the bread is delicious.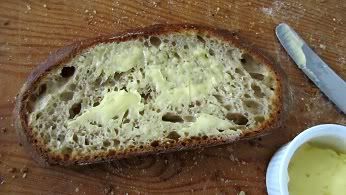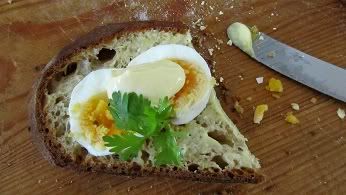 with garlic butter                                                     eggs benedict the next morning
If ever you find yourself in Beijing, visit Green-T House.  It is a tea house, a restaurant, a spa, and on top of all that, a modern-day Chinese design icon.  The owner, chef, designer and musician, Jin-Jie Zhang (known as JinR) is the very first modern-day Chinese female chef.  I'd like to go and visit myself but I can't at this very moment.  So, dream on, I tell myself; buried in my books and closed my eyes, I "shern-yo" (神遊) ... soar in my imagination....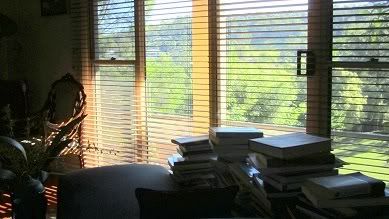 Shiao-Ping