fol epi - 'wild wheat stalk'
Hello,
Franko kindly referred me to an absolutely lovely bakery in Victoria, BC, called fol epi - 
(fol epi means 'wild wheat stalk').
I had the pleasure of visiting this bakery last month. Thanks Franko! - this place was quite a find!
Having enjoyed a heavenly pain au chocolat for breakfast, I went back to thank the staff,
and got to meet Cliff, the baker.
Not only does Cliff bake incredible things, he mills his own flour - and to top it all off, he sold me some of his bread and whole wheat flour. I was quite happy!

There's a blog post here that has some nice pictures of the bakery, and of course the photos on the bakery's website, www.folepi.ca, show lots of beautiful breads and pastries (at this point, the website may still be a work in progress in terms of text?).
My first bake with Cliff's flour is a 'wheat stalk' loaf, using the Miche formula from Advanced Bread and Pastry.
The wheat stalks were made with a live decorative dough (a Team USA 2010 formula featured in a BBGA newsletter I picked up while at IBIE last September).  The stenciling was inspired by something I saw on farine-mc's site, shown here.

With thanks to Cliff for his really good flour, and to BBGA/Team USA and farine for their creative ideas - although my execution is a bit lacking (perhaps the decorative stuff is best left to the professionals!):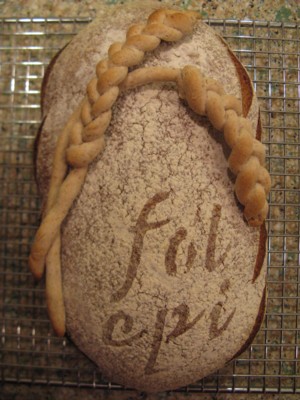 Here's a comparison of flours: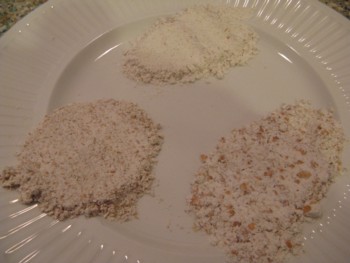 The top is 75% sifted Red Fife
The left is 100% whole wheat
The right is Cliff's whole wheat (lovely colorful bits of bran) - I'm pretty sure Cliff said this was Red Fife too, but I'm not positive and kicking myself for not remembering!!!
Happy baking everyone,
From breadsong