Goma shokupan ( Sesami loaf)
I have baked this loaf over and over to get my daughter who only likes white bread says " Yummy".   I finally heard some good words from her who said, " It is good! Can I have more?"  That made my day. 
This formula is adapted from the book " Coupe Junkies" which was published by 2 Japanese home bakers. 
I mentioned this book on my other post of " Amazing airly baguette" too.   There are a lot of good techniques in the book.
Here is what I used to bake the loaf that my daugther didn't eat.  My son and I enjoyed it though.  However, this loaf doesn't rise much. Especially it is in the oven. It is also little difficult to knead too that is what the book read.  To rise in the oven, they use " cold start" in the oven. I never have tried it yet. I am still afriad of using the method. I better try it very soon.
http://www.thefreshloaf.com/node/22851/20110320-akiko%E2%80%99s-japanese-white-bread#comment-163260
They don't use 2 times bulkfermentation for this loaf in the book, but I wanted to try to see how different between 1 time bulkfermentation and 2 times one.   The authors wrote that it rises more than 1 time bulkfermentation.   I didn't see the difference actually.. but I can taste the difference of the taste.  1 time bulkfermentation until tripled --- Very soft crumb     2 times bulkfermentation until tripled-- chewy crumb  /  When the dough rose only double in bulk on the second time, the crumb was really chewy.. I didn't like it at all.
This is the loaf that my daughter is pleased with finally.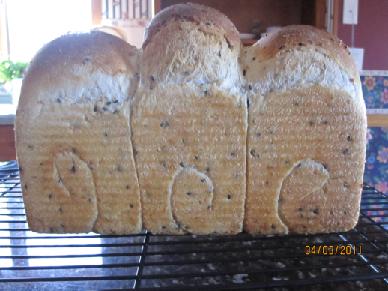 My  pullman size:23cmx10.5cmx10cm 
Ingredients:
Bread flour ( KA)  400g
Levain              120g  ( 60g KA AP/ 60g raisin yeast water )  mix and rest at 74-76F for 12 hours
Sugar        14g
Water      220g  DDT 76F
Salt     7g
Shortening   12g
Sesami   black  19g/ white 19g= 38g   ( Toasted  before adding into the dough)
----------------------
Method:
1. Mix all the ingredients except the salt and the shortening and the sesami.
2 Autolize  30 minutes
3. Add the rest of the ingredients.
4. Knead  until you pass a window pane test.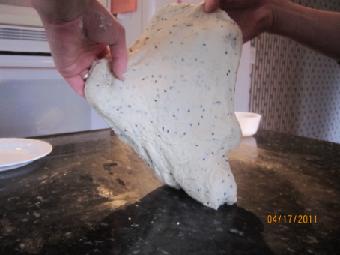 5. Bulkfermentation   6 hours at 80F ( The dough should rise triples in bulk)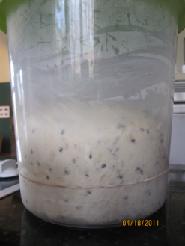 6.  Divide and preshape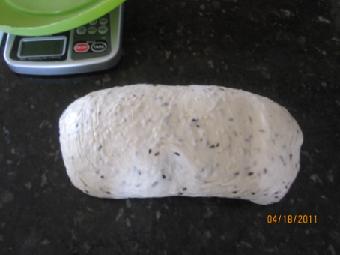 * I made a letter fold ( degassing) taking out the dough from the container.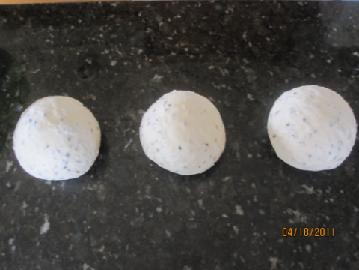 * I divide the dough in 3 pieces without using any flour.
Example:

The total weight was 783g today. I divided it like this:

267g/249g/267g =Left/Center/Right

This is my way to divide the dough in 3 pieces:

The left and right dough weight: 783÷3+6=267g

The rest of the dough should be the center. 249g
7. Bench time  30 minutes
8. Shape and proof  2 hours at 82F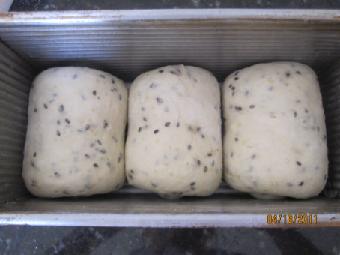 * After I panned the dough in my pullman.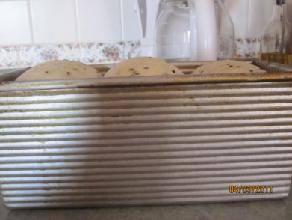 I waited until the dough rose over the top of the tin.
9. Bake ( Preheated 438F)    Spray water around the wall in the oven 4 times and bake at 410F for 35 minutes.  Brush some melted butter on the top of the loaf after baking.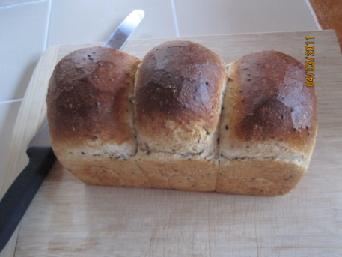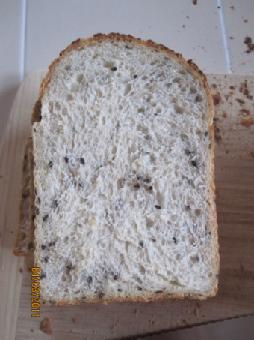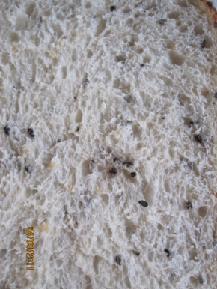 When you use instant yeast for this loaf, I will use this straight method:
Bread flour 100%
Instant yeast 0.8-0.9%  ( I always use less amount yeast because I don't want to smell strong  brewer in bread.)
Sugar 5%
Salt 1.5-1.8% ( As you like)
Water 55%
Shortening or White sesami oil    3%  ( Using shortening will have a great result of rising  than using sesami oil)
White sesami  4.7%  Toasted before adding
Black sesami 4.7%  Toasted before adding
------------------------------------------------------------
* I tested " Cold start". You can see the result here. http://www.thefreshloaf.com/node/23054/cold-start
* How to shape and mold a mountain loaf:
1   I use a little bit flour to shape the dough. * May be 1-2g blended flour -50% rice flour /50% KA AP flour for shaping.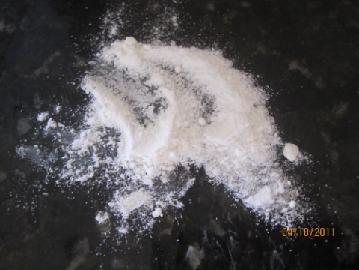 Before shaping ( I dumped less 3g AP/rice flour  on the surface)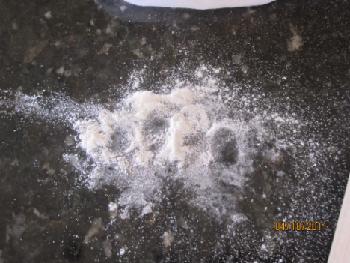 After I panned the dough. ( I don't use much flour for shaping)
.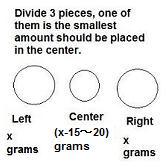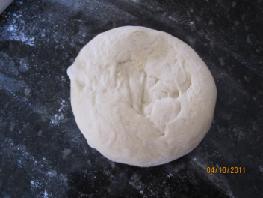 2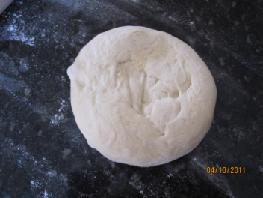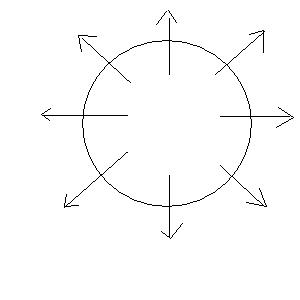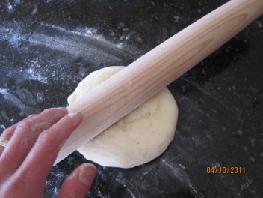 *Gently press down the preshaped ball shaped dough which is seamed up with your whole palm, and make a oval shape using a rolling pin. ( rolling from the center toward outer side to all the direction. * not only up and down )
3.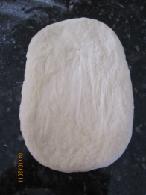 Ready to fold.
4.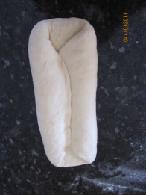 You can press the center gently after folding 1/3 from the outer side, then rolling it into a snail shell shape.
5.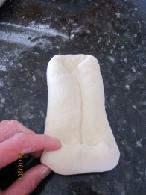 Roll it gently, but not too tight, not too loose.
6.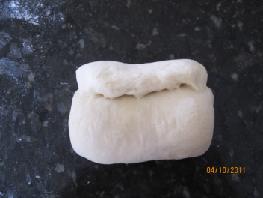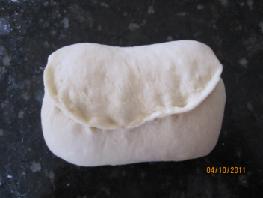 Pinch the seam very well!
7.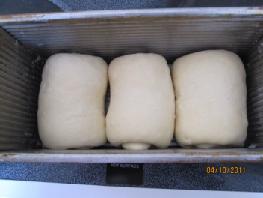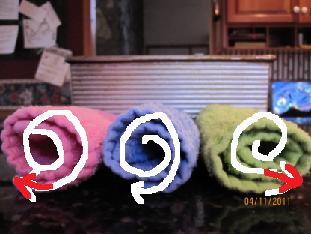 You should mold the dough of the direction as the picture above to rise well evenly.   * Don't forget to put the smallest dough in the center.
Note:
*If your final dough doesn't rise much enough to get cloese the top of your tin loaf pan, you don't have to wait if your final dough rises 1cm less from the top of the tin. Sometimes, my final dough didn't rise enough to the top of the tin, but I baked the dough that was under 1cm from the top of the tin. It rose quite well in the oven with " cold start".
Best wishes,
Akiko