Soft, tender-crumbed, Sourdough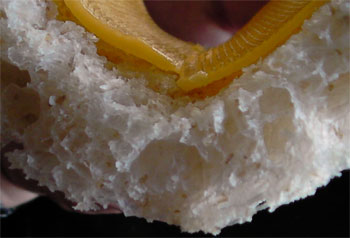 Glenn, inadvertently, threw down the gauntlet this week when he asked a question in his post: How to get a light and tender crumb in sourdough.  I took up the challenge (even though I know Glenn didn't mean it that way) and in the process got diverted from what I had originally itended to bake this weekend. 
Initially, I considered adding milk and some form of shortening, but on re-reading Glenn's thread I realised he didn't want the dough to be enriched in any way.  So flour salt and water it is.
I am pretty happy with the result and I think the following all contributed to its success:
a low protein bread flour (11.5%)
a higher hydration than usual
the water roux method
extensive kneading
lower bake temperature and shorter bake time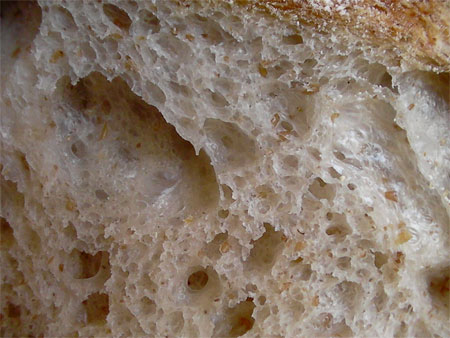 Water Roux
30g bread flour (11.5% protein)
150g water heated to 75 C
Dump flour into water.  Stir until smooth.  Cover tightly with cling film.  Allow to cool to room temp.  Refrigerate overnight.
Sourdough Starter
30g ripe sourdough starter @ 100% hydration
50g WW flour
10g rye flour
60g water
Mix until smooth and leave to ferment for about 8 hours or until just about to peak.
Main Dough
180g water roux (pass it through a sieve if there are any lumps)
150g sourdough starter @ 100% hydration
170g water
1 level tsp diastatic malt
Whisk the above until well incorporated.  Now add:
420g bread flour (11.5% protein)
Mix to shaggy mass.  Autolyse for 50 mins.  Now add:
9g salt
Now you have to knead until you get a really good windowpane.  I don't have a stand mixer, so that meant hand mixing for a long time.  I didn't time it exactly, but if I had to guess, I would say that I spent anywhere from 30 to 40 minutes kneading.  If I had a stand mixer I would have developed the dough even more, but I don't and I was getting tired, so I stopped. Unfortunately, there was no one on hand to help me take a pic of that windowpane. Pity, because I can't see myself doing that again in a hurry.  Of all the changes I made to my regular recipe, I think the additional kneading made the least difference.  Perhaps after all that time it still wasn't developed enough.  Maybe I would have noticed a bigger difference if I had used a mixer.
Bulk Ferment
2 hours with S&F at 50 and 100 mins respectively
Pre-shape.  Rest 20 mins.  Shape.  Retard overnight.  Usually, I three quarter prove before I retard, but it was getting late, so this one went straight into the fridge.
Bake
210 C with steam for 20 mins.  190 C without steam for 25 mins.  Usually, those temps would be 230 C for 20 and 200 C for 35 mins.  Then I would switch the oven off and let the bread dry out with the door cracked open for another 5 mins.  This time I didn't do that because I didn't want the crumb to get dry.  The internal temp was 209 F.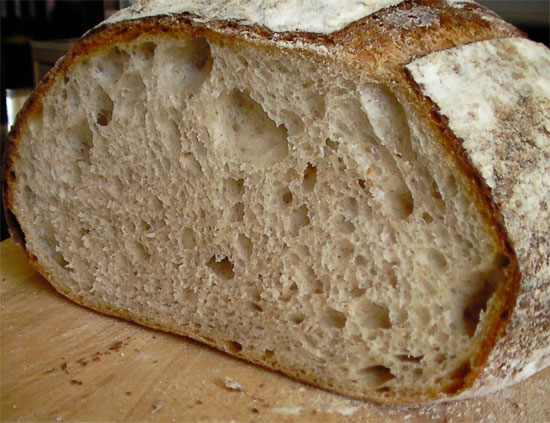 The crust was a bit thinner than usual due to the reduced baking time and lower temperatures.  The crumb is beautifully tender and moist.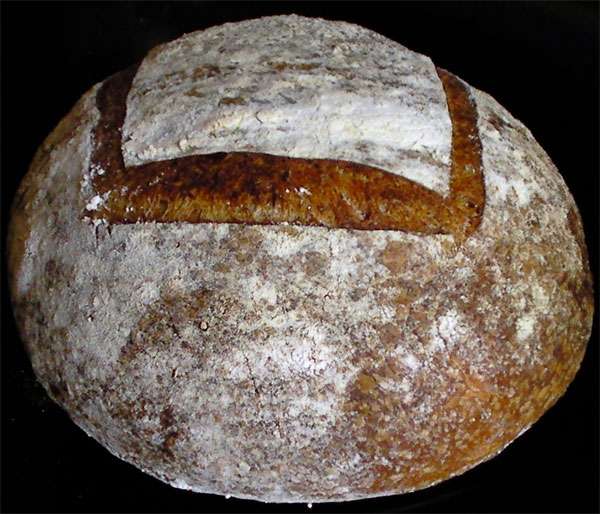 This is a nice tasting bread with a mild, but surprisingly evident, wheaty flavour despite there only being 50g of WW in the recipe.
Syd