Buckwheat Rye Bread - Buchweizen-Roggenbrot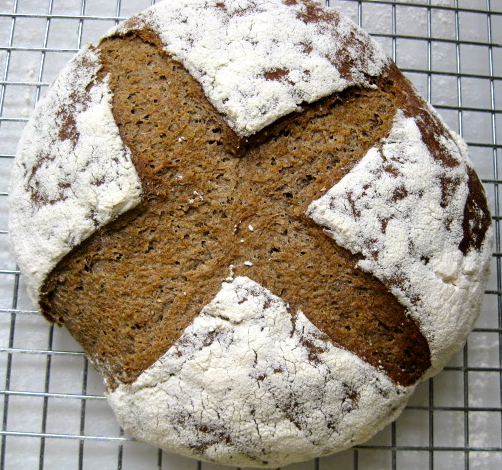 Dark Buckwheat Rye
During my pregnancy with my son Per, I was very health conscious, studying all kinds of parenting books and magazines on how to provide my firstborn with an optimum of nutrition. As a result I ate buckwheat "porridge" for breakfast every day, for buckwheat is not only high in minerals, like iron and potassium, and full of antioxidants, it's also a good source of protein, and, not only that, it has more Vitamin B than wheat!
It took me a while to get used to its strong and distinctive taste, but after a while I found that I liked my buckwheat cereal, especially since I "softened" it with generous amounts of cream and honey. Seeing buckwheat flour in the supermarket, I remembered my positive experience, and thought that buckwheat might add an interesting flavor to bread. Leafing through my German bread baking books I found a recipe for buckwheat bread, and started experimenting with it.

I tried it with biga, than with sourdough, but the result was never really satisfying. Something was missing, the taste not balanced, "too healthy", or downright sour (with the starter), so I put the recipe away, to work on it another time.

But buckwheat grows right here in Maine, and when I tasted my first Ployes (French Acadian buckwheat pancakes) at the American Folk Festival in Bangor, I decided to revive my quest for a good buckwheat bread.

And this time, adding some spices and a little bit of honey, my buckwheat bread turned out as tasty as I had hoped. "Buckwheat Rye" can be made with white buckwheat flour (Ployes), whole buckwheat, or a combination of both, depending on your preference for a milder or more assertive buckwheat taste.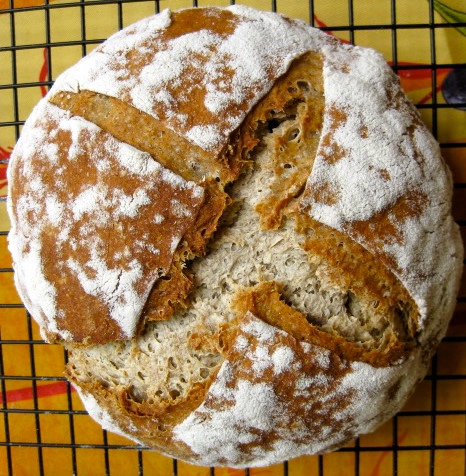 Light Buckwheat Rye - with 100% light buckwheat flour (ployes) - the other end of the spectrum.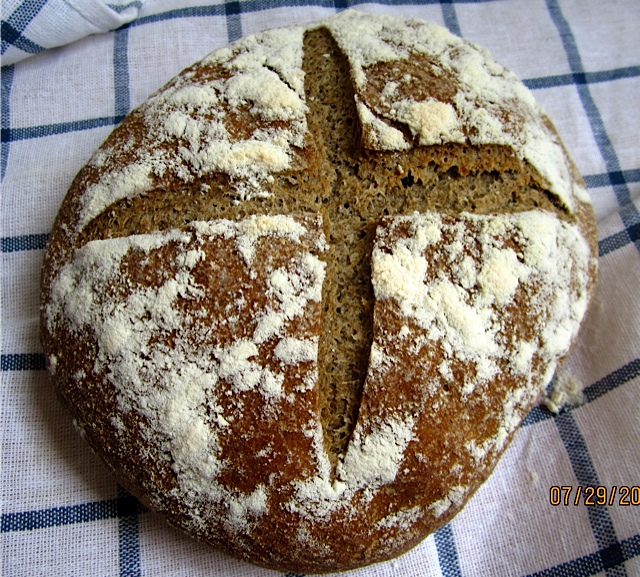 2/3 Light Buckwheat Rye (2/3 light buckwheat + 1/3 dark buckwheat flour)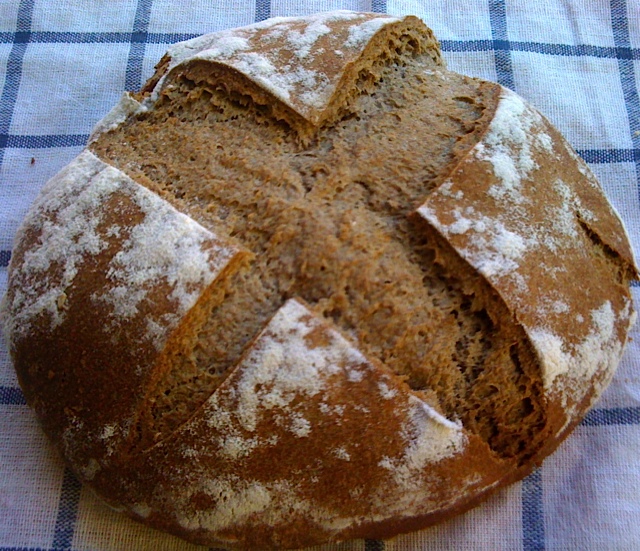 Medium Buckwheat Rye (half light/half dark buckwheat flour). Only the slashes show a different color from the 2/3 light buckwheat. BUCKWHEAT RYE - BUCHWEIZEN-ROGGENBROT
SOAKER
100 g whole rye flour
200 g buckwheat flour (either all light, or all dark flour, or a combination of white and whole buckwheat flours)
4 g salt
225 g water
FINAL DOUGH
175 g water (lukewarm)
6 g instant yeast
all soaker
295 g bread flour
4 g salt
16 g honey
1 tsp. coriander, ground
½ tsp. anise seeds, ground
DAY 1
In the morning, stir together soaker ingredients, until well hydrated. Cover, and let sit at room temperature.
In the evening, stir together water and instant yeast. Add to other ingredient for final dough, and mix (with paddle attachment) on lowest speed for 1 minute (or by hand). Let dough sit for 5 minutes.
With dough hook (or by hand), knead on medium-low speed, for 2 min. Dough should be very supple and sticky. Continue to mix for 4 min. more. Dough will still be sticky (feels like rye dough)
Transfer dough to floured work surface, and, with wet or oiled hands, stretch and fold dough. Let rest for 10 min, and repeat S & F 3 more times (total time 40 minutes). Gather dough into a ball, place in a lightly oiled bowl, cover, and refrigerate overnight.
DAY 2
Remove dough from refrigerator 2 hrs. before using.
Preheat oven to 475 F/250 C, including steam pan. Divide dough in 2 equal pieces. Shape 2 boules, and proof in bannetons (seam side up) or on parchment lined baking sheet (seam side down), for ca. 45 - 60 minutes, or until grown to 1 1/2 times their original size. (I proofed it on the baking sheet and sprinkled it with flour, so that the cross slashing would really show).
Score breads crosswise. Bake at 400 F/200 C, steaming with 1 cup of boiling water. After for 15 minutes, rotate loaves 180 degrees, remove steam pan and continue baking for another 15 minutes (internal temperature at least 200 F/93 C, and bread should sound hollow when thumped on bottom).
Let breads cool on wire rack.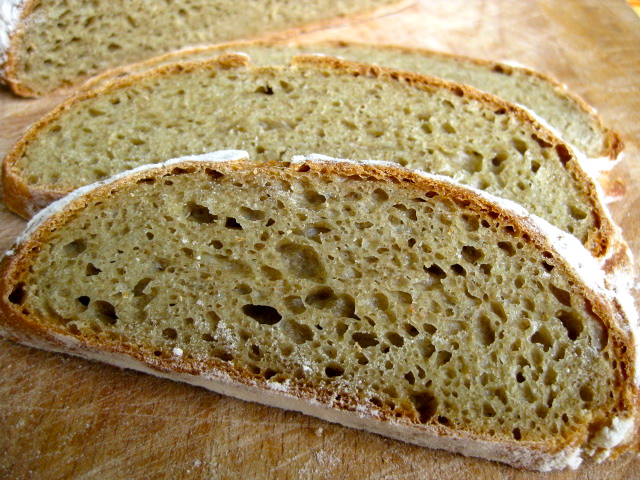 Light Buckwheat Rye, made with all light buckwheat flour (Ployes) is much airier than the darker breads.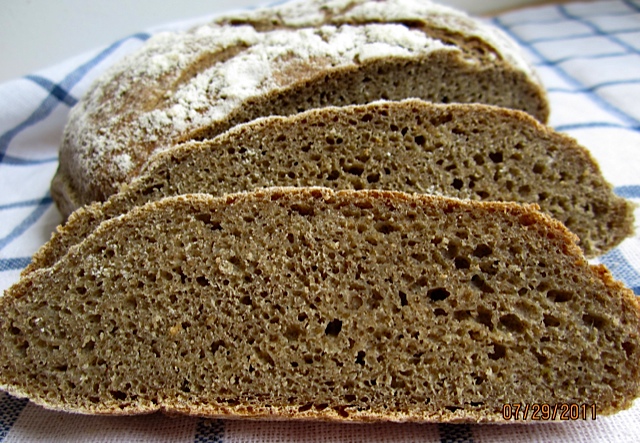 2/3 Light Buckwheat Rye has still a rather open crumb.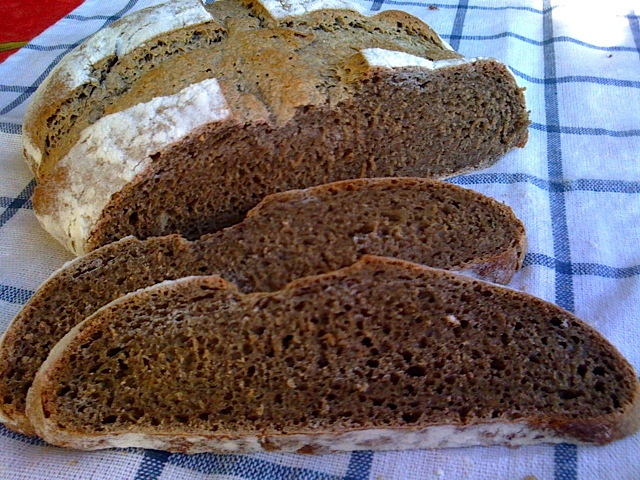 Medium Buckwheat Rye Crumb (1/2 dark and 1/2 white buckwheat flour) looks nearly as dark as Dark Buckwheat Rye.
Dark Buckwheat Rye crumb.(Updated 8/4/11