February 21, 2011 - 1:19pm
When 3 separate ideas rush over me at the same time, well I'm helpless to stop the resultant activity. Recently I saw Larry produce some beautiful baguettes and the Margaritta star shape. That got me thinking.
Then Proth5 (Pat) posts about her new Bear-Guettes. A dual yeast French mix that has the promise of wonderful taste.
The final thing that pushed me over the edge was receiving a bag of Central Milling's Organic Artisan Baker's Craft (Malted) from a friend who knows I will put it to good use. 
With all of these positive influences popping at once, I decided to join them and try a shape I had never made with flour I had never used in a formula I had never played with. Sounds like fun, right!
First, I love the Bear-Guettes recipe. I get no sense of tang what so ever. Very mild sightly nutty flavor with a nice crispy crust. Thank you Pat, I agree with your Chief Tester.
The Artisan Bakers Craft flour is wonderful. I had excellent development and a smooth silky dough using hand mixing and a few of Bertinet's slap and fold and just one S&F after 2 hours. Thanks to my flour fairy! You know who you are:>)
The shaping and creation of the star shapes "La margueritte" was fun. Not as hard as it looks if you can count to 6 lol. Thank you Larry for leading the way on this. The second batch which was retarded over night turned out better and were more symmetric
I'm convinced that I want to obtain a decent amount of the CM Artisan Bakers Craft for use in my French breads. You can tell it is a quality milled product by the silky nature of the dough in such a short time and in a hydration level fit for straight formulas. I like to use one flour and get comfortable with the characteristics of it so I know what to expect when I toss a batch together based on the percentages I have in my head. This is going to be my new flour.I like the creamy crumb color.
Eric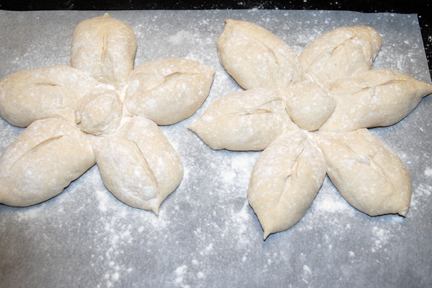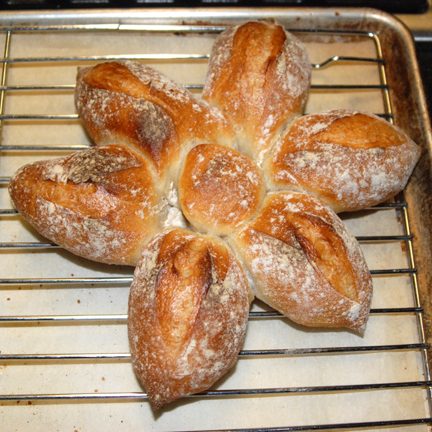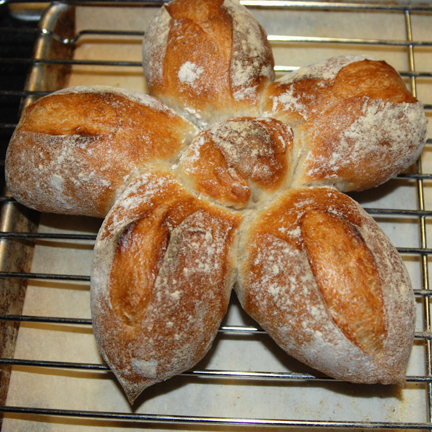 Let's see, 1, 2, 3, 4, 5, damn!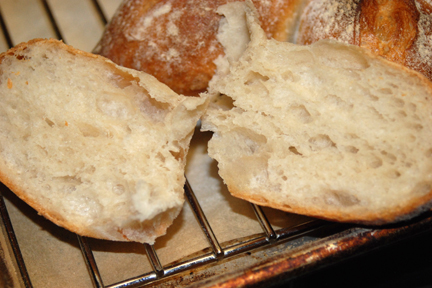 Not the most open Baguette dough ever but considering the handling, not bad.