February 12, 2011 - 6:51pm
Hello, 
PMcCool posted a Sweet Vanilla Challah, about this time, a couple of years ago (his post is here).
I thought his bread was just lovely - and wanted to make a Challah like his for Valentine's Day
(trying for heart shapes!):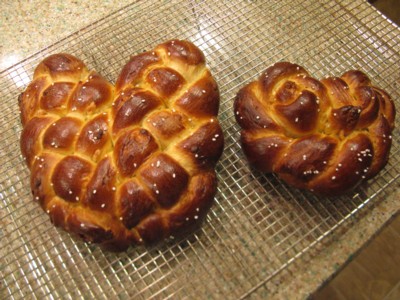 These breads are made with Mr. Hamelman's Challah, substituting some of the water with pure vanilla extract and vanilla paste, and adding 15% finely chopped white chocolate after the dough was developed.

arlo suggested adding white chocolate to 'Pain au Levain a la Vanille', another beautiful bread I was quite taken with (thanks, inlovewbread and arlo!), and I thought white chocolate would be a good addition to this Vanilla Challah.

The breads were glazed with 1 egg yolk, ½ tsp sugar and 1 tsp pure vanilla extract before baking, as instructed in PMcCool's post.
I sprinkled a bit of pearl sugar over before baking.

Have you ever been to an ice cream shop when they've been making their own waffle cones?
Don't those waffle cones smell amazing as they are cooking?
That's exactly what the kitchen smelled like as these breads were baking!
To shape these, I divided 1250g of dough into 6 pieces, approximately 208g each.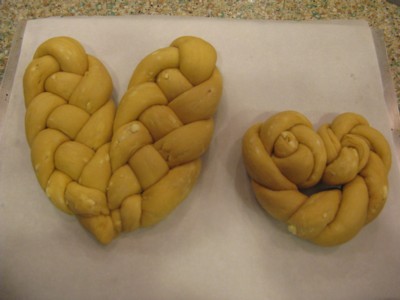 For the larger heart,
Four strands were rolled out to 24" long each.
Mr. Hamelman's Two-strand braid, method two, looked like it could form half of a heart.
I tried braiding two separate  two-strand 'braids' and set them close together to form a 'heart'. 
I used this video to help me with the braiding: http://www.youtube.com/watch?v=3YyDkdwVje0

For the smaller heart,
Two strands were rolled out longer, 30'"-32" or so each (forgot to measure!).
I used Mr. Hamelman's Two-strand braid, method one, twisting the two strands of dough, then coiling each end in towards center.
I have no crumb shot yet...I'm going to give one of these breads to family...likely the big one!
Happy Valentine's Day and Happy Baking everyone!
From breadsong