February 12, 2011 - 5:51pm
A pair of olive loaves and a deli rye
Spent the whole of last week contemplating making a 30% Rye this weekend.  I planned on making two changes from my previous attempt:  giving the dough a 24 hour cold autolyse before adding the starter and adding 10% whole wheat.  It was with anticipation, then, that I removed my starter from the fridge on Friday morning and prepared the dough for the autolyse.  The starter got fed at lunch time and was fully ripe when I got off work on Friday evening.  Usually I don't think twice about discarding starter for a refresh, but on Friday evening it had peaked so perfectly and smelled so good, I thought I would just use it.
Olive Loaf
150g sourdough starter @ 100% hydration
300g water
50g whole wheat
400g bread flour (11.4% protein)
5g salt
a good handful of Spanish olives, pitted, drained and roughly chopped
I gave the dough a 50 minute autolyse then added the salt and olives.  It got a 2 hour bulk ferment,pre-shape followed by rest, was divided into two 450g batards, allowed to rise for about 40 mins and then retarded over night. 
On Saturday morning I removed them from the fridge and allowed them to complete their final proof.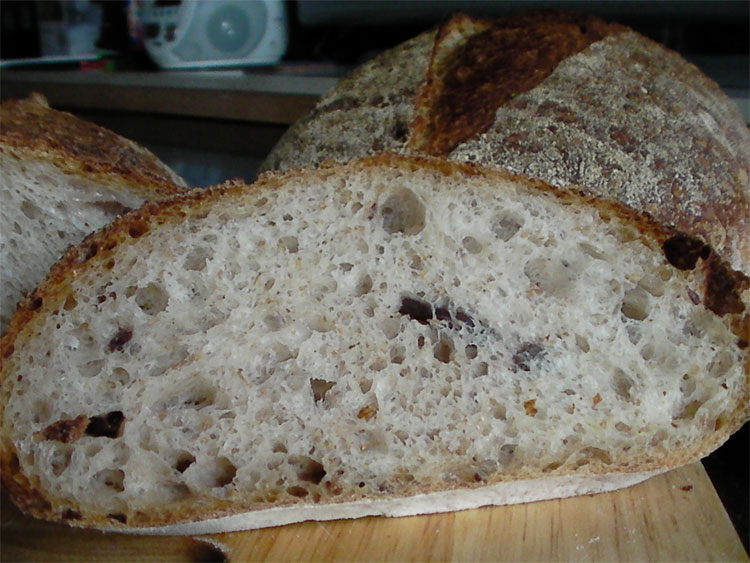 I was really pleased with the way these turned out.  I used good quality olives and the flavour was excellent.  It had the most wonderful aroma while baking.  The crumb was open and tender.  The crust thin and crisp.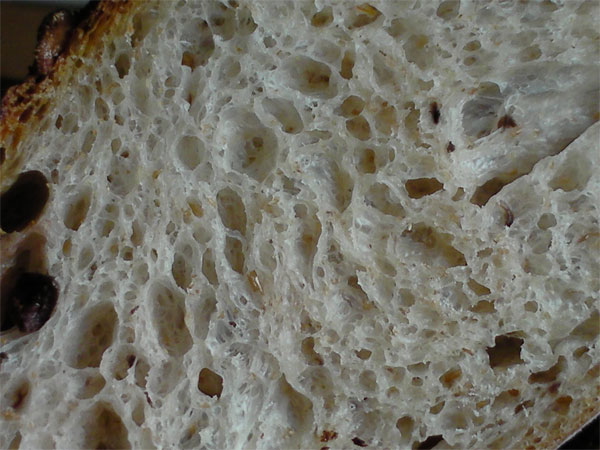 A close up of the crumb.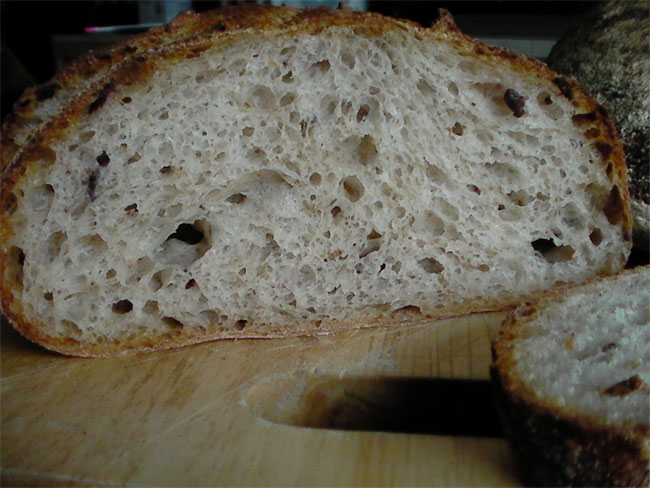 I will definitely be making these again, although I used half a jar of imported olives so the ingredients cost a lot.
The deli style rye was meant to be the main event, but in the end it was overshadowed by the olive loaves.  Both were cut up for dinner to go with roast chicken, romaine lettuce, cherry tomatoes and a creamy Caesar salad type of dressing.  The olive loaves proved to the most popular by far.  It could have been because I slightly overbaked the rye's crust. (Got distracted playing Lara Croft on our new Xbox of all things)! but I think it was just because of the terrific flavour of the olive loaves.  Even with all those flavours and a healthy splashing of hot sauce the olive taste stood out.  I think to make this bread really good, it is important to get really good quality olives.  After all they make the loaf.
Here is the rye loaf.  Pictures were taken under low light conditions so they are not as clear but you can see that the crust is overdone.  Nevertheless, it still tasted good.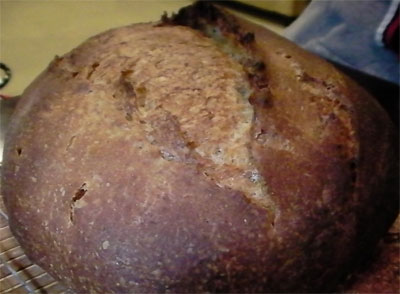 And the crumb.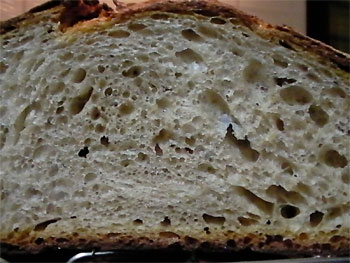 Syd