February 10, 2011 - 7:17pm
The Perspective of Time...pics and links fixed!
Hello all,
Most of you will not recognize my username, since I last posted here in March of 2008.  But I've been reading TFL daily for years now, since I first searched online for a good pretzel recipe, and found this one.  The combination of TFL, BBA, and Glezer's Artisan Baking Across America got me to the point where I could bake bread that I was proud of.
This evening, I pulled two loaves of Thom Leonard's Country French bread out of the oven, and they looked like this (shouldn't I have brushed off that little speck of flour on the near loaf?):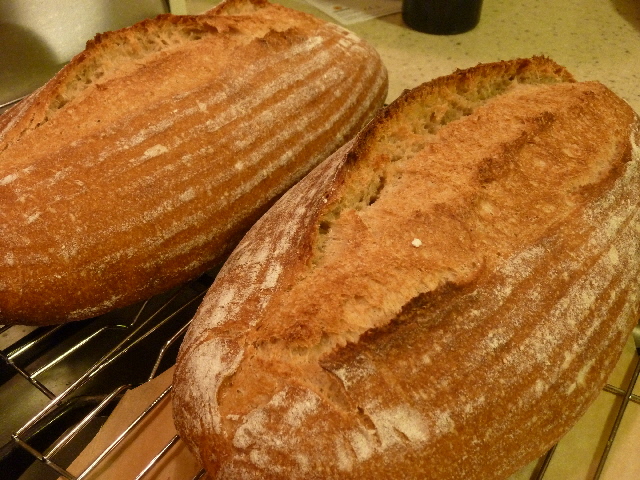 But when I first posted about this bread, I was disappointed (see blog entry here).  I goobered up some of the process, and thought the crumb was not what it should be, etc.  Back then, I sweated every line of instruction, every minute that some step of the process went too long, and was almost afraid to handle the dough for shaping.  Tonight, I called in a take-out order from a local pizza joint, loaded the bread in the oven, went to pick up dinner, got back home with 45 seconds to spare till I had to rotate the loaves.  Hey, just another day in the kitchen!
After all these years, and many dozens of loaves of all kinds of breads, it has become relatively easy to produce really nice stuff.  But as soon as I typed that, I remembered that a few weeks ago, I attempted the Polish Cottage Rye from Leader's Local Breads.  It had a cavern big enough for half the bakers on TFL, and a gummy crumb.  Yecch.  But usually, I'm quite happy with my results.
I just wanted to post this to encourage all you newbies to keep at it.  Find a bread you're interested in, and make it many times till you'd be glad to give it as a gift.  There's so much common sense and wisdom on this site, you can find any information you need.  And really, an investment of time will definitely yield a satisfying reward!
Happy Baking,
Sue