February 3, 2011 - 12:43pm
Faye's Award Winning Nettle Bread
When Andy/ananda posted his student Faye's success at the "Young Baker of the Year" competition, he mentioned that Faye was inspired by my trials to re-create the taste of blue fenugreek (not available in the US) with nettle. In German that kind of flattery is called: "he brushed my tummy". I felt very much "tummy brushed" and admired the creativity of the young winner from Newcastle College. (By the way, Andy, how was the final competition in November?)
This week I looked at the recipe again, worked out how to make the 60% hydration white levain with my 75% whole wheat mother starter (Andy's recipes do not allow for Dummies), and adjusted the recipe to best fit my schedule. Nettles thrive - and burn - in abundance in Germany and Scotland, but don't grow in Maine  (maybe one should introduce some to annoy pesky neighbors). So, instead of picking and home drying fresh ones, I used dried nettles from A & B Naturals, the friendly store that sell my breads. I also stretched and folded the dough (as in P. R.'s "Artisan Bread Every Day") and retarded the portioned dough overnight - something Faye most likely couldn't do under competition circumstances, anyway.
While I was preparing the dough, the house was filled with the appetizing smells of steeped nettle and toasted cumin. And the dough looked very promising. It was very smooth and elastic (I had added more water than in the original recipe), and handled very well.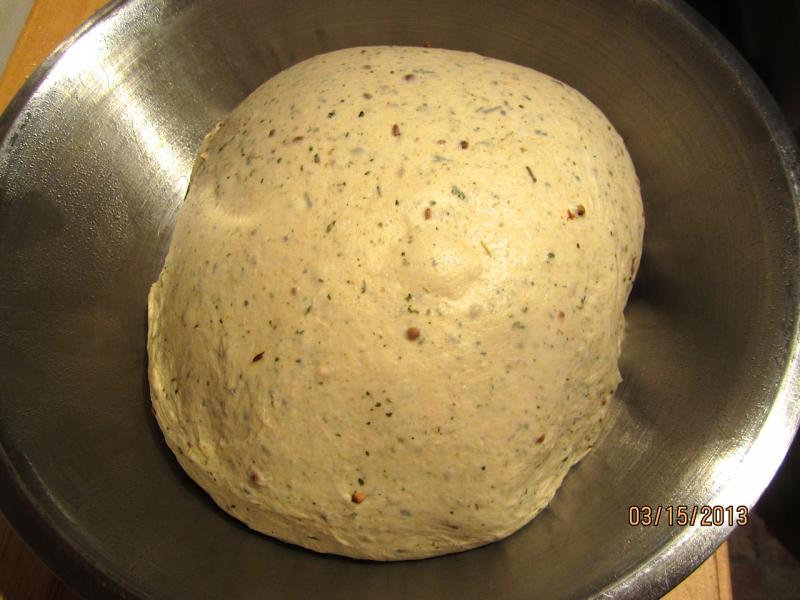 Nettle Bread dough after final S & F
The next morning the dough portions had doubled in size and looked like well stuffed, bouncy pillows. The rising time of the shaped boules at room temperature was, of course, much longer than in a commercial proofer. Before the breads were fully proofed in the bannetons I noticed that their seams (on top) started opening far too wide, so I took them out and placed them, seam side down, on a parchment lined baking sheet. I didn't want gaping holes on the bottom of the loaves.
The total baking time was 35 minutes, then another 10 minutes in the switched off oven with the door slightly ajar.
This is the result: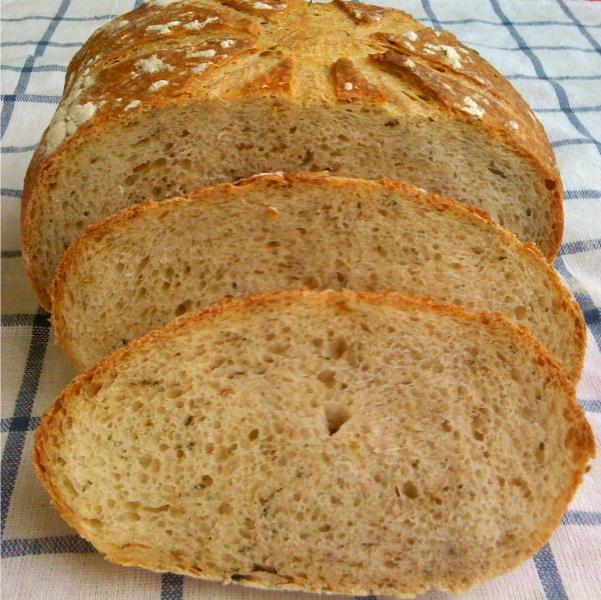 Speckled crumb from the nettles
Faye really deserved her award - THIS BREAD IS A WINNER! It tastes quite unusual, but very delicious. We served it to out dinner guests yesterday night, and they were absolutely delighted. I think I'm going to bake this for my customers, too.
WHITE STARTER
76 g whole wheat mother starter, 75% hydration
232 g bread flour
146 g water
 
FINAL DOUGH
all g starter, 454 g
550 g bread flour
16 g salt
4 g instant yeast
385 g water, more as needed
3 g cumin seed, toasted
4 g coriander, ground
4 g nettle, dried

DAY 1

In the morning, prepare white starter.

In the evening, boil 200 g of the water with dried nettles, and allow to cool. Mix with rest of the water (185 g).

Mix all ingredients for final dough on low speed for 1 - 2 minute. Let dough rest for 5 minutes. Switch to medium-low speed and knead for 2 min., adjusting with more water as needed, dough should be sticky. Knead for 4 more minutes (dough should be still somewhat sticky).

Transfer dough to lightly oiled work surface. With wet or oiled hands, stretch and fold dough, gather dough into a ball, place into slightly oiled bowl, and let rest for 10 minutes. Repeat S & F another 3 x, at 10 minute intervals, misting the stretched dough before folding with more water, as needed, to keep it slightly sticky.

After the last S & F, divide dough into 2 equal portions (ca. 700 g), place in lightly oiled containers, and refrigerate overnight.


DAY 2

Remove dough from refrigerator 2 hours before using (or shape cold and let proof longer).

Shape dough into tight boules, and place, seam-side down, on parchment lined baking sheet. Sprinkle with a little flour. Cover, and let rise for 60 - 90 minutes, or until almost doubled in size (finger poke test!).

Preheat oven to 450 F/230 C, including steam pan.

Score breads. Bake them for 20 minutes (with steam), rotate pan with loaves 180 degrees, remove steam pan, and continue baking for another 25 minutes - if the sides brown faster, check after 10 minutes and turn the loaves a bit around (internal temperature 205 - 210 F/96 - 99 C).

Let breads cool on wire rack.
Post updated (some ingredient amounts and baking procedure) 6/13/16