February 3, 2011 - 8:55am
20101215 / 20110124 Mr. Hamelman's Poolish Baguette Formula
Happy New Year of the Rabbit!  I wish you all a year of good health and many delightful surprises in your baking adventures.  I kicked off my baking in the (calendar) New Year with Mr. Hamelman's poolish baguette formula.  This was also the formula that concluded my baking last year.   Both bakes were full of uncertainties.  As usual, I had to figure out a fermentation process that would fit my schedule for this type of commercial yeast/poolish leavened dough, which I had rarely dealt with in the past years.   I managed to get it to work, but a few more experiments will probably provide further assurance that everything's under control.  
In these two bakes, I tried a different hold of the lame when scoring the baguettes; and employed my favorite 'exit strategy' to shape this baguette dough into a boule when I was desperately out of time.  The new way of scoring was awkward and did not work as well on the baguettes as the old one.   On the other hand, the boule turned out okay.  I got a better idea of what my future cold fermentation schedule for yeasted dough should be. Good news did not just stop there.  The most exciting moment came when I finally produced pictures that didn't seem to come from the underworld.  For the first time, I got pictures of bread that were hubby-approved.   I love looking at them now!   From now on, no more eyesores, I promise.
And here they are:
Some of you have asked about my setup and procedure, which are quite simple, as you'll see below: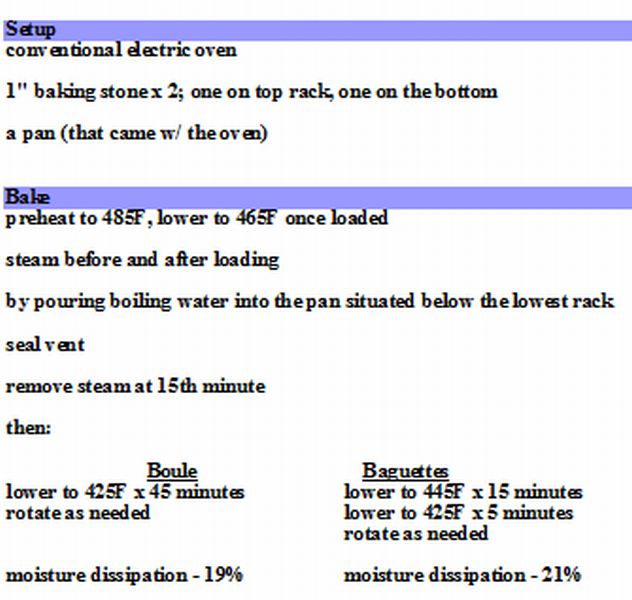 Will be submitted to Susan's Yeastspotting!