January 28, 2011 - 7:55pm
Hello,  I wanted to try making Apple Bread again, after seeing Larry's recent Odds and Ends post (thank you Larry) (and because I was able to find Honeycrisp apples at the market!).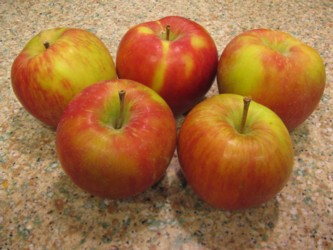 I made this bread combining elements of Mr. Hamelman's Normandy Apple Bread, and Mr. Kastel's Apple Bread. With many thanks to Mr. Hamelman and Mr. Kastel!
I wanted to try mixing the final dough without water, to try and get as much apple flavor as possible in the bread
(apple cider, applesauce, and sour cream stand in for the water).
Apple Bread
 
 
2000
Desired Dough Weight in grams       <----
 
 
 
 
 
 
 
 
 
 
 
 
 
 
 
 
 
 
 
Baker's Percentages
Weights
Baker's
 
Ingredients
Dough
Stiff Levain
Dough
Stiff Levain
Total
%
 
 
 
 
 
 
 
 
 
Bread flour
0.9
1
738
159
897
92%
 
Red Fife 75% whole-wheat
0.1
 
82
 
82
8%
 
Water
 
0.6
 
96
96
9.8%
 
Apple cider (60g+80g+270g)
0.50
 
410
 
410
41.9%
 
Applesauce (Transparent apples)
0.17
 
137
 
137
7.0%
est 50% water
Sour cream 14%BF
0.19
 
158
 
158
11.5%
est 71.5% water
Osmotolerant instant yeast
0.01
 
4.00
 
4
0.4%
 
Salt
0.023
 
18.79
 
19
1.9%
 
Sourdough Starter
 
0.20
 
32
32
 
 
Stiff Levain
0.35
 
287
 
 
 
 
Dried apples (Honeycrisp) 
0.2
 
165
 
165
 
 
 
 
 
 
 
 
 
 
Total
2.438
1.8
2000
287
2000
 
 
Mix levain, ferment 12 hours at room temperature (70-72F,until doubled).
Pour a couple of Tablespoons of liquid (more cider, or a liqueur, brandy, or?) over dried apples to rehydrate them a bit. Set aside.
Hold back 60g apple cider.
Blend sour cream and 80g apple cider. Gradually warm in microwave.
If applesauce is really chunky, break it up a bit (I used a pastry blender to do this).
Blend applesauce and 270g apple cider. Gradually warm in microwave.
Blend sour cream and applesauce mixtures. Test temperature (95F).
Blend in stiff levain, whisk until smooth.
In separate bowl, combine flours and yeast. Add liquids to flours and yeast. Mix to combine, then mix in salt.
Work dough to improved mix.
Warm remaining cider to 90F, add to dough and mix in.
Warm dried apples if they are cool; I gently warmed them 15 seconds in microwave.
Spread dough out on counter, sprinkle dried apples over, jelly roll and knead until dried apple is well distributed.
Bulk Ferment, 80F, for 3 to 3.5 hours; stretch and fold at 1 and again at 2 hours.
Divide, preshape, rest 20 minutes, shape, retard overnight in fridge, preheat oven to 460F, bake 10 minutes, reduce heat to 425F, bake until done (depending on loaf size). Tent bread with foil while baking if it's browning too quickly.
I made two different batches. I learned from the first batch:
- I used way too much yeast (BP 1%). The dough fermented too quickly! I reduced to .4% BP in the second batch.
- I found the dough a bit stiff after mixing and didn't do a great job mixing in the dried apple (uneven distribution of apple shows up in the crumb shots below, from two different loaves). For the second batch, I tried double-hydration, to get some gluten and then soften the dough with the addition of a second amount of liquid. The dough was easier to spread out, I was able to "jelly-roll" the apple pieces and knead them in much more easily.
- Not moistening the dried apples before adding, I think caused them to pull water out of the dough during bulk fermentation; the dough seemed dry and I found it harder to shape. I splashed a bit of extra cider over the dried apples for the second batch and this helped.
- Transparent apple applesauce contributed great flavor to this bread. Had enough left over to make a second batch. :^)
- A sweeter sparkling apple juice didn't translate to a better tasting bread, to my taste; in the second batch, I used apple cider which was not as sweet and I liked the flavor of the bread better: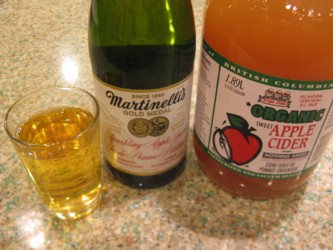 These were from the first batch (the "P" is for Pomme, a nod to Normandy!).
The kitchen smelled like extremely apple-y after the bake!!!: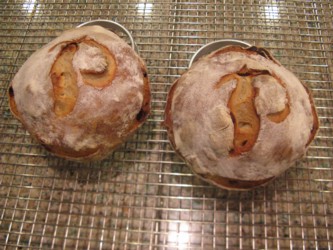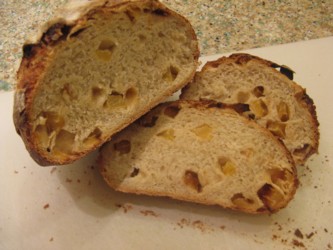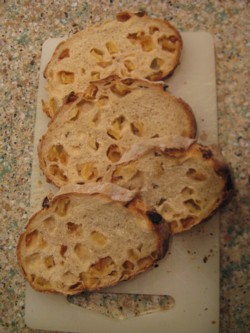 Here is a picture of a loaf from the second batch (trying for apple branches and leaves with the scoring):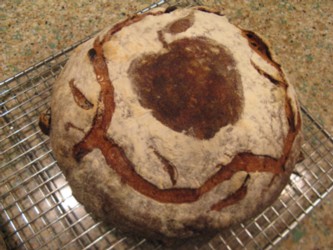 In drying the apples, I was curious what the yield would be.
For the second batch, 5 apples = 1200 g weight, then 860g after peeling, coring, dicing, then 165g after drying (the apple flavor concentrated quite well, and yummy caramelization happening here and there!):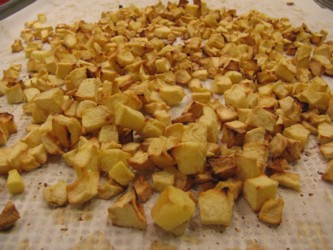 While dicing the apple, I tossed the pieces with lemon juice so they wouldn't brown too quickly before making it into the oven.
I dried the apples on two baking sheets, in a reducing oven:
380F convection for 10 minutes, stir, (at 10 minutes, the smell of baking apple starts to fill the kitchen!)
380F convection for 10 minutes, stir
320F convection for 10 minutes, stir
275F convection for 15 minutes, check to see how they're drying
275F convection for 10 more minutes
I really loved the flavor of the bread in both batches, but in the second batch the bread had a bit more tang that complemented the sweetness of the apples.  The crumb is nice and soft. In the end, I got the apple flavor I hoped for!

Happy baking everyone! from breadsong