January 23, 2011 - 12:48pm
For our dinner guests (and Daisy_A!)
Hello,
Many thanks to Daisy_A for her wonderful posts:
Sourdough Wholemeal Lemon Bread, and Mexican Chocolate Crackle Cookies!
I wanted to bring some flavors to the table that remind me of sunny places, as it's been rainy and wet where I live for quite awhile. Daisy_A's recipes seemed perfect and lovely to share with our dinner guests.
Here is the bread (made 4 loaves; two are pictured).
I added the zest of 5 lemons to Daisy_A's formula and the bread had a really nice lemon flavor.
My lemon-loaf-shaping was not as successful as I'd hoped for, and unfortunately couldn't give the bread as much fermentation time as I would have wanted - was a bit short on time yesterday and pulled these out of the oven just as our guest arrived!: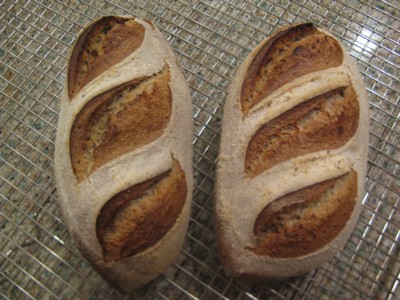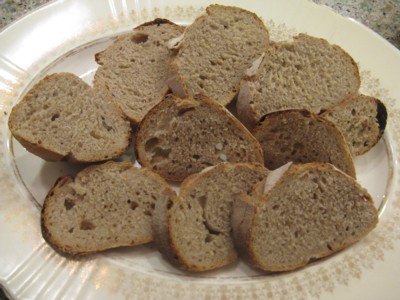 For dessert, I assembled Mexican ingredients from my pantry to make Daisy_A's amazing Mexican Chocolate Crackle Cookies. What a truly special cookie! I followed Daisy_A's suggestion to add orange, cinnamon and vanilla flavors, and wow, all I can say is I think this is the most delicious cookie I have ever tasted!!!  

Here are some of the ingredients. The piloncillo sugar is a Mexican cone sugar I purchased for making cafe de olla. Thanks to ehanner for his excellent inquiry about other ways to use this sugar (his post is here); I took his suggestion and used the sugar in these cookies - bravo, Eric!
I had some Mexican Ibarra chocolate and Mexican vanilla - I was pretty happy to have these ingredients on hand for this cookie bake!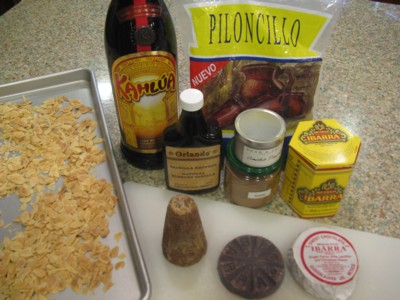 Daisy_A's Mexican Chocolate Crackle Biscuits (adapted from The Art & Soul of Baking), with orange and vanilla flavors; makes about 30 biscuits, 22grams each
(I doubled Daisy_A's quantities, to make enough cookies to give some to our guests as a gift to take home with them)
90g sliced almonds, lightly toasted and cooled
100g all-purpose flour
100g Piloncillo sugar, broken up into small pieces with a chocolate chipper

I whirled all of this around in the food processor, trying for a fine grind. The sugar didn't incorporate as finely as I would have liked; I sifted and whirled the larger bits around again until it was finer. Next time, I may chop the sugar even more finely by knife before processing.

To these ingredients I whisked in:
1/4 teaspoon ground cinnamon (Canela Molida) (equal to Daisy_A's original amount, and not doubled, as the Ibarra chocolate also had cinnamon flavor)
1/2 teaspoon ancho chile powder 
1/16 tsp cream of tartar
1/4 tsp salt
1/2 teaspoon baking powder (I actually forgot to add this - so much for mis en place!)

The dry ingredients were set aside while the chocolate mixture was prepared.




In a double boiler over two inches of simmering water, stirred and melted:

40g unsalted butter
4 teaspoons Kahlua liqueur
2 discs (3.1 oz each) Ibarra Mexican chocolate, broken up into pieces with a chocolate chipper

(Didn't this smell heavenly as it was melting down!)
When smooth and glossy, the mixture was set aside to cool a bit. Once cooled, I whisked into the chocolate mixture:

20g very finely diced candied organic orange peel
3/4 tsp Mexican vanilla
In a separate bowl, I whipped 2 large eggs until lemon-colored and thickened.
The eggs were folded into the chocolate mixture, then the dry ingredients were folded into the chocolate mixture.
The mixture was chilled for 2-1/2 hours before forming the cookies. By the time I was finishing forming the cookies, the mixture was getting soft; next time, making this quantity, I may chill the mixture in two separate batches so one half can stay chilled while forming the first half.
I used a small ice-cream scoop to portion the cookies and they ended up weighing 22g each.

I rolled each portion into a ball then rolled each ball in icing sugar. The cookies were baked on a perforated baking sheet at 320F convection for 15 minutes: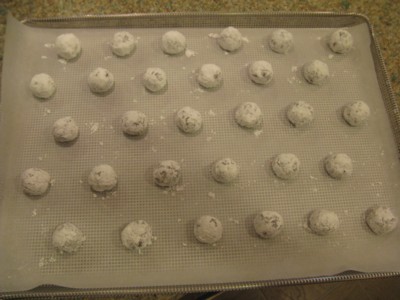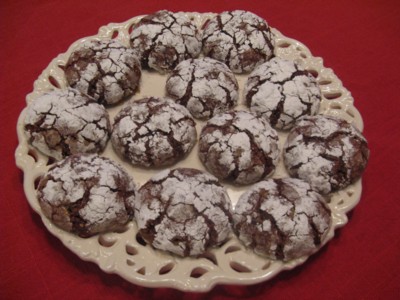 These were so lovely to enjoy with after-dinner coffee!!! They came out of the oven at 2pm and they had several hours for the flavors to blend and develop by dessert time. So very yummy!

Thank you, Daisy_A, for a great introduction to Jan Hedh with this bread, and for your pretty, tasty little cookies.
From breadsong