January 21, 2011 - 7:56pm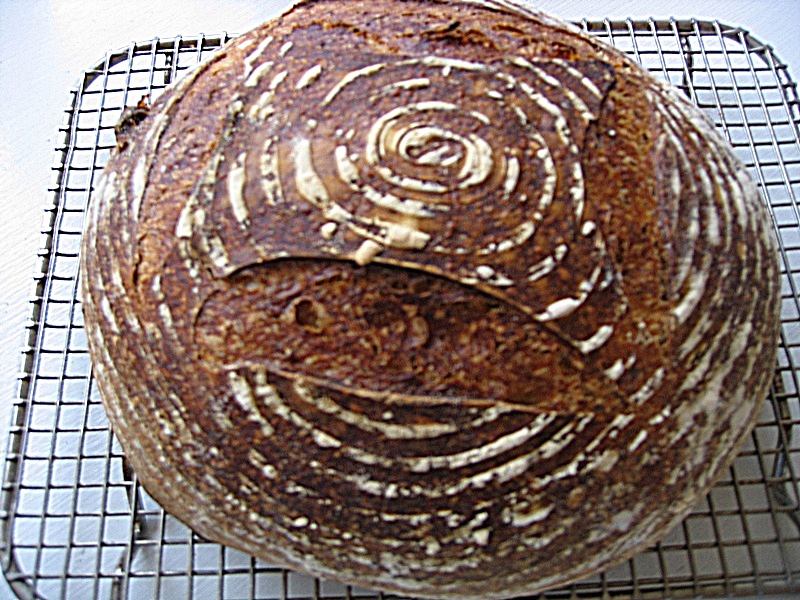 This week I found time to come up for air and play with some of my Christmas toys, so I tried a little experimentation where I haven't been before, and also revisited familiar places where my skills can always improve.  The result is an interesting, but somewhat perplexing, apple-walnut sourdough, and more practice with croissants and my favorite poolish baguettes.
I've wanted to try an apple-walnut bread for some time, but frankly, I'm too lazy to either dry apples or buy dried apples.  So, my thought was this: why not puree an apple, make allowances for its hydration, and see what would result.  I used Hamelman's Vermont sourdough as my 'base' recipe.  To this I added a pureed Macintosh apple.  Now, according to my Google explorations, apples are about 85% water. Armed with this information, I adjusted the flour and water weights and mixed the dough, having built my levain over a 12 hour period.  The first thing I found is that even pureed, the apple has not released all of its water during the mix, so I ended up adding a small additional amount of water to reach a dough that felt right (Hamelman's Vermont sourdough is at 65% hydration, so I figure I upped it to about 68% - no big deal).
I mixed all ingredients except salt, did a 40 minute autolyse, and then added the salt and mixed for 3 minutes on speed 3 of my Hamilton Beach.  After, I added chopped walnuts and mixed on speed 1 for an additional minute.  Bulk fermentation was for 2 1/2 hours with two folds at 50 minute intervals.
The initial thing I noticed about this dough was that it was very slow in rising during the bulk fermentation.  After dividing and shaping, I left it for final proof downstairs where the temperature is a chilly 60 degrees F.  After 5 hours I was not satisfied with its progress and brought it upstairs to a more hospitable 68 degrees where it proofed for an additional 2 hours before baking.
Now, if this were simply Hamelman's Vermont sourdough both the fermentation and final proof would have been accomplished much sooner (unless I opted to retard overnight).  But with the addition of the apple and walnuts, the levain worked much, much more slowly.
The bake was fine - there was noticeable though not spectacular oven spring.  The profile, as you can see, is not bad, but not what I am used to when baking this recipe without additions.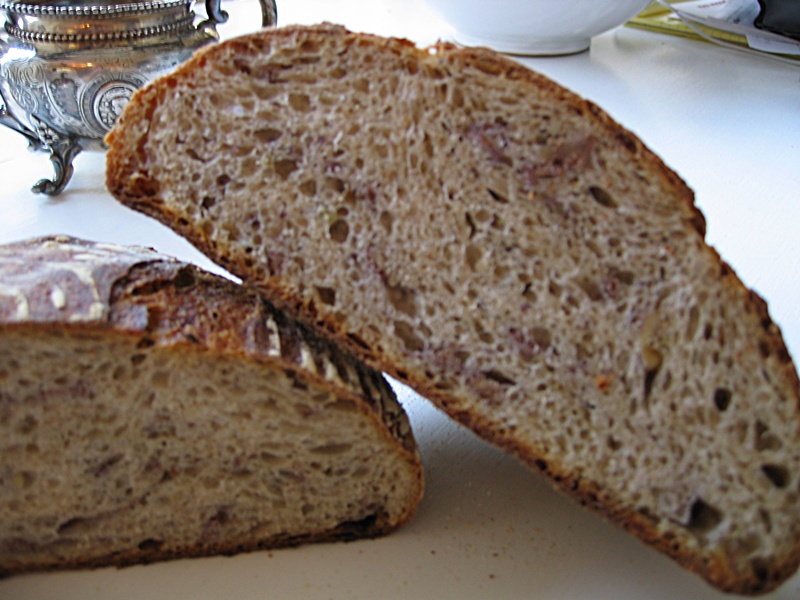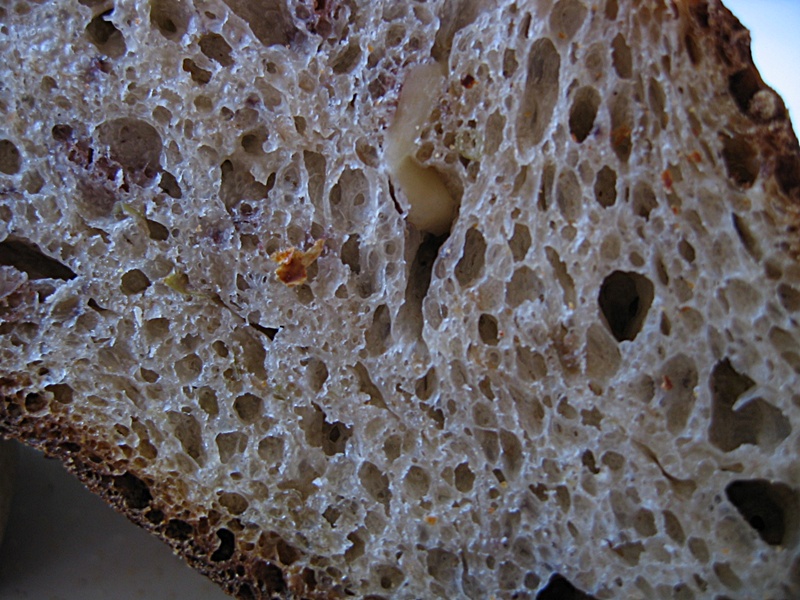 Good things: instead of pieces of apple in the finished product, there are flecks of the peel and a nice, but not overwhelming flavor of apple, with some additional sweetness it brings.  The walnuts are a perfect complement.  The bread is surprisingly moist and has stayed fresh much longer than a straight sourdough.
I do wonder if there is something in the pureed apple that inhibits the levain (cue for anyone to offer opinions, or better yet, definitive answers).
Following the sourdough experiment I decided that, it being wintry and cold - outside and in my kitchen - it was a good time to revisit croissants.  Lately I've spent some time with our pastry bakers at work rolling out croissants, so I've developed some confidence in my shaping and overall in the feel, texture and thickness of the dough.  The results, shown below, were accomplished using a recipe adapted from Dan DiMuzio's excellent textbook, Bread Baking.  I laminated the dough using two single-folds and one double (book) fold.  I'm pretty pleased with the outcome and the crumb.  As with everything in baking, I'm finding that the 'secret' is pretty simple: practice, practice, practice.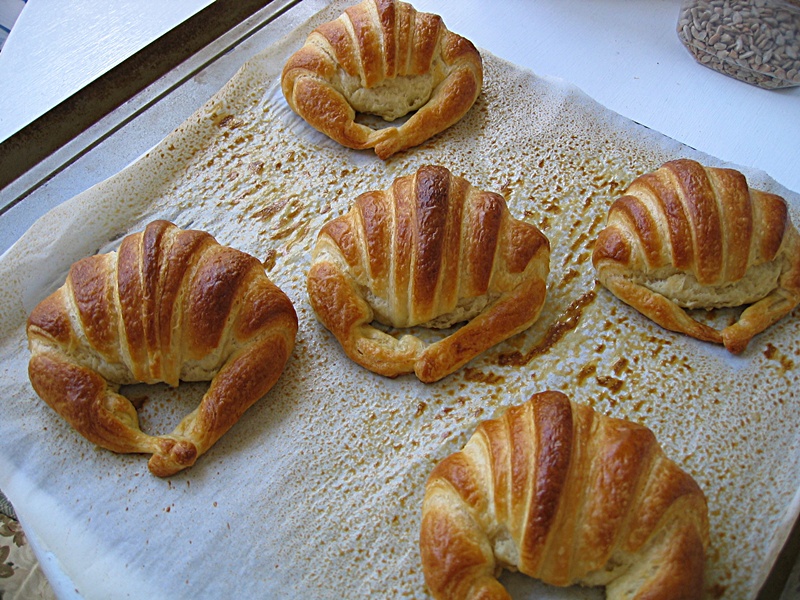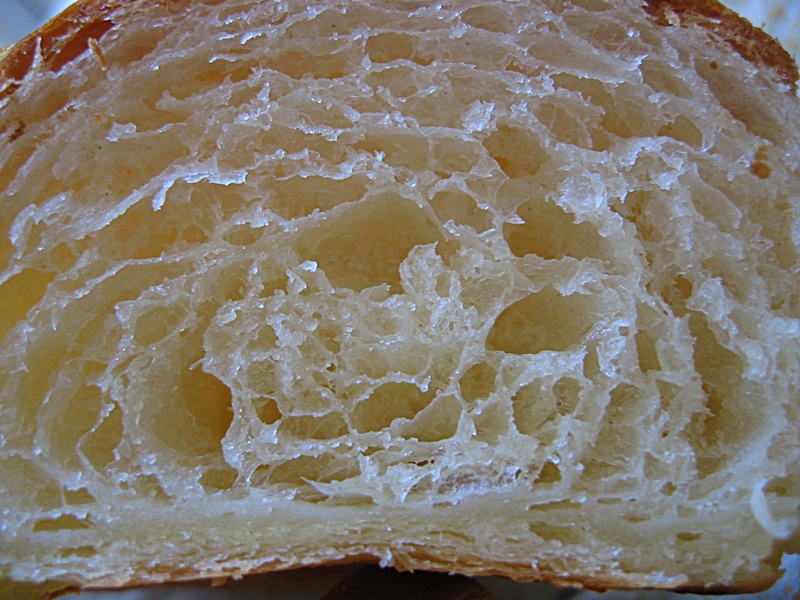 Finally, I wanted to bake something for my friends at my local pub (which also supplies me with Sir Galahad flour in 50# bags), so I did a bake of poolish baguettes taken from Hamelman's recipe.  I've tweaked his to up the 68% hydration slightly via the poolish, but when I did the poolish mix last night, his recipe was closer to me than my spreadsheet, so this is straight from Bread.  I like it particularly because it demonstrates the openness of crumb that's attainable with a hydration that is not overly high.
I'm including a picture below of the ripened poolish for the benefit of anyone who is not familiar with what this should look like.  What I'd like to call attention to are the small rivulets of bubbles that have formed, displacing for the most part larger bubbles that dominate under-ripened poolishes. (And actually, this could have ripened for probably another 20 minutes or so, but my schedule pronounced it 'done' - and in any event I'd prefer a slightly under-ripened poolish to an over-ripened one).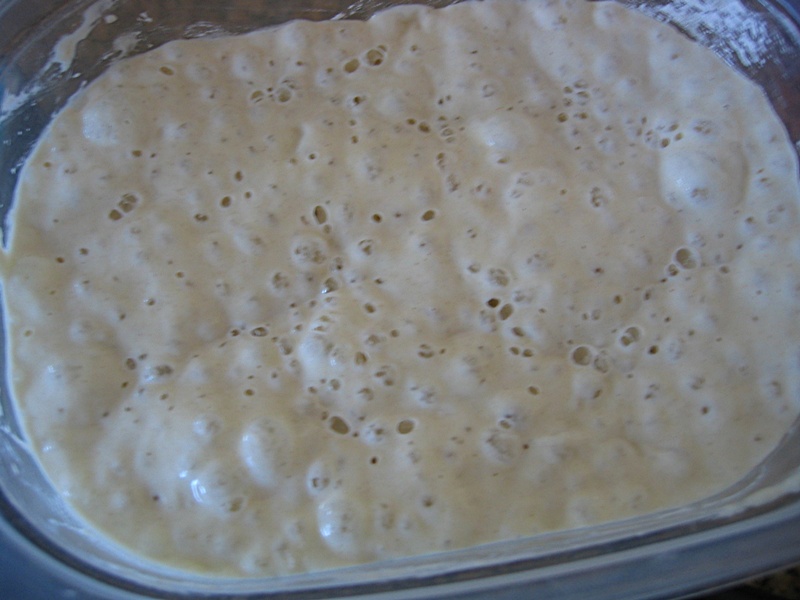 Here are the 10 oz 17" baguettes (mini baguettes really) that emerged from my new FibraMent baking stone after 23 minutes at a temp of about 450 degrees F.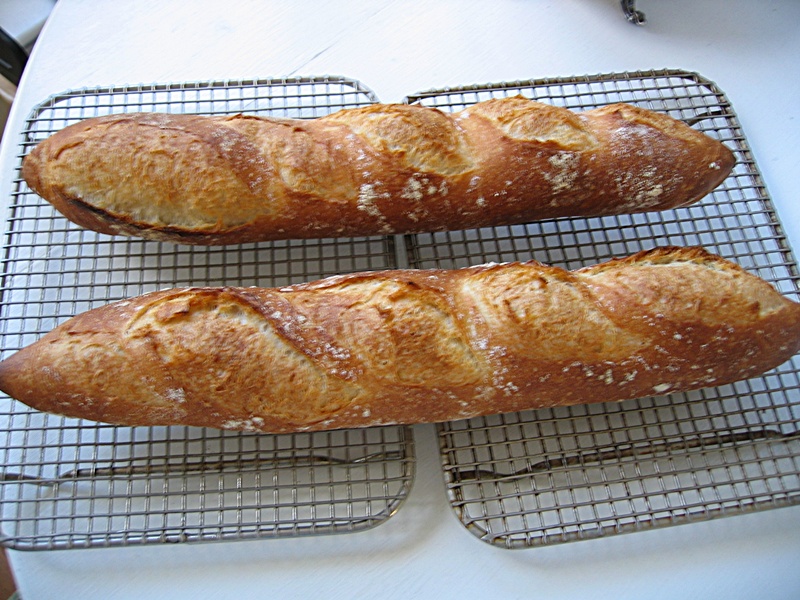 Aside from the few slices shown here, the rest was quickly devoured by patrons and kitchen staff at the Old Brogue Irish Pub.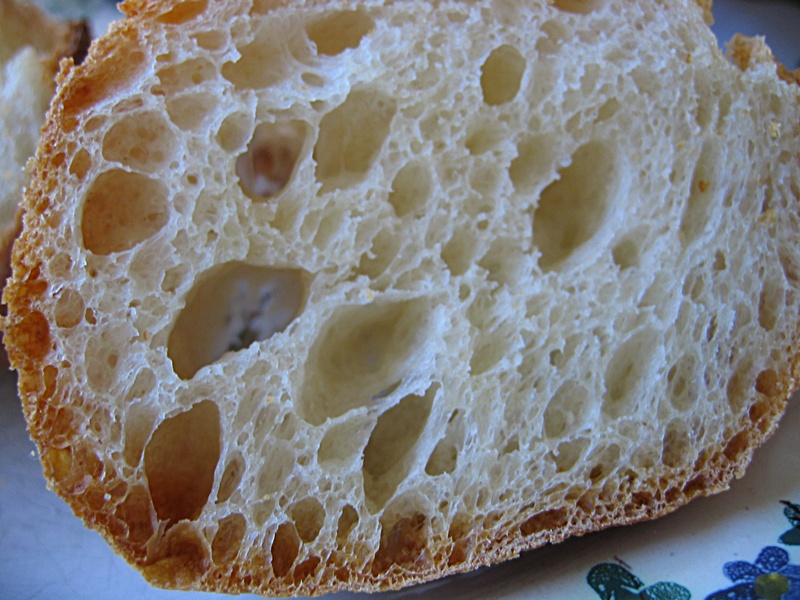 Larry