Tartine Light Rye - baked in a covered cast iron dutch oven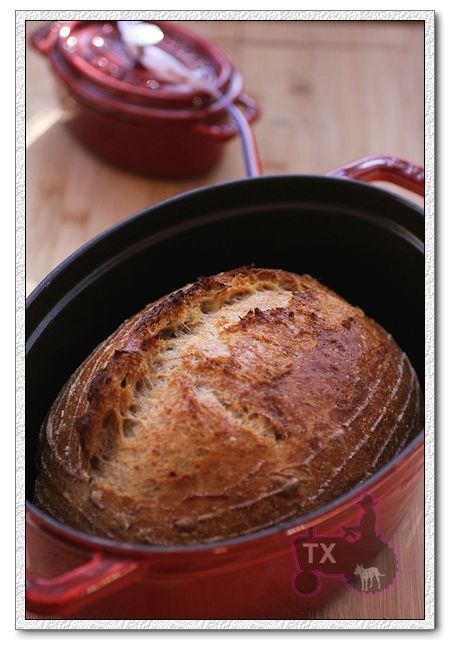 There have been a lot of discussion here on TFL regarding covered baking, ranging from covering dough on stone with a roasting pan, to baking in a dutch oven like a no-knead dough, to baking in a "combo-baker" as Tartin Bread Book suggests. I recently got a 2.5 quart oval enamel cast iron pot at a very good price (William Sonoma winter sale is a gold mine!), so I finally can try my hand on covered baking.
This light rye recipe is from "Tartine Bread Book", with only 15% rye, and some ww, this is really just a country loaf. Hydration is nearly 83%, so the dough is very wet and sticky. This is actually my main motivation for using the pot, such wet dough tend to spread a bit on stone, before it gets a change to spring up. I have so far work around the problem by baking smaller loaves (500g to 600g rather than 1000g+), and manage proofing/dough strength very carefully, however the covered pot does seem to have an advantage over baking stone in that regard.
Moist and open crumb:
Here're my thoughts on baking in a cast iron pot so far:
Pros:
- Better volume and shape due to a)more direct heat all around the dough rather than just from the bottom; b)limited spreading space, which means the dough size and the pot size need to be matched well. This is especially significant with high hydration doughs.
- No need to steam. This is less important to me since the "hot water in cast iron pan trick" has always worked great for me.
Cons:
- it's dangerous (much more so than steaming the oven IMO) to handle a hot hot hot pot/lid, while trying to drop a "nearly same size" dough into it without losing too much heat. I have never used a cast iron pot before, so my head dosn't grasp the idea of "it's REALLY a bad idea to grab the lid with your bare hand after preheating it at 550F for over an hour"! Here's the damage, OUCH!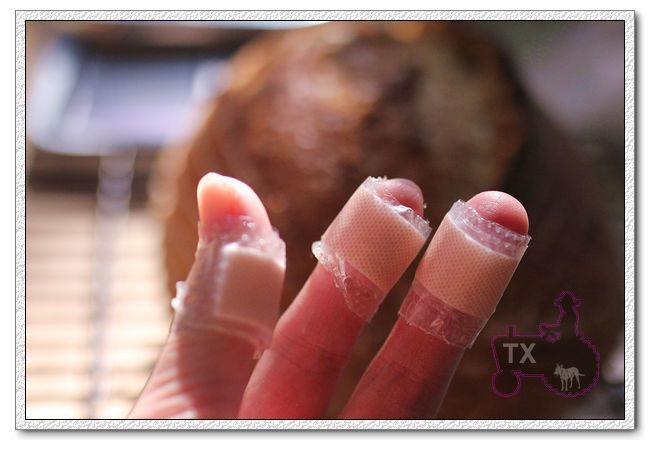 - The size and shape of the dough are very restricted. This 2.5quart one is a bit small, I have gotten a 5.5 quart one (also on sale, yipee!) online, with the bigger one I will be able to bake larger loaves with high hydration, which is the best reason to bake breads in a pot IMO.
- It's a bit tricky to play with time/temp to get a crackling crispy crust, especially with such wet dough. Here's my procedure that finally worked: preheat at 550F for over an hour, with lid on; drop in dough, cover (with a glove!), keep at 550F for 5min, drop to 450F for 15min, take out lid, bake for another 20min, turn off oven, crack the door open a little, and let the pot/dough sit in oven for another 10min. With that procedure I got a crust that cracked, singed, and remained crispy after cooling down. This is for a 600g bread, for larger loaves, I imagine more time would be needed.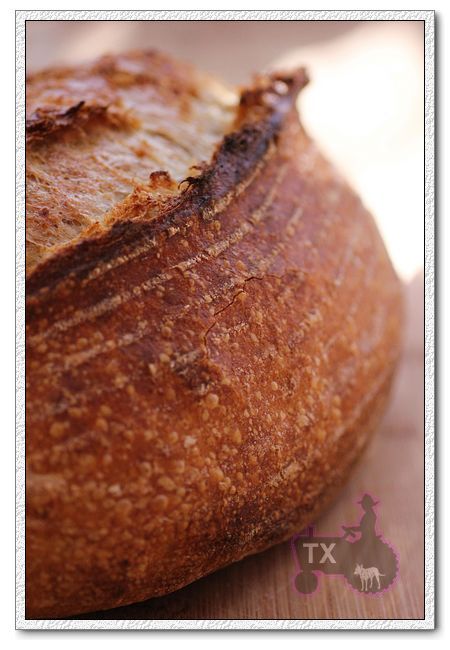 Notes:
- The instruction in the book says to drop the dough from proofing basket directly into pot, then score, this seems impossible to me. Maybe because my pot is quite deep, and the one in book is quite shallow, but there's no way I can flip the dough in there without sticking to something, or missing the pot, or most likely both. So I first flip the dough out of the brotform onto a parchment paper, cut the paper quite close to the dough size, score, THEN lift the corners of the parchment paper and drop the whole thing into the pot. It was scary, but worked, the parchment inside didn't seem to negatively affect the crust.
- The pot I used was Staub, the reason I like it better than other brands is that the metal handle on the lid (the one that burned off my 3 fingers) can take heat up to 500F accoding to the manual. I called their customer service, and was told it actually can take 550F. This is a lot higher than the plastic handle on some of other brands, including Le Creuset.
- I actually baked another loaf using baking stone and normal steaming method (side by side with the pot). Since the pot was covered when I steamed the oven, I don't think it affected the dough in the pot. The following is the result for baking stone, dough size is 500g, stone was preheated at 550F for over an hour along with the pot/lid, loaf was loaded 5min after the pot, so 15min with steam at 450F, then 20min without steam at 450, also stayed in the oven for 10min after it's turned off. Good volume and crust, but it did spread a bit on the stone. Since the shape and scoring are all different from the one in pot, I can't really draw too much conclusion from it, but I imagine a well fit cast iron pot would make it rounder and a little higher.
- The following is a side by side comparison of crumb, they are identical IMO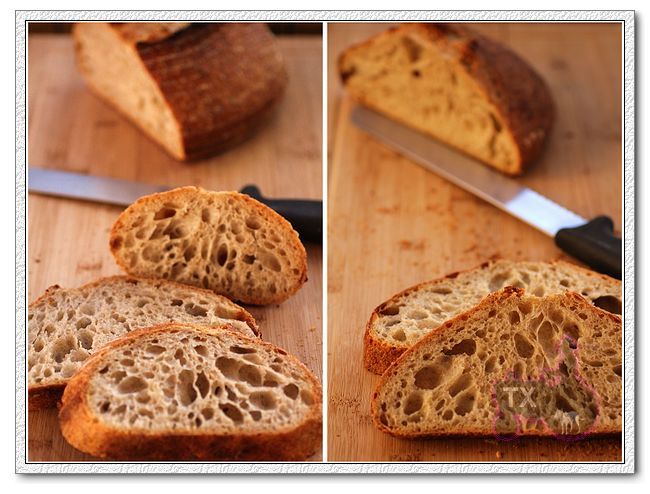 In summary, the "baking in a pot" experiment is a success. I would definitely use thise method for very high hydration doughs, IF their shape and size match the pots I have. For the other breads, I would stick to baking stone and steaming.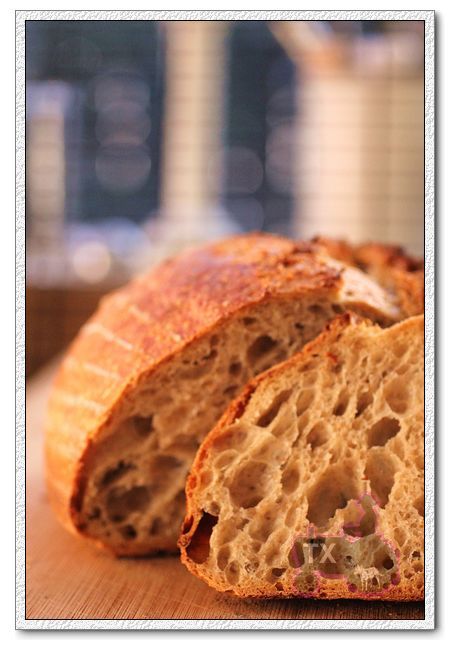 Sending this bread, along with 3 well cooked fingers, to Yeastspotting.