Back to baguettes and basics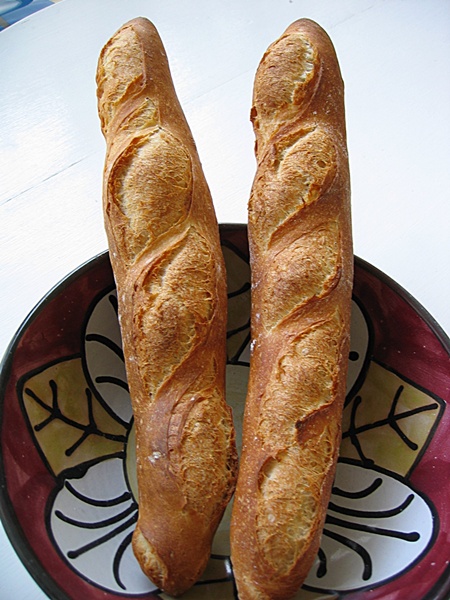 I must have been a good boy this past year, because Santa was very generous to me.  Under the tree I found a new brotform, a fabulous new baking stone - a FibraMent that measures 15" x 20" x 3/4" - a Lodge Combo Cooker and a new peel!  And although nearly felled by a terrific head cold, I could not resist the temptation to play with the new toys.
I bake baguettes at work every day - usually in the neighborhood of 140 or so - but I rarely attempt them at home anymore because of the steaming issues (I've bored everyone at TFL to death with) with my gas oven.  But....since using Sylvia's patent-pending (I assume!) steaming method involving wet towels in glass bowls brought to a boil in the microwave, I've had really nice results with my batards and boules, so it seemed only right to stick my big toe in the water of baguette-baking again.
I chose Hamelman's poolish baguette recipe which I've slightly upped to 69% hydration and slightly higher poolish content.  I think it yields a very workable dough in terms of handling, and I learned long ago that you don't need superhydrated doughs to achieve open crumb - just proper mixing, fermentation and handling.
Although my stone allows a 20" baguette, alas, even my peel only goes to 17 1/2", so I had to be content with something that is still a good half-foot shorter than the true thing.  I scaled his recipe to give me two baguettes at 284 g apiece - just about 10 oz which seems right to me for the size.
The paraphernalia involved in creating steam is: cast iron frying pan in bottom of oven loaded with lava rocks, and, Sylvia's (nearly patented) glass bread pan filled with wet towel and boiling water.  The procedure is to add the bread pan about 5 minutes prior to loading the dough, and then as soon as it is loaded  immediately and carefully pour a cup of hot water onto the lava rocks, close the oven, and repeat twice more at 1 minute intervals.  The pan with boiling water I take out after 15 minutes.
The FibraMent stone requires initial seasoning, which amounts to heating the stone to 100 degrees F for one hour, and then increasing the heat by a hundred degrees for one hour until reaching 500 degrees, where it remains at that temperature for two hours.  I realized that this would coincide nicely with the fermentation schedule for the dough, so as soon as I began mixing the dough I also started seasoning the stone.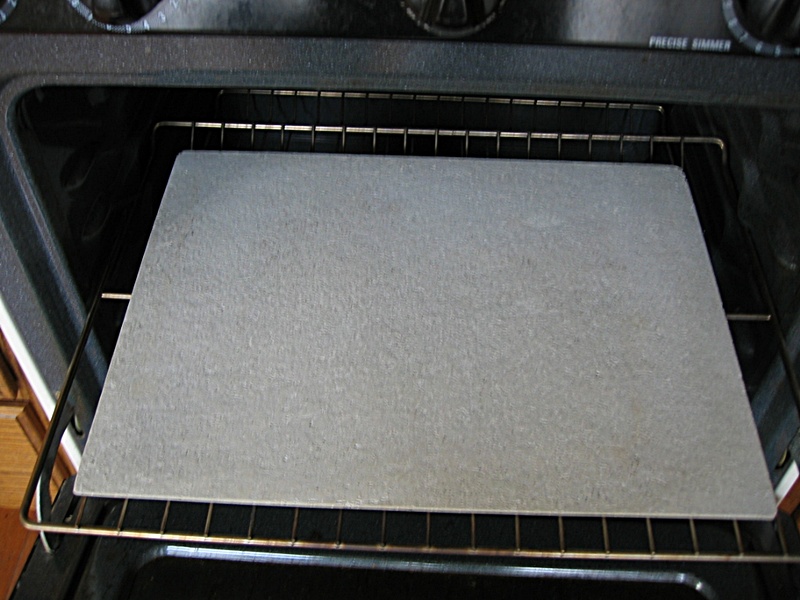 Because the stone is a full 3/4" thick it requires a longer preheating period to build its thermal mass from my previous pizza stone that was only 1/2" thick.  But, as I've discovered from my initial bakes, it retains heat better and longer: both baguettes bent upwards at each end and interesting, both twisted slightly in the same direction as you can see from the picture at the head of my entry.  This greater retention of heat will require adjustments in my baking temperatures - downwards I think.
Anyhow, here are the results of the baguette bake: I'm generally pleased with the crumb but exhuberant over the open grignes the steaming created.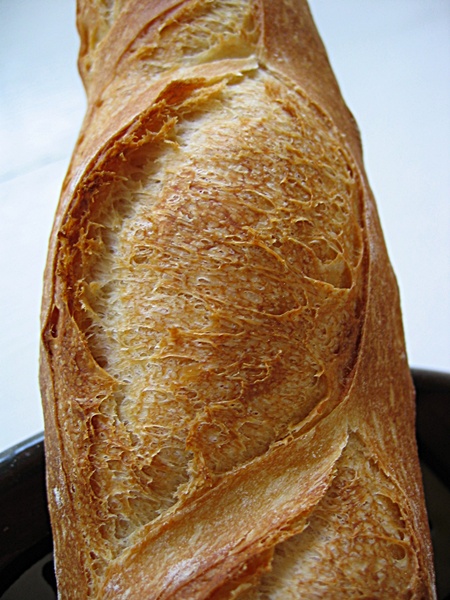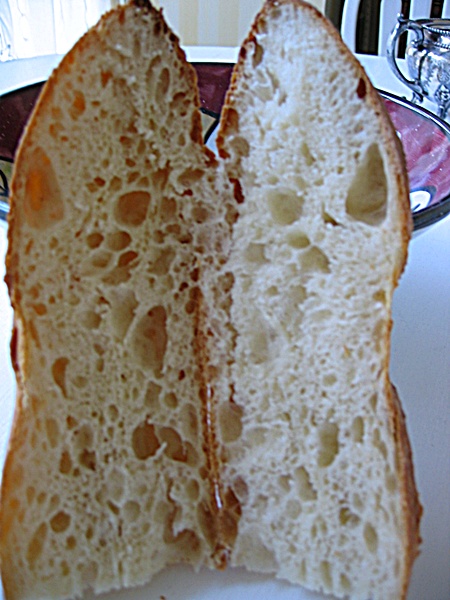 That night they served as a wonderful sop to a Thai green curry soup that I made with P.E.I mussels, Crisfield oysters (a special treatment of the famed Chesapeake Bay oyster) and a lobster tail.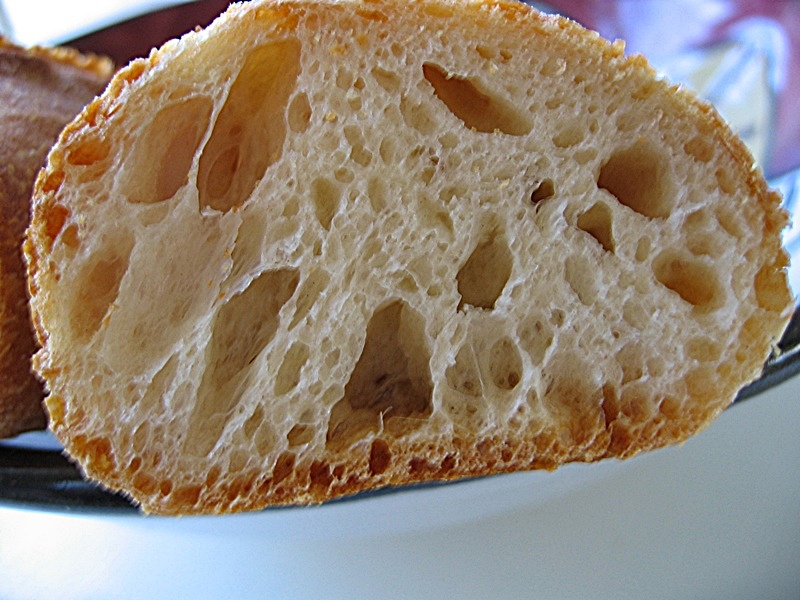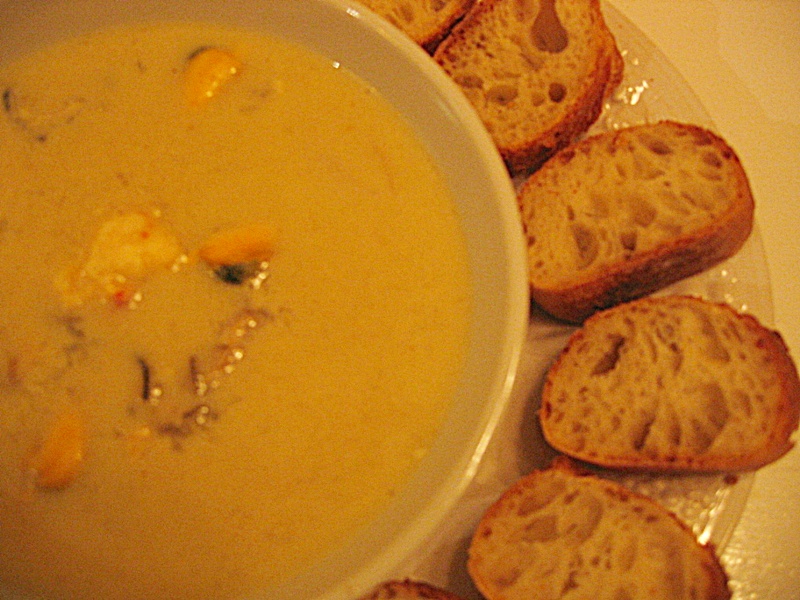 A nice supper on a cold evening.
The next day I decided that I'd return to one of my favorite everyday breads: Hamelman's pain au levain using mixed starters.
(Also a good excuse to resurrect my refrigerated rye and white dough starters which needed feeding and use).
I scaled the recipe to yield two 680 g (about 1.5 lb) loaves.  One I allowed to proof in a banneton, the other in my new brotform.  This is a nice bread to make when you have a lazy day and don't need to accomplish the baking in a hurry.  Between the mixing and autolyse, its long fermentation (two-and-a-half hours) and equally long final proof, the process lasts about 6 hours before baking.  But since there's very little you actually need to do over this period (except for the mixing, one fold and then the final shaping), it's one of those breads that takes a long time but leaves you with lots of time to do other things while waiting on it.
I preheated the oven to 450 F, and put my new Lodge Combo Cooker along with its lid onto the FibraMent baking stone.
After going through my pre-loading steaming procedure, I first scored the loaf that I proofed in the banneton and plopped it into the Combo Cooker, put the lid on and left it on the stove.  The second loaf that inaugurated my new brotform I turned onto my semolina-dusted peel, scored and immediately slid onto the baking stone, followed by the Combo Cooker and a cup of hot water.  The steaming procedure was repeated twice more at one minute intervals.
After 15 minutes I removed the lid of the cooker and continued the bake for both loaves for another 25 minutes, removing the boiling pan of water 15 minutes before the end of the bake.
Here's the results:
The one of the left was baked in the Lodge Combo cooker, while the other sat directly on the baking stone.  Now some contrasts: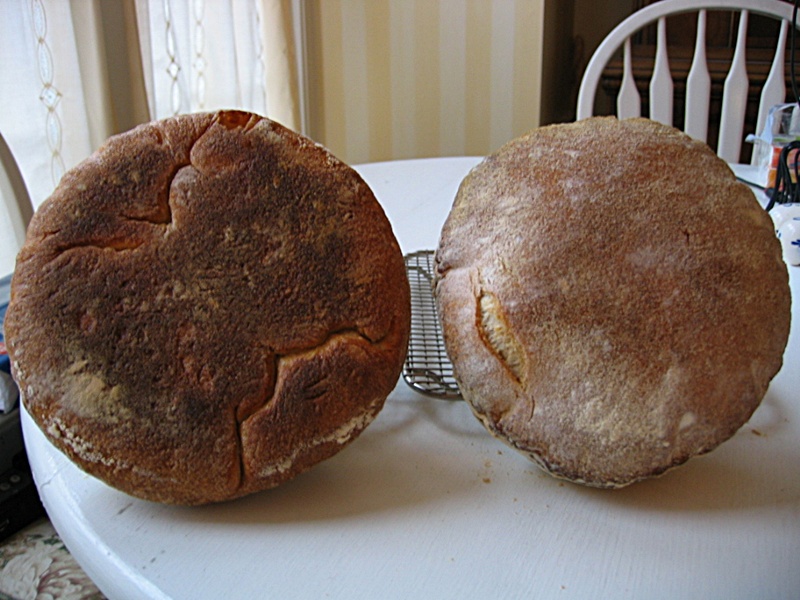 It's pretty easy to tell from their bottoms which was baked in the cooker (and the little peak-a-boo split on the bottom of the one on the right tells me I slightly underproofed them).  I think in future experiments I will either reduce the baking temperature, or more likely not preheat the cooker quite as long.
As for profiles, however, the two are essentially the same: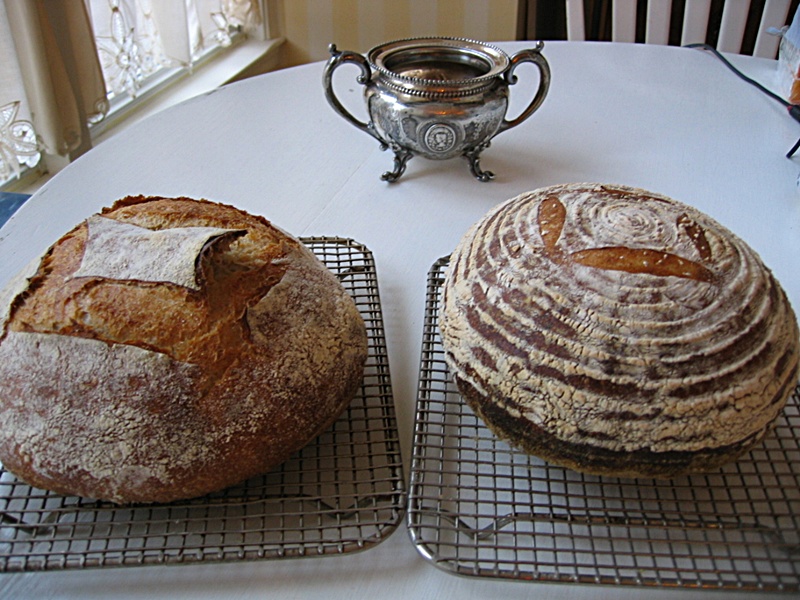 And finally, a crumb shot: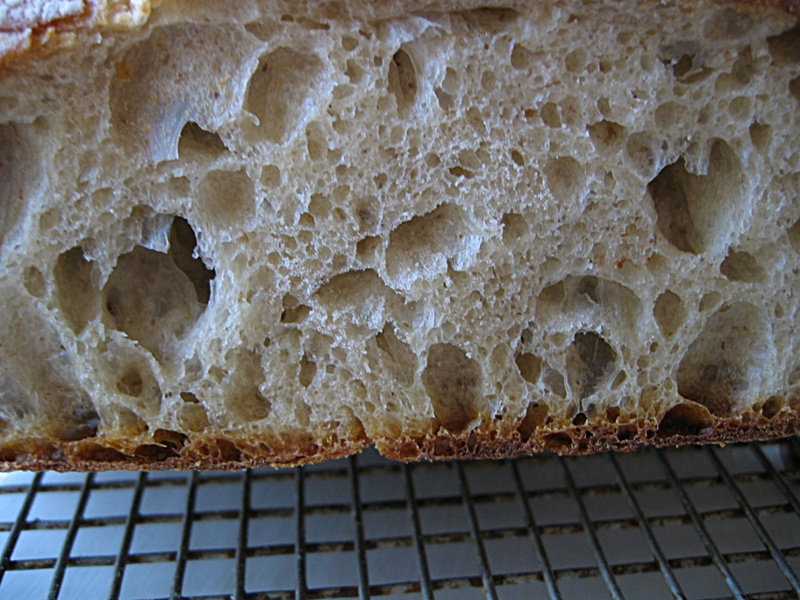 Many new toys for me to enjoy in 2011, and a reason to return to baguettes and old favorites.
Larry