December 31, 2010 - 11:57pm
BBA Cinnamon, Raisin, Walnut Bread
It seems like everyone is baking Raisin-Walnut bread of one kind or another.  Me too!  With the holidays drawing to a close, we are generally "sweeted out", and wanted a flavorful loaf that is not full of sugar, to go with morning coffee and all.  This seems to fill the bill nicely.  The recipe calls for minimal sugar, and gains most of it's sweetness from the natural sweetness of the raisins.
I followed the BBA formula with only a couple of exceptions.  I am still trying to use up some powdered buttermilk from the fridge, so I substituted that here and adjusted the water accordingly.  Also, Mr. Reinhart does not instruct to plump the raisins for this loaf, but I prefer the results I get when I do so.  I soaked the raisins in about 1/2 cup of brandy and enough hot water to cover them over in the bowl.  I thoroughly drained them before hand-kneading them and the walnuts into the dough.  I hand-kneaded the nuts and raisins so they would not get torn up by the Bosch, where I did the main work of mixing the dough.
I baked the dough as two panned loaves, in 8.5" x 4.5" pans, prepared with my pan release.  The house has been much cooler these past few day, so proofing took an extra 45 minutes or so.  Baking, however, was done a bit sooner than expected, probably because I left my baking tiles in the oven.  The crust is not adversely affected, however, and the crumb is very nice.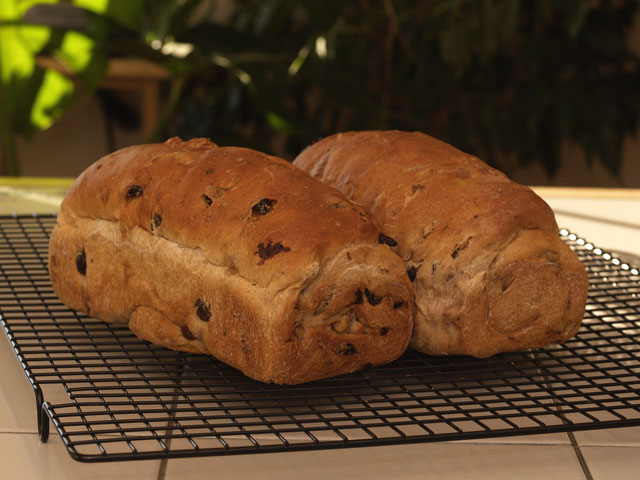 As you can see, I did not do a perfect job of shaping these loaves for the pan.  The crumb does not seem to show the obvious lines you might expect, given the exterior appearance.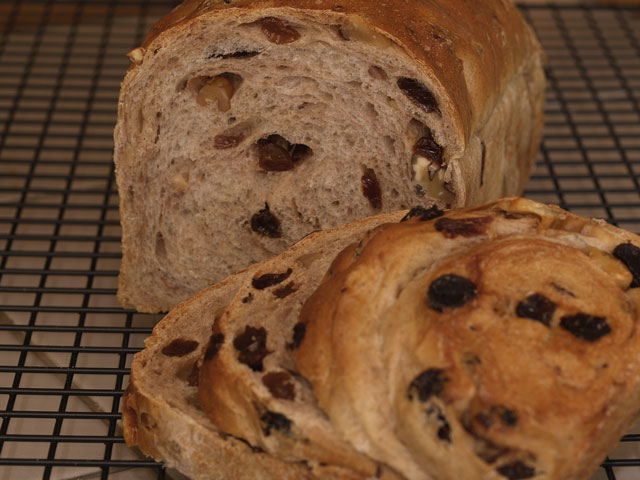 These two loaves are the end of my 2010 baking year.  Tomorrow starts a new year, and I have the rye sour working already for the BBA Pumpernickel to kick off the new year.  That is another story though.
Thanks for stopping by, and Happy New Year!
OldWoodenSpoon