Sourdough starter -- Raisin Water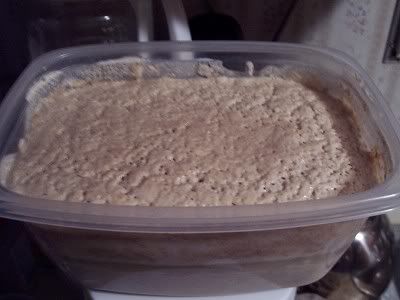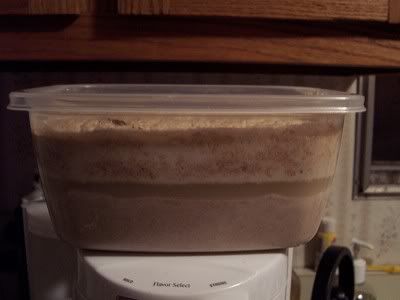 My first attempt at creating a sourdough starter. I used the raisin water technique because I wasn't sure I wanted some of the other things that could be found floating in the air around here. This is approx 48 hours after I started it. It now sits safely in my refrigerator until I get past the spring allergy season LOL
Well, I was going to tell more about it last night, but my husband distracted me. As Paul Harvey would say, "Now for the rest of the story."
I started my starter using what I had here based on Floyd's Featured Story ""When Yeast Attacks"
I had a box of california raisins from Wal-Mart and I used stone ground whole wheat flour (this was ground by a friend about 6 weeks ago). I started with the 3/4 cup of raisin water and 1 cup of ww flour. When I checked it about 10 hours later, it looked to me like there was a little bit of bubbling going on. So I added a cup of water and a cup of ww flour. Waited another 8 - 12 hours with it sitting in my cupboard with just a paper towel placed very loosely over it. It didn't look very promising when I checked it this time, but I figured I didn't have much invested in it and a couple more cups of flour wasn't going to break the bank, so I put a cup of wal-mart brand, all-purpose flour and a cup of water in, stirred it all up and left it to grow. I came back Wednesday morning to a very happy starter. I wasn't sure what direction I was going to go at that point, so I fed it (all growing babies need to be fed, right?) and let it sit until I took the pictures last night.
I probably won't be able to do any baking until Monday with it being Mother's Day weekend, but that gives me more time to search for "the" recipe that is going to knock my husband's socks off. He isn't thrilled with the SD bread that comes from the store, and I have to keep reminding him that my homemade from scratch food 99.999 percent of the time tastes much better than anything we buy at the store or from a restaurant :lol: I just know he's going to love this bread and I won't be able to buy loaf bread off the shelf anymore.
More to come next time on the Cookie Bakes Bread channel.