December 12, 2010 - 9:04pm
A few weeks back I asked Mini if she would be so kind as to tell me what was in her Brotgewurz mix so that I could make some up at home.  I was hoping she could tell me the ratios but she did much better than that: she sent me some!  She said she just happened to be on her way back to Austria and was left with half a jar that she didn't know what to do with.  It was perfect timing she said.  She said she would mail it to me.  It arrived a week later. 
To be honest, I felt a little nervous at first as I had only just started to experiment with rye and had never made a bread with more than 20% rye, let alone 100% rye.  Now that Mini had given me the spices, I felt under pressure to succeed.  :)  I shouldn't have worried, though.  Mini's recipe is a cinch.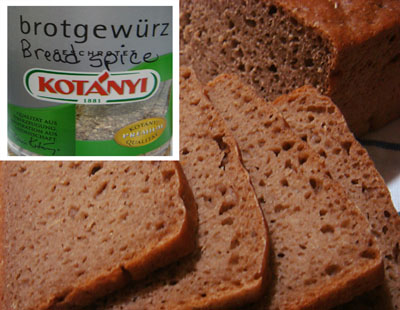 I used Mini's rye ratios.  1 part starter: 3.5 parts water:  4.16 parts rye flour
My final recipe read like this:
75g rye starter @ 100% hydration
263g water
312g rye flour
2 tsps of Brotgewurz
6g of salt
I gave it a 30 minute autolyse, a 2 hour bulk and a 4 hour final proof.  It was in the oven well before the 8 hour mark which Mini had warned against overshooting. 
The smell emanating from the oven was heavenly.  I gave it 25 minutes (covered) at 220 C and a further 25 at 200 (uncovered). 
I allowed it to cool and then wrapped it in cloth for 24 hours.  I have to say, I just love the taste of this bread.  This taste is new to me, but I am hooked.  I smeared it with some cream cheese and topped it with salami. 
So, a big thank you to Mini for sending me those spices.  I now have all the ingredients to make them up myself when yours run out.  I still have to figure out those ratios, though!  Thanks also for all the advice you have given me re: mixing, autolysing and proofing. 
yours sincerely,
Syd