December 12, 2010 - 1:39pm
Awhile ago, I tried making Tunisian Flatbread from a sketchy set of instructions, and while the result was delicious it was also a total mess.  I got some extremely helpful comments in the forum, and decided to try again.   This is a lot prettier than last time.   And certainly a quick and easy bread to make if you haven't gotten around to planning the day before.   The loaves are a bit less than 8 inches in diameter and over an inch tall.   I'll serve with lamb this evening for dinner.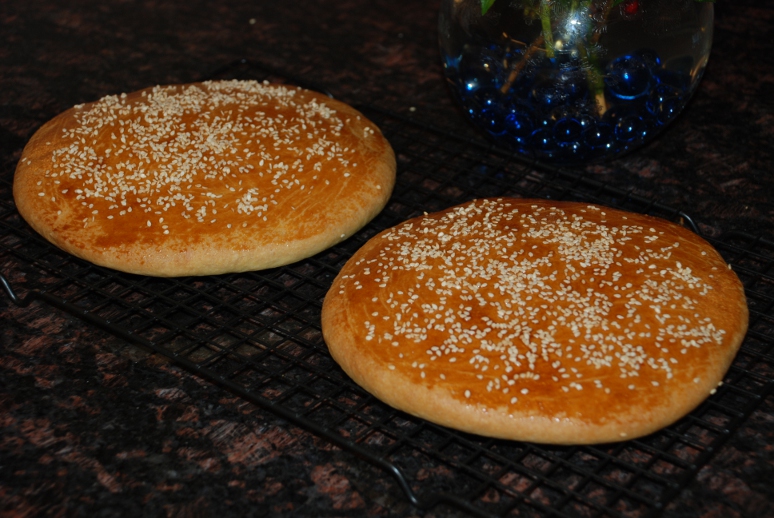 250g semolina flour
250g bread flour (I used King Arthur All Purpose)
1 tsp salt
2 tsp instant yeast
250 ml warm water
125 ml olive oil
egg yolk for glazing
sesame seeds
Mix flour, water, salt, olive oil, yeast until dough adheres and cleans the bowl - two to four minutes in a stand up mixer at high speed with a dough hook.   Let rise for around an hour until double.   Preheat oven to 400 deg F.  (Around 200 deg C)  Divide and shape into two disks on a baking sheet covered with parchment paper.   Brush with egg yolk.   Sprinkle with sesame seeds.    Bake for 40 minutes.   (I turned down oven to 300 after 25 minutes.)    Other version of this type of bread used all white flour, milk instead of water, and an egg thrown in, but I wanted to try to preserve as much of the taste of my last try before moving on to other variations.