December 12, 2010 - 9:55am
Hello, I've gone gingerbread-crazy this year it seems. I decided I wanted to take those flavors and try to get them into a loaf of bread.
Here are the pics (not the greatest photos) (this first loaf made with regular instant yeast):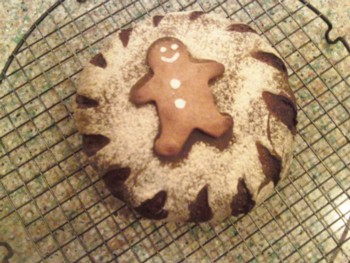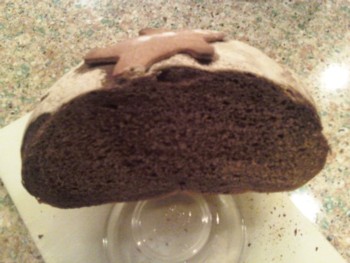 This was the second batch (6 loaves @ 350g, 2100g total dough, made with osmotolerant yeast):
(I updated my process below, when making this second batch).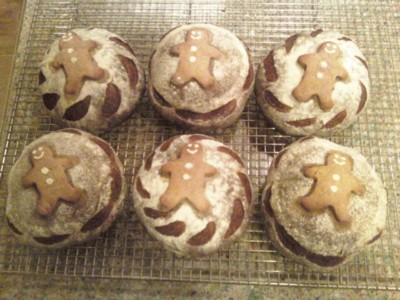 Here is my formula, for a 500g loaf: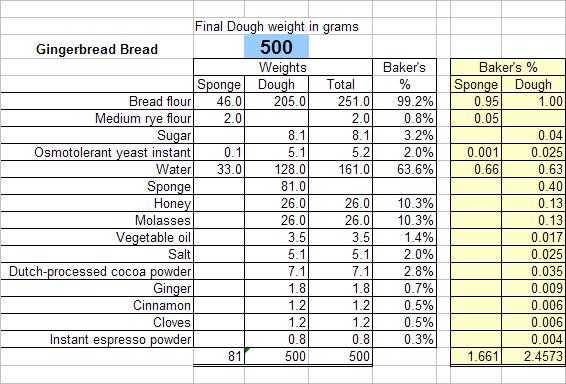 I mixed the sponge and let it ferment at 80F for 7 hours.
I combined the sponge with the dough water (holding back 12g of dough water, based on the weight of espresso powder, cocoa powder, & the three spices).
(I found a pastry blender worked really well for cutting up the sponge into smaller pieces, then a dough whisk finished dissolving and mixing the sponge into the water.)
I mixed in the honey, molasses and oil, then flour, sugar and yeast.
I let autolyse for 20 minutes, added salt and remaining water.
I folded and worked the dough on the counter, until almost at improved mix.
I kneaded in the espresso powder, cocoa powder, & the three spices, and continued kneading until improved mix.
Bulk ferment at 80F for 2 hours, stretch and fold every 40 minutes.
Divide, preshape, rest 20 minutes, shape, into banneton to proof.
(I found the loaves had a more rounded shape if when I proofed them in the fridge).
Loaves proofed for about 40 minutes.
Floured the top, scored, baked in a 440F oven for 15 minutes.
Took loaf out of oven, brushed top with a bit of water, applied gingerbread man (made with a bit of decorative 'dead' dough).
Baked for another 10 minutes or so, at 420F.

We had some for breakfast this morning...and I was really happy with the flavor. There is some sweetness to this bread and we thought it was good, toasted with butter.

I've got another batch on the go for today, to make as gifts for coworkers.

Happy Christmas baking everyone! from breadsong

Submitted to YeastSpotting, for Susan's Holiday Edition :^)