December 10, 2010 - 2:12pm
Scalloped Chocolate Pecan Coffee Cake - using a very good multi-purpose sweet dough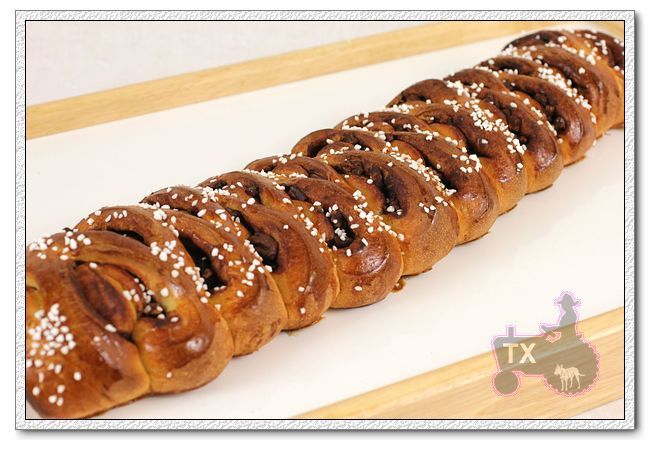 I am gearing up for the holiday baking season, stollen, panettone, coffee cakes, cookies are flowing out of my oven. This particular coffee cake came from two sources: the dough recipe is by Maggie Glezer (can be found here), it has sour cream and mashed potato, in addition to quite a bit of butter, which means the dough is incredibly soft and delicate, perfect for a sweet bread. Furthurmore, it can be stored in the fridge for up to 4 days, convenient for busy holiday season.
The shape and filling came from Carole Walter's "Great Coffee Cakes, Sticky Buns, Muffins & More", what I like the most is that the chocolate sauce is not overly sweet, and it looks very unique and pretty. A crowd pleaser.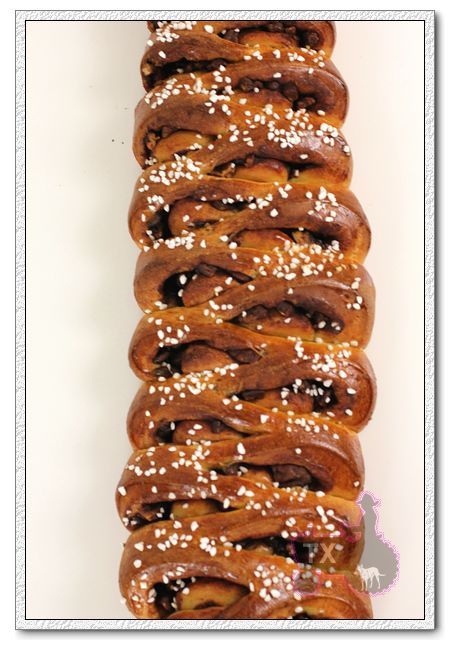 Scalloped chocolate pecan strip("Great Coffee Cakes, Sticky Buns, Muffins & More")
water, 60g
sugar, 20g
espresso powder, 2g
bittersweet chocolate, 71g, chopped
lemon juice, 1/4tsp
vanilla, 1/4tsp
butter, 14g, softened
pecan, 60g, chapped coarsely
sweet dough, 1lb (either from above or any other dough you prefer)
1.Mix together water, sugar, espresso powder, chocolate, lemon juice, vanilla, heat with low heat, until chcolate melts, and big bubbles start to form. Takeoff from stovetop, stir in butter. Cool completely until thickened, it would be like thin fudge.

2.After fully fermentated, roll out the dough into 14X9inch square, with 14inch side facing you. Spread choclate mixture on the dough, leaving borders empty, spread pecans on top, press down slightly.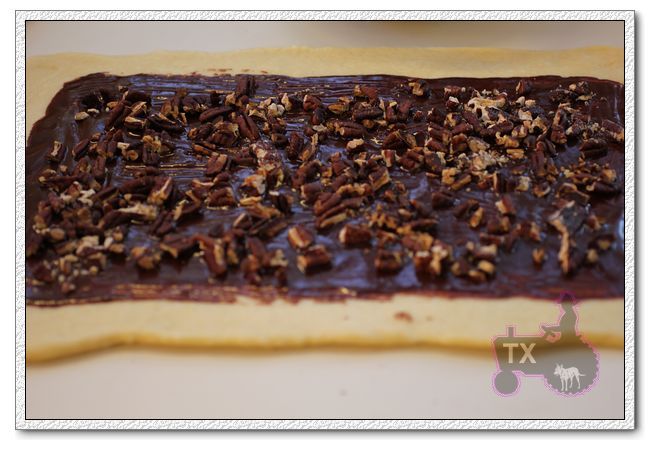 3. Roll up from the long side, seal well, put on a baking tray lined with baking paper, seam side down. Press down lightly to flatten. Use scissors to make cuts on one side of the dough log, 1inch apart, 3/4 of the way deep. Do the same on the other side, but space the cuts so they interweave with the cuts on the first side. Turn the cut parts upward to expose filling.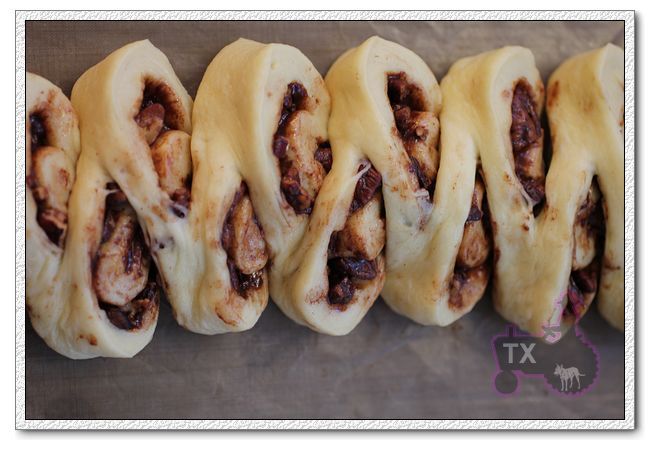 4. Proof until double, about 1 hour, brush with egg wash, decoreate with pearl sugar, bake at 350F for 30min until golden.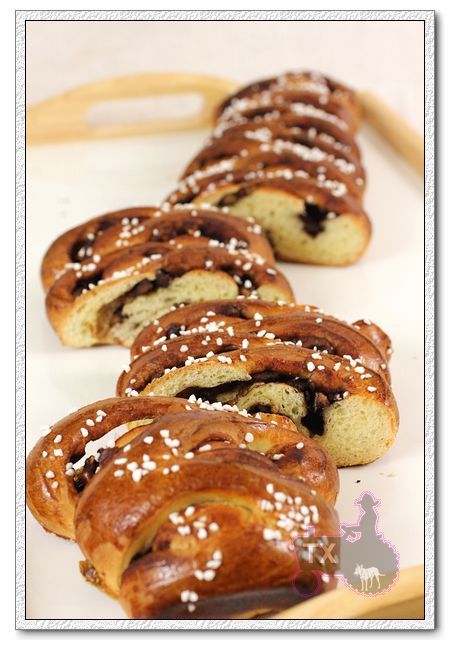 The original formula also include a sugar glaze on top, I didn't think it was necessary, but if you like it sweeter, certainly use one.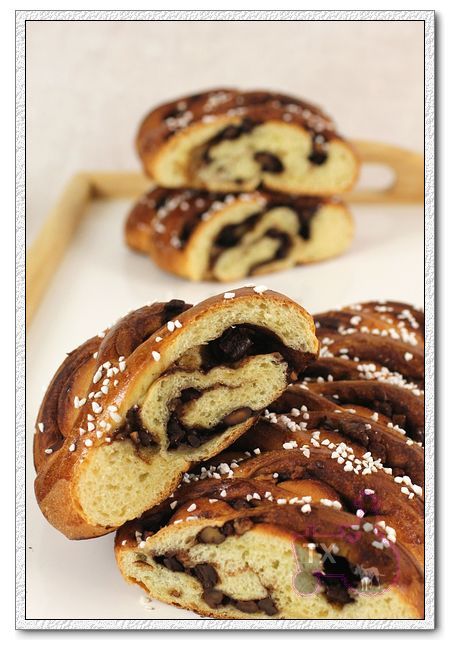 Submitting to Yeastspotting.