November 22, 2010 - 10:34am
I've had a hard time with bagels.  I have asked a few questions here about my wrinkled bagels that I've made (thanks Mark Witt).  I made Bagels while being a recipe tester for Peter Reinhart's "Artisan Bread Every Day".  I also have made them from "The Bread Baker's Apprentice" but they were always wrinkled.  While testing recipes for Norm & Stan I had some success with their Montreal Bagels.  I did not do anything very different, these just turned out.  So I have been frustrated with bagels.
Completely unrelated, I had borrowed "Dough" by Richard Bertinet from our library and in there saw how he shapes rolls and in one chapter he cuts rolls into stars.  The star rolls looked great and I tried out this technique on some Buttermilk Clusters (recipe found on this site).
It occurred to me to try this cut on bagels and so here are my results.  I used the recipe from "The Bread Baker's Apprentice" by Peter Reinhart.  I did not retard the dough over night.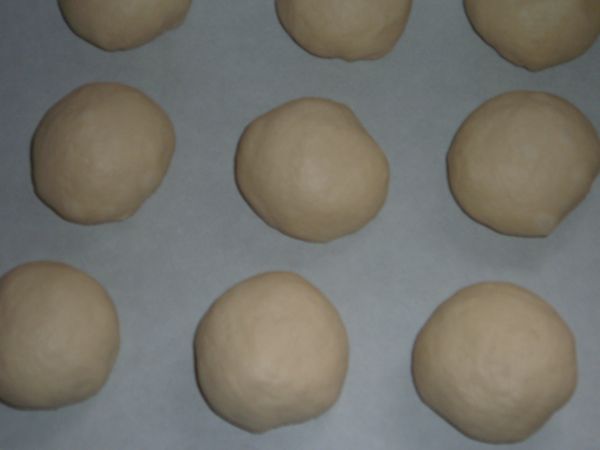 After mixing and kneading, I let the dough rise while I did some outdoor chores.  I then scaled them into 130 gram portions and shaped them into tight balls using Richard's method.  Question: Why do we do this for Boules but not bagels or did I miss this?  I then let them rest for about 20 minutes.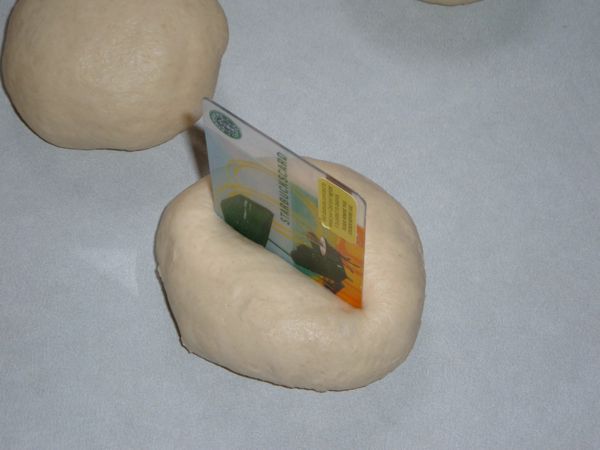 I got out a Starbucks gift card that was all used up (it is also doubling as a dough scraper until I find a real one).  I then put a little oil on the edge that will do the cutting and made my first cut.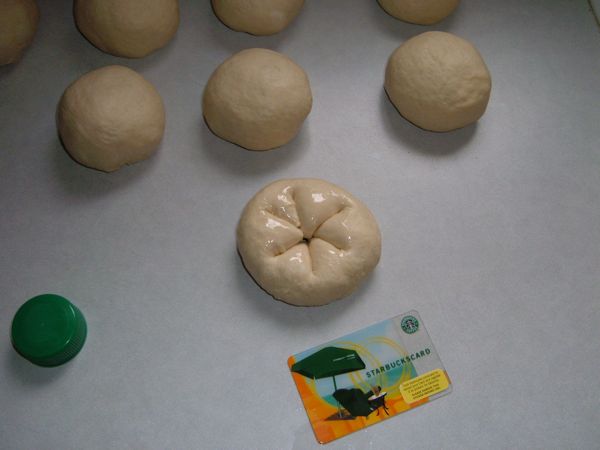 I then made 2 more cuts.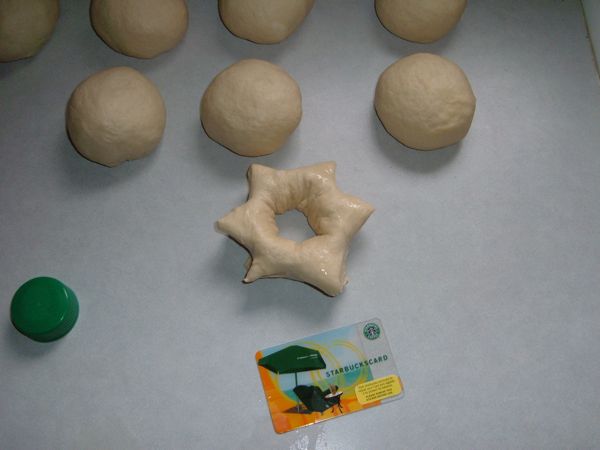 Once the three cuts have been made you turn the dough inside out so that the points of the star are on the outside.  Put the best side up on the oiled parchment paper.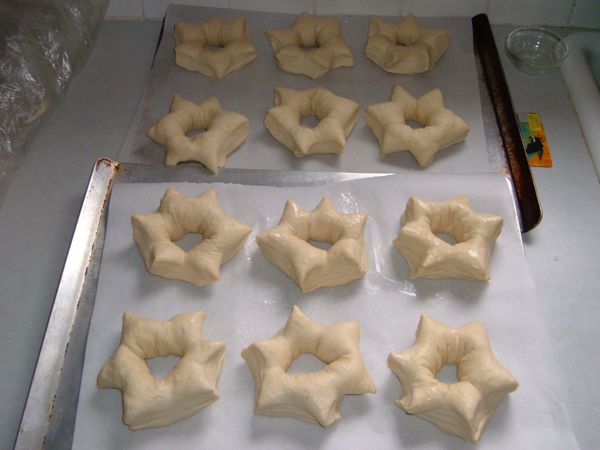 Here is one batch of bagels proofing for about 20 minutes.  After 20 minutes I boiled them (actually the water was not quite boiling) for 20 seconds a side, put topping on and baked on a hot stone.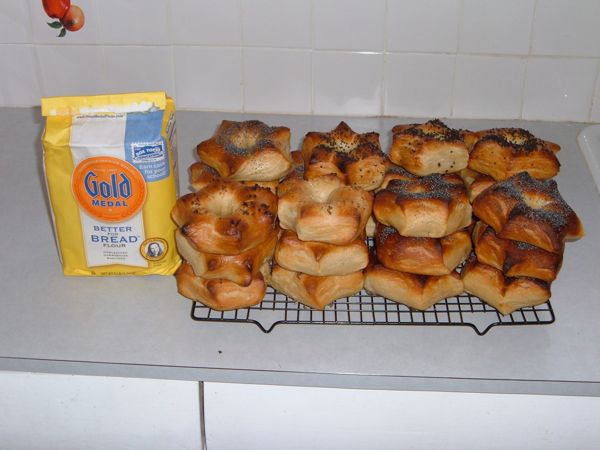 I made two batches of bagels and it used up all but about a cup of flour from a 5 lb. bag.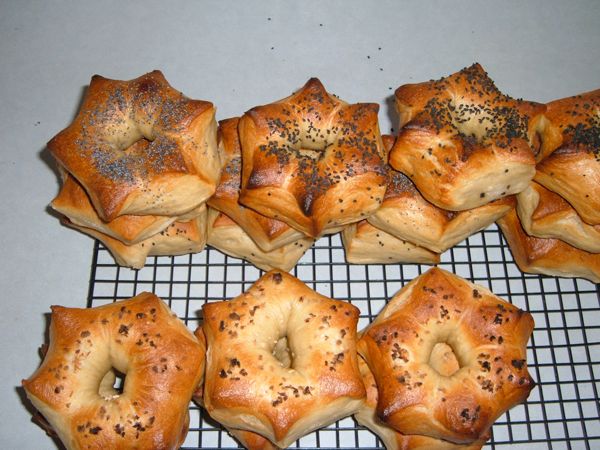 I tried Onion for the first time.  I took some dehydrated onions and let them steep in hot water and then drained them.  I sprinkled some of the onions on the top of the boiled bagels just before putting them in the oven.  I also used Poppy seeds and Black Sesame Seeds.
Here are a few more pictures.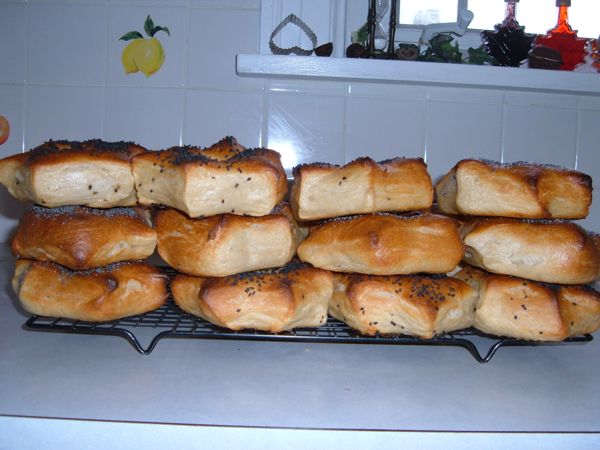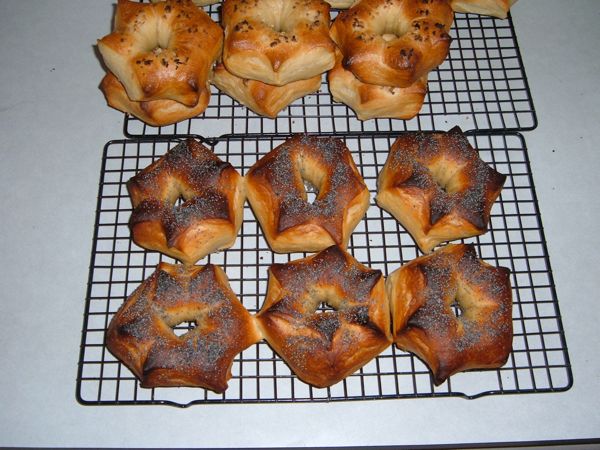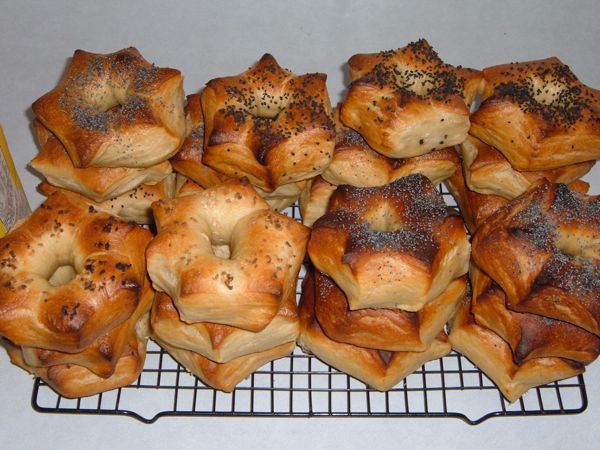 So, many thanks to Peter, Richard, Mark, Norm and Stan.  I am pleased the way these turned out.
Happy Baking,
Dwayne