November 12, 2010 - 10:51pm
Pugliese, high hydration Italian loaf!
This is apx. 82% (the recipe 3 X's is apx. 84%) total hydration dough, that I think would be fun for anyone to try.  It is one of my favorites, I've posted HERE before.  The recipe comes from Rose Levy Beranbaum 'the bread bible' and a photo is displayed on the cover.
Delicious, it has a lovely creamy crumb, tender chewy crust, the added duram flour gives a mellow buttery flavor, just perfect for dipping in EVOO, or slathering it with just about anything you favor...perfect for a sandwich.  The Biga can be used up to three day before baking.  I use the 'Ultimate Full Flavor Variation' allowing it to ferment in a cool area (55F to 65F) for 12 to 24 hours.  Perfect weather now for finding a cool spot in my home.  I just add a few ice cubes in my very cool spare bathroom sink.
I have always 3 Times the recipe - the recipe in the book makes small pugliese- 3 times gives me 2 nice size round loaves that just fit in my banneton's that are linen lined...I used to use small bowls lined with floured tea towels, that works fine, too!
This is 'Three Times the recipe'
1. Biga  - 225 gms - All purpose flour - use only- Gold Medal, King Arthur or Pillsbury - 225 gms
instant yeast - 3 X 1/16 teaspoon -  or 0.6 gms.
water, at room temperature (70F to 90F) - 177 gms
6 hours or up to 3 days ahead, make the biga. - I use the 'Ultimate Full Flavor Variation', as stated above.
Combine all the ingredients in a bowl and stir the mixture until smooth and pulls away from the side of the bowl...3 to 5 minutes. Should be sticky or tacky enough to cling to your fingers.  Cover the bowl, with oiled plastic or lid and set aside until tripled and filled with bubbles..about 6 hours.  Stir it down and use it, or refrigerate it up to 3 days, before baking,  I place my bowl in a cool spot for as mentioned above!  So I can bake the next day.
Dough - 
All Purpose flour - GM, KA or Pillsbury -213 gms
Duram Flour - 213 gms
Instant Yeast - 1 1/2 teaspoons
salt - I used 15gms sea salt
water, at room temperature (70F to 90F)  about 12 oz - 354 gms
Biga from above
I mixed all by hand, this way.
In a large bowl, dissolve the biga in the water...there were a few little pieces, undissolved.  Wisked together my flours, yeast, added salt and wisked again.
Added the flour mixture to the biga and water and mixed just until the all was wet and combined.  Autolysed for  apx. 50 minutes and did stretch and folds-30 minutes apart,  double it's length and give it a business letter fold, after 3 stretch and folds, round up the dough into a ball, covered and let it rise in a (ideally 75F to 80F) until tripled...about 2 hours.
Preheat oven and stone 500F...1 hour before baking...Shape very gently, handling as little as possible, trying not to deflate all those nice air bubbles.  Pour it out of the bowl onto lightly floured surface...cut it in half..pull it over itself into a rough ball shape and in just very motions pull it into a rounded ball.  Gently pick it up and drop it seam side up into the floured banneton.  Sprinkle top lightly with flour, and cover with oiled plastic wrap.  Allow to rise until it has increased by about 1 1/2 times, to 1 1/2 hours.  It will just start to push up the plastic.
Bake with steam turning down the oven after the first five minutes and then continue baking with steam for 12 minutes total at 450F or adjusting your ovens temperature to bake the loaves for apx. another 20 minutes, until deep golden brown....leave loaves in off oven with door ajar for a 5 to 10 minutes
ADDITION NOTE.  A change was made in the water addition from 154gms. to 354gms.  I apologize for the typo and thanks to pattycakes for catching it.
This recipe comes from RLB 'the bread bible' and I have tripled  her recipe. 
         Duram Flour and Semolina Grind  -  Use the Duram Flour, pictured on the right,  not the pasta grind semolina on the left.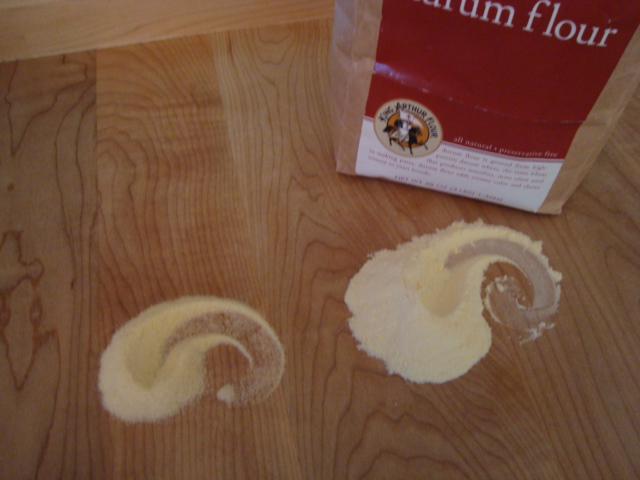 Usually I do this right handed but I' holding the camera : )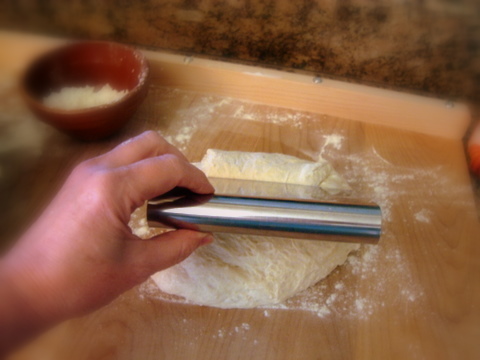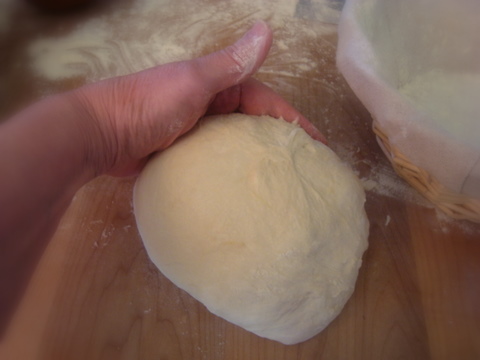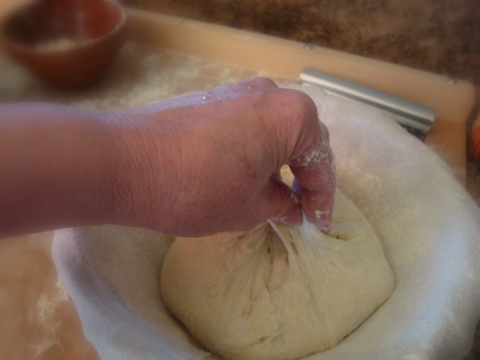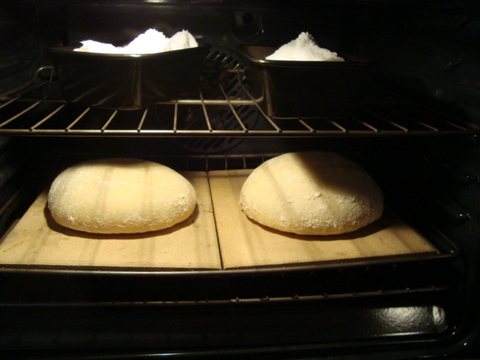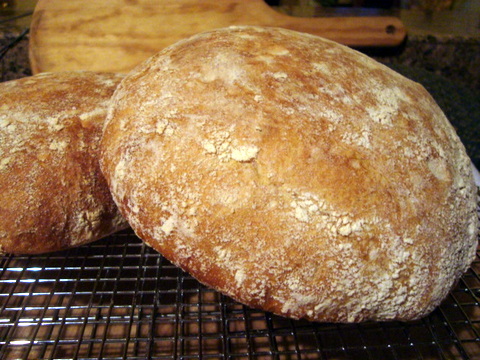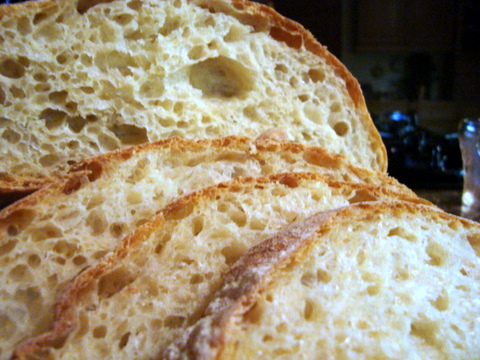 submitted to yeastspotting