November 11, 2010 - 10:02am
Rye Sourdough with Carrots, Flaxseeds, And Pumpkin Seeds - Vitalbrot, or is it?
I'm still tackling that big bag of Costco carrots. This formula is inspired from this blog post, which in turn is adapted from 《Brot backen: Mit Rezepten & Ernährungstipps vom Bio-Bäcker》(No, I have no idea what it means, until Google Translate came to help). It is supposed to be "vitalbrot", a bread that's often seen in Austria. The trouble is that I know little about Austrain bread, even less about this particular kind. After making some "slight" modifications to the original formula, I really have no idea how authentic this is comparing to the original version. However, I do know that it's fragrant, moist, delicious with layers of deep flavors. My adaption involves: 
- halved the recipe

- used sourdough only, no commerical yeast
- retarded overnight after shaping
- no oil in the dough
Even without the oil, the dough is plenty wet at 79% hydration. I think shredded carrots released water, while seeds absorbed extra, they kinda balanced out. Two significant things I noticed about this dough:
1. It's needs a lot of S&F to develope enough strength. I mixed with my hands after autolyse for a while, then S&F every half an hour during teh 3 hour fermentation. Wet carrots, seeds, and rye all may have contributed to the lack of gluten of the dough, but at the end of bulk rise, all is well, the dough expanded for about 50%, and gained enough strength. Still a wet and sticky glob, but a strong glob.
2. It fermentate so very fast. It might just be my rye stater, which has a history of rising dough with lightening speed. The bulk rise took barely 3 hours, and the house was on the cool side (70F, cool for Texas, or at least this Texas girl!). After retarding, the dough was ready to be baked straight from the fridge! Doughs with similar hydration usually would require some further proofing at room temp, but not this one. After sending them into the oven, I was second guessing myself and worried about underproofing, but in the end, the breads showed that I caught it at the right time. Any more proofing, they will be flat.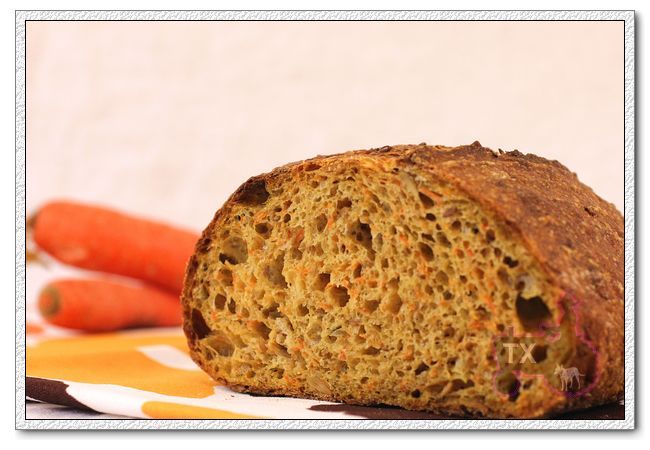 Nice open crumb studded with carrots and seeds, deliciously fragrant, and very moist
Made two loaves, each about 1 lb. I think with such wet and relatively weak dough, it's better to bake smaller loaves, that way they don't spread as much on the stone. Happy with their volume this time around.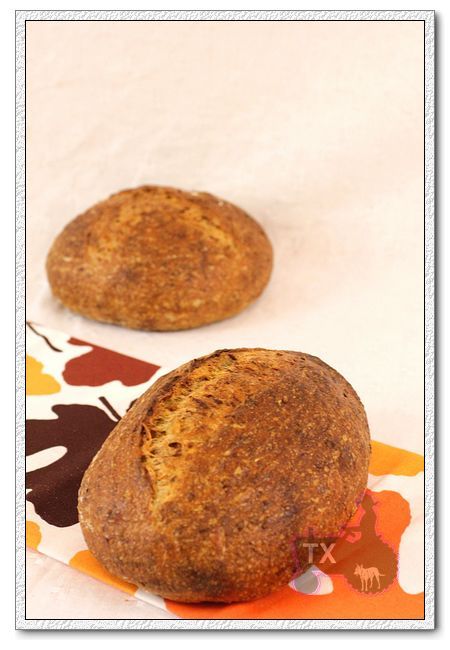 Baked them long enough to ensure a crisp singing crust
My formula (adapted from 《Brot backen: Mit Rezepten & Ernährungstipps vom Bio-Bäcker》)
Note: makes 2 loaves, each 1 lb

- Soaker
Flaxseeds, 40g
pumpkin seeds, 40g
hot water, 75g
1. Mix and put aside for overnight
- Final Dough
Bread Flour, 325g
water, 165g
salt, 8g
carrots, 100g, shredded
rye starter (100%), 150g
all of the soaker
2. Mix everything but salt, autolyse for 30min, mix with hand until dough comes together, a few minuts.
3. Bulk rise at 70F for 3 hours, S&F every 30min.
4. Divide into 2 parts, preshape, rest, shape into loaves.Put in brotforms smooth side down, cover wiht pastic, and put in fridge (40F) overnight.
5. If needed proof more at room temp the 2nd morning (I didn't need that), bake on stone at 450F for 35min, the first 12min with steam.
Delicious flavor, great texture for both crumb and crust. Yes, it's also healthy, but even if it's not, I would devour it in a heartbeat. Now, only if someone can tell me whether it's anywhere close to the real Austrian Vitalbrot?
Sending this to Yeastspotting.