November 8, 2010 - 10:57am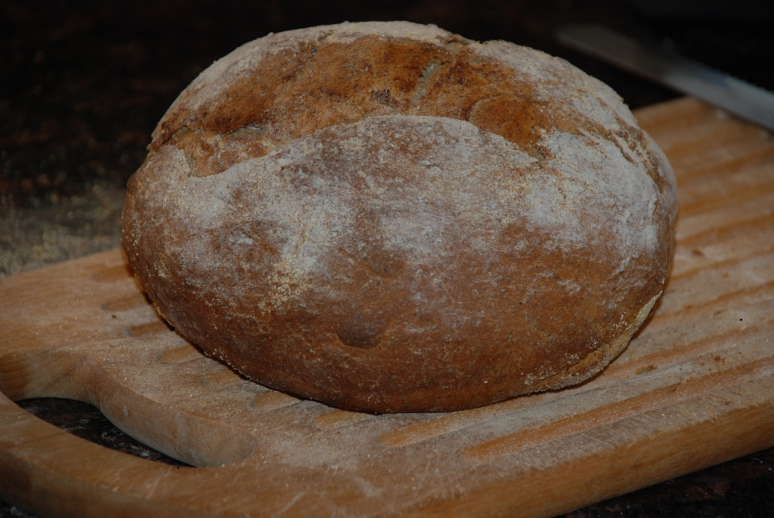 Some time ago, I started trying to recreate a Tzitzel (caraway) Jewish Rye that was sold in a neighborhood bakery where I grew up.   But first I had to get more skilled at baking bread period.   This site was a font of information, and at one point, David Snyder gave me a pointer to a comment hidden deep in one of his two year old blog posts from nbicomputers http://www.thefreshloaf.com/node/6103/craving-crackly-crust-sour-rye-bread#comment-31138.   After putting my Tzitzel dreams on hold for awhile, I decided to try again.   This time I went directly to Norm's comment and made a few modifications.  I did the following:
1 lb King Arthur Bread Flour (instead of First Clear flour which I can't get easily)
1 lb thick rye sour (built up from an existing rye starter with rye flour and water over the course of around 24 hours)
10 oz water
1 Tbsp vital wheat gluten (since I think First Clear is higher protein than even KABF)
.6oz kosher salt
.5oz instant yeast
caraway seeds
I mixed everything up in my kitchen aid for around 10 minutes - so long because the rye sour is very tough to blend with the rest of the ingredients.    Then I took a wooden bowl and rinsed it in water, and shook out the excess water without drying it.   This was to recreate the wooden box environment as described by Norm (see above comment).   I shaped the dough by patting it gently into a ball.   I know from having tried to make this bread before that trying to shape it after it rises is a lost cause, so I decided to shape it right after the mix.  Then I brushed water over the top with a pastry brush and then put a piece of damp linen over the the top of the bowl.   I let the dough double in size (this took around 1.5 hours).   Then I sprinkled thickly with corn meal.  Then with very wet hands, I transfered the dough to a peel covered with corn meal and then a hot stone and baked for 1.5 hours at 450 deg F.   Then waited overnight to cut.  It came out with very thick crackly crust and a fine rye flavor.   And I guess I'm starting to think that I will never recreate the bread I remember, but maybe this is even better.