October 31, 2010 - 11:14am
Norwich/Vermont Sourdough and proofing on plastic wrap
Yesterday I made another Vermont/Norwich Sourdough. I basically followed the recipe, but used medium dark rye flour instead of whole rye. When I was about to shape the 1 kilogram piece of dough into a boule (see this great tutorial) I noticed that there weren't any clean kitchen towels left. After a few moments of panicking I decided to do the final rising on a plastic wrap, which I lightly and evenly brushed with flour and put on a solid sheet (like this). Since this wasn't a rye bread and the shaping was tight enough for the dough to stand on its own, I didn't even need a banneton-like construction to support it. I was surprised that it worked really well and was much easier and less messy than with a towel. I could just turn the dough on my bread peel and then slowly remove the wrap from the top. A very convenient method, indeed. One visible difference was the lack of a structure that results from the pores of the towel.
The only question left is: Which does more harm to the environment? Having to wash an additional towel or throwing away an additional piece of plastic wrap? Well, next time I will try the following: I have a non-solid/flexible foodgrade plastic mat. It's basically a cutting board, but not in a solid form but more like a thick flexible plastic sheet (something like this). So it should be easy to release this from the dough, too.
Apart from the techniques it was also the first time I managed to successfully make two of the same kind of bread in a row, without any major mistakes resulting in the second attempt to be a total failure after the begginner's luck during the first try. It was also my best crumb in a sourdough bread so far. Very very soft, without any major dense spots or gigantic holes. Yay!
rising on a floured towel, showing the structure of it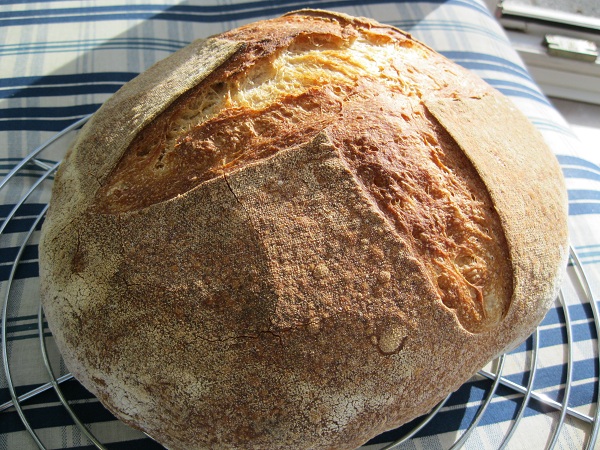 rising on floured plastic wrap, showing a "cleaner" crust
crumb of the second loaf