October 30, 2010 - 8:12pm
Prosciutto arugula Pizza - 36 hour sourdough rye baguette dough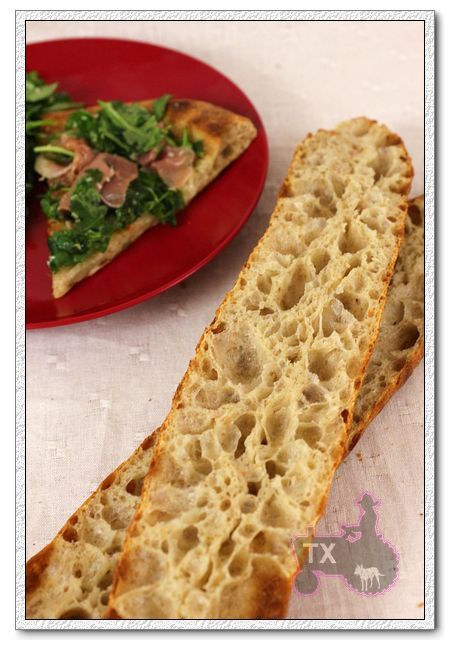 Yet another variation on my 36 hour sourdough baguette dough, only this time, it's not baguette at all, it's pizza! Of couse it's nothing new to make high hydration baguette dough into pizza, but I didn't realize how convenient it is to combine the two. Same dough, but pizza doesn't need to proof, it bakes at the highest oven temp (which is the same temp I preheat my oven for baguettes), it bakes for only 8 minutes (way shorter than the proofing time for baguette dough) - all this means I can use a part of the dough to make and bake pizza while the rest are made into baguette and being proofed. The pizza is made and mostly consumed before baguettes are scored and sent into the oven. How convenient, that's what I call stream-lined baking!
The basic 36 hour baguette formula can be found here, and the rye starter variation I used for this dough can be found at the end of this post. I will breifly outline the process again:
AP flour, 425g
ice water, 325g
rye starter (100%), 150g
salt, 10g
- Follow the basic 36 hour sourdough baguette formula here until dividing the dough into 4 parts, each around 230g.
- Preshape one piece of dough into round for pizza, the rest into cylindar for baguettes
- After relaxing for 40min, stretch the pizza dough into a 11inch round, put on parchment. I find that it's hard to stretch the dough into desired size in one shot, so I stretch as far as I can, then let it rest on parchment. In the mean time, I go ahead and shape the other 3 pieces into baguettes and and it proof on parchment. By the time I get back to the pizza dough, it's easy to stretch.
- Add topping. This time I first drizzle olive oil, then added fresh mozzarella, and grated cheddar. Send the pie into oven to bake at 550F (the highest temp my oven would go) for about 8min. When taken out, the cheese is still bubbling, put on a layer of prosciutto, then a layer arugula (which was tossed with some olive oil and grated cheddar first). Prosciutto tend to get tough went it's baked too long, so it's added afterward, the residual heat is enough to blend all the flavors.
- Score and bake the other baguette doughs as usual when it's finished proofing.
I really like the slight bitterness of arugula, a perfect match for prosciutto, and the cheese. The cheddar cheese I used was pretty salty, so I didn't add more salt.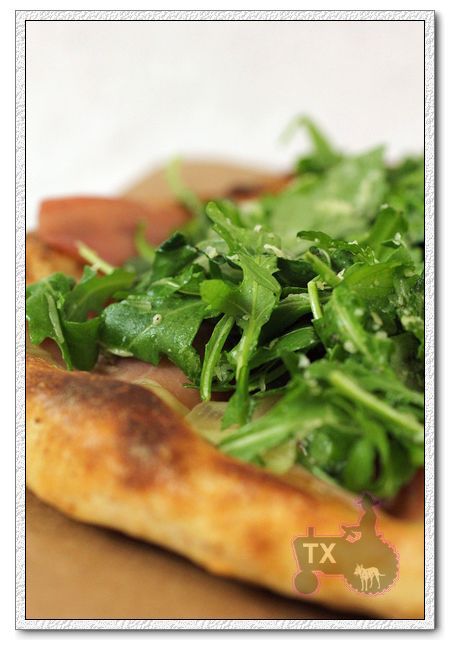 That, is what I call a good crust!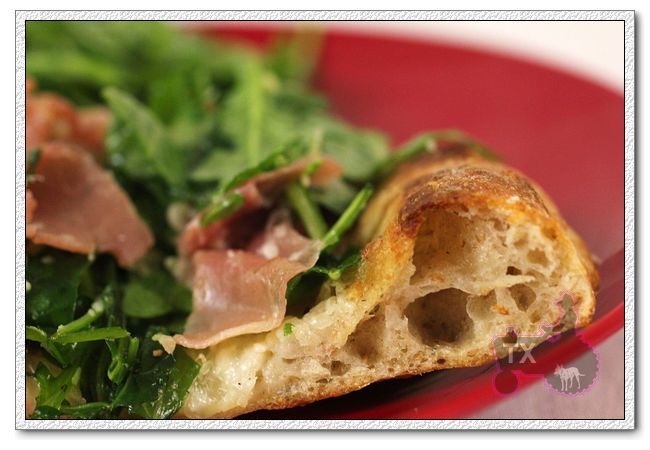 The baguettes weren't half bad either, did I meantion how much I like the rye starter variation? The flavor is outstanding.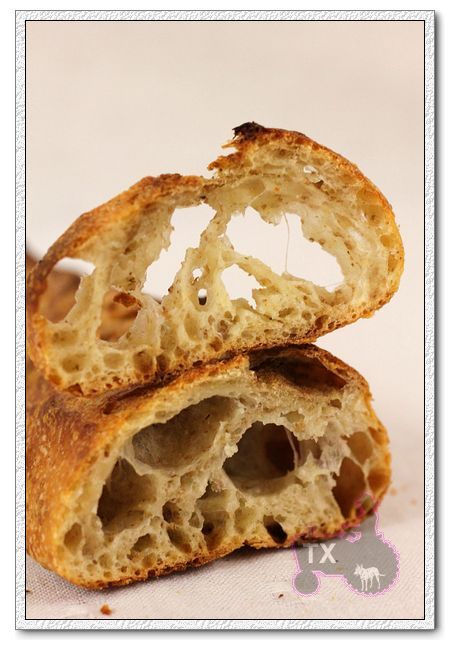 I even got some "ears"! Getting a bit more confident with scoring the 80% dough.
Who knew baguette and pizza are so similar?
The process worked out so smoothly that I think I will always use one piece for pizza from now on - it would mean faster dinner and more room on baking stone for the baguettes.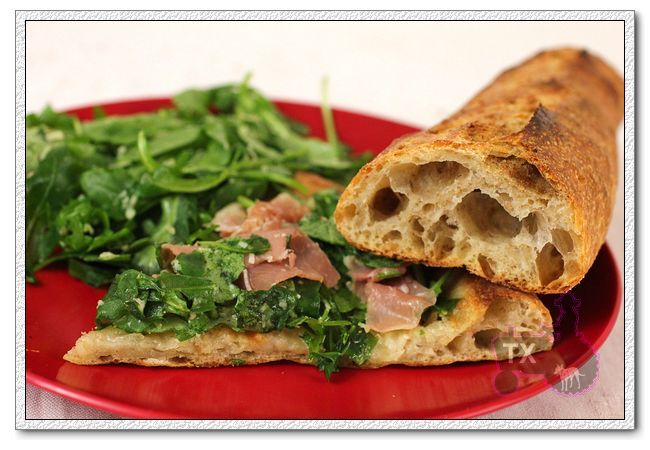 Sending this to Yeastspotting.