October 23, 2010 - 12:34am
Roman Pizza Dough Pizza's WFO Style
I was so inspired by Pamela's 'xiapete' post on the ZaZu resturants style Chanterelle mushroom and goat cheese pizza, she baked in Nov. of 09, I've been craving one ever since.  I finally found some lovely Chanterelle mushrooms.  I also baked a pizza Margarita style.  It was served with a lovely little organic chicken, I stuffed with fresh garlic, rosemary, lemon, s&p. and, some roasted peppers!  Roasted it all at the oven door while the fire was getting ready for the pizza's.
I made my version of Roman Pizza Dough from PR book American Pie, by adding Olive Oil.  I used King Arthur's Duram flour.
The crust is absolutely delicious.  My favorite way to have it is, stretched thin with a big blooming crown, that way I can enjoy this fabulous tasteing crust.  It can be stretched to a cracker thin crust.  My husband loved it, crust toppings and all...he said it was his favorite crust. 
                      Roman Pizza Dough
I made 4 large dough balls - or you can make six- 6- ounce balls
5 cups  (22 1/2 ounces) King Arthur All Purpose Flour
1/4 cup (1 ounce) semolina flour - I used King Arthur Duram flour -
1 3/4 teaspoons salt or 3 1/4 teaspoons kosher salt, I use sea salt
1 teaspoon instand yeast
1 3/4 cups plus 2 Tablespoons cool water (65F)
I added 2 Tablespoons of unfilter extra virgin olive oil
1. Mixed all ingredients in my KA until combined, using the dough hook and mix on low speed for about 4 minutes or until all the flour gathers to form a coarse ball.  Let the dough rest for 5 minutes, then mix again on medium-low speed for an additional 2 minutes or until the dough clears the sides of the bowl and sticks just a little to the bottom.  Adjusting the hydration or adding more flour if needed.  The dough should pass the windowpane test. 
I divided the dough into 4 balls and placed each one into an oiled plastic tub and refrigerated them until the next day.  Removing them about 2 hours before making my pizzas.
I stretch the dough out thin leaving a thicker area for the crown...add my toppings and bake, either a pre-heated convection 550 oven with stone, or in my WFO 800F and up. until the crust browns with a little charring.
         First the Chicken stuffed with fresh lemon, rosemary and garlic and drizzled with Olive Oil and Lemon Juice, S&P.  The oven omits so much heat the roasting is done at the oven door...which is very handy.
                                                            Oven getting good and hot for the Pizza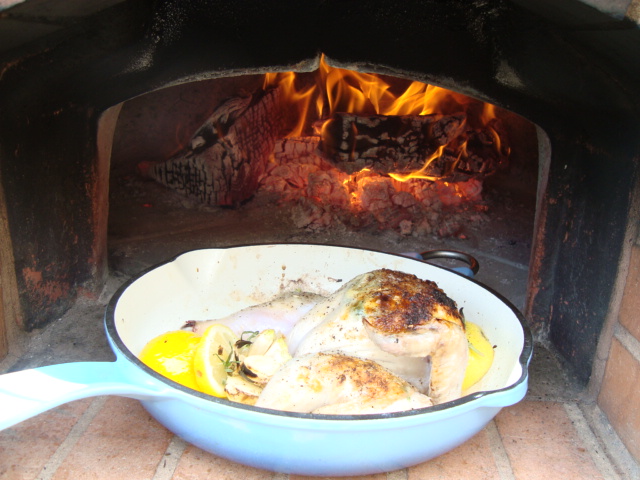 Fire Roasted Peppers - My Italian girlfriends moms recipe -
                                           Roast peppers, clean off charred skin, I leave a tiny bit of char for more flavor, add to bowl and cover with
                                   extra virgin olive oil, diced fresh garlic and sea salt to taste...refrigerate and keeps for a good week, delicious on
                        Sausage sandwiches or alone..I used to get grossed out watching my still girlfriend over 50yrs. eating her school lunch sandwich
                with just these peppers on it.  Little did I know!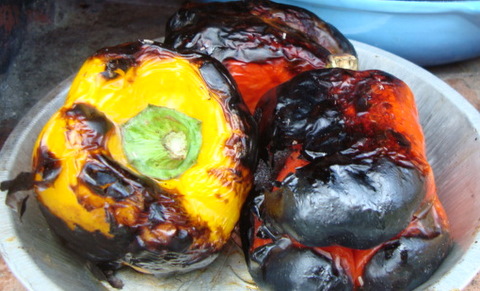 Ready for the Pizza's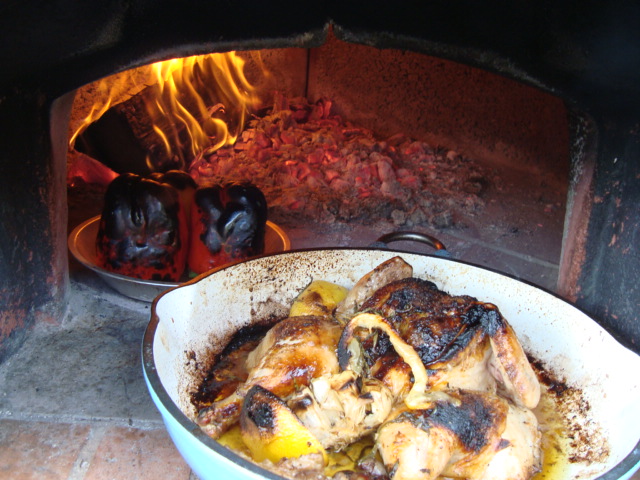 Pizza with Chanterelles, Goat Cheese, EVOO, Truffle salt and a smidgen of Pesto, Shaved Parmesean Cheese.
                                      What a great combo of ingredients...
                                                                            On my tweeked Roman Pizza Dough - Fabulous tasting!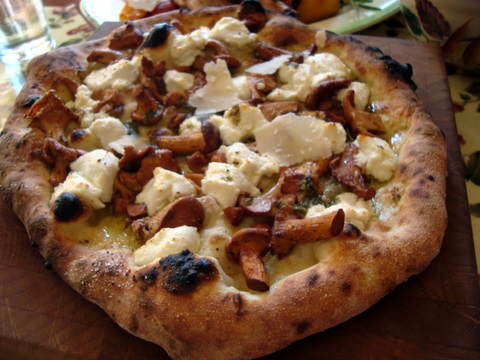 Crispy crust                    Submitted to  Yeast Spotting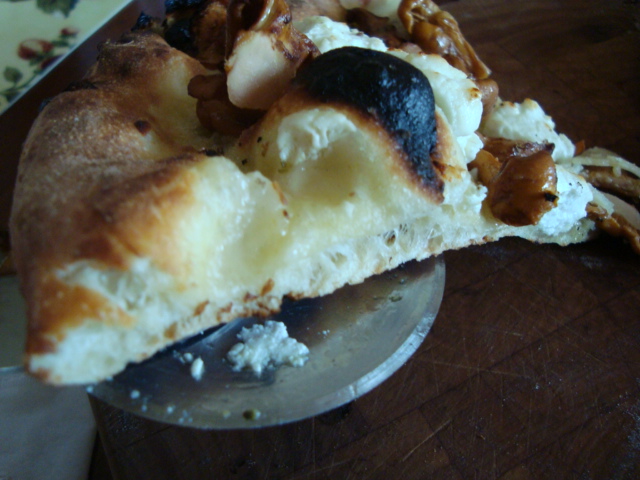 Tomato and Cheese - Still my Favorite - My sauce, herbs, garlic and San Marzano 
                                                   tomatoes.  Fresh mozzarella -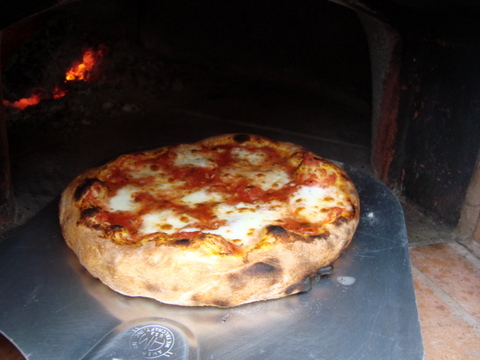 Fabulous tasting Crust...it's really a draw between the sauce and the crust, but I would have to pick
                                       the crust!  Fresh mozz makes all the difference!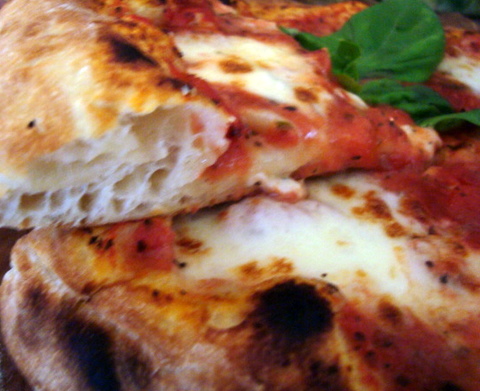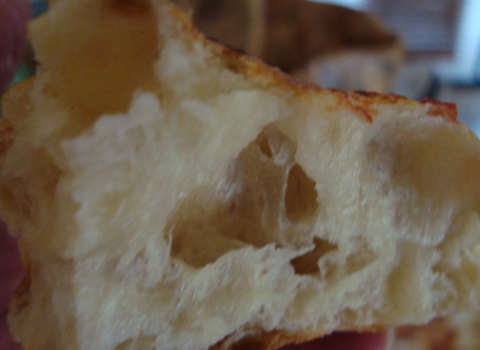 Crumb of the Crown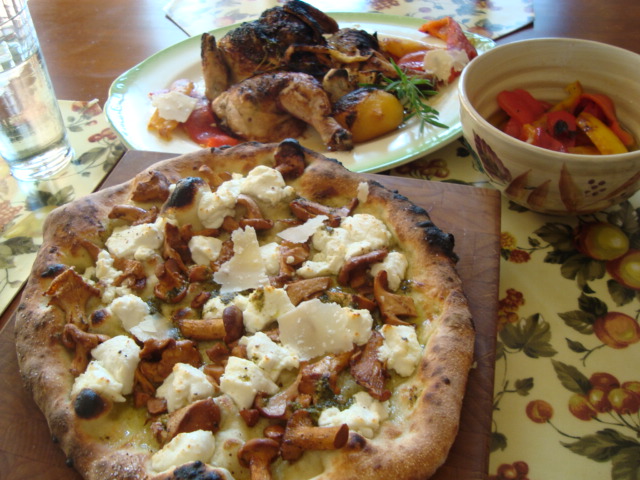 Sylvia