October 22, 2010 - 8:46am
Sourdough Semolina Loaf with Fennel & Sesame - another winner form Tartine Bread Book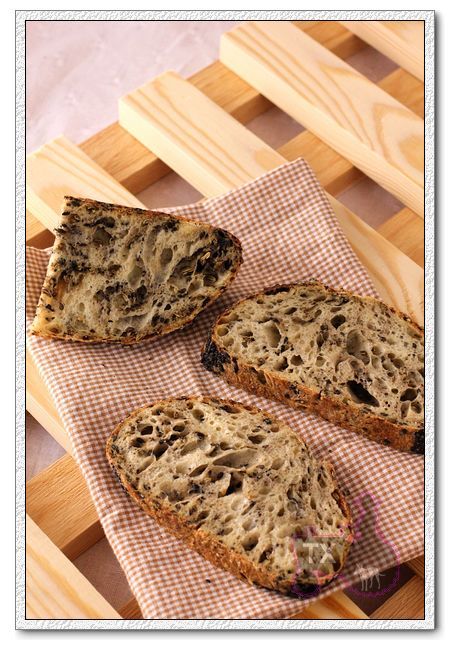 I swear I am not taking a cut from Chad Robertson (:P), I guess the formulas in the book just really works for me, so I keep going back for more. As I have mentioned before, it's not a cover-all bread book like "BBA" or "Bread", it only has a handful of base formulas (4 for lean breads to be exact), then some variations. Since I have posted about the Basic Country Bread and WW Country Bread, I am not going to post formula for this Semonlina loaf just to be fair to the author(s). if you like the breads, I think it's a book worth buying.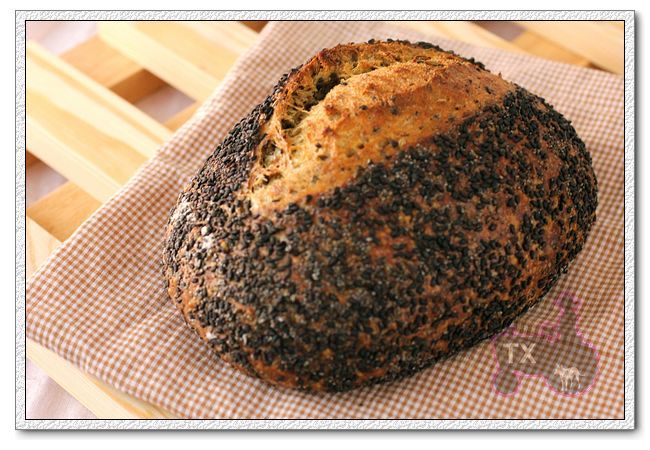 The procedure is similar to the other two breads, at 80%+ hydration, I am not suprised about the open crumb, but I was pleasantly surprised by the flavor combo - fennel seeds and black seame, both in the dough and on the crust, so frangrant! Both of those two seeds have such strong aroma on their own, I never thought they would mingle so well together! I was toasting them together before mixing into the dough, such heavenly smel! I knew it would be a winner then.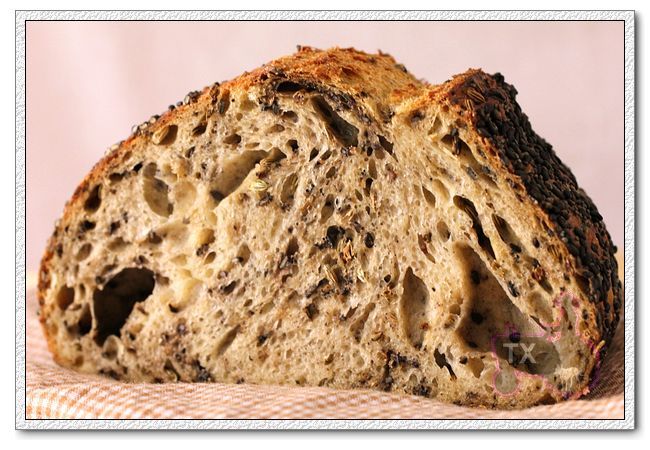 Open and colorful crumb, and trust me, it's an explosion of flavors in the mouth.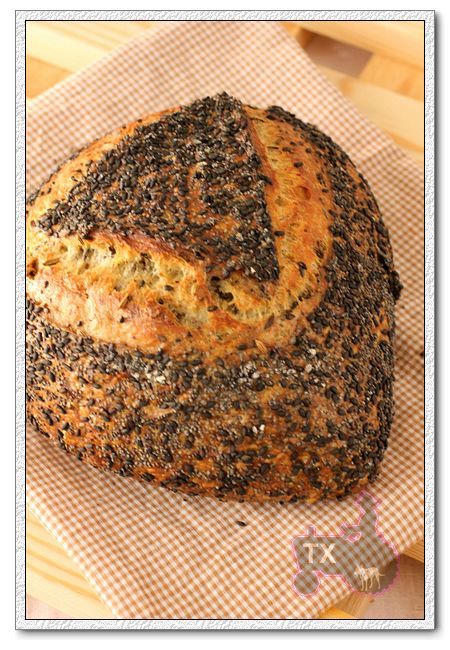 Recently bought a triangle proofing basket from here, I like the result. BTW, the basket is small, enough for 1lb dough probably. However, I did half the recipe this time since DH is out of town, so I had two 1lb loaves, one triangle and one oval, rather than the usual 2X 2lb loaves. I think it's actually better to shape into smaller loaves for two reasons:
1. High hydration dough tend to spread a bit on baking stone (Chad recommend to bake in a cast-iron pot thingy that I don't have), but it's much less noticable with smaller loaves;
2. The seeds on the crust came out just right after 35min in the oven, any longer, they would get burned a little, which happened to my bigger loaves before.
Last time, Sylvia wanted to see how my bastkets are floured, here's a picture of the oval one after being dusted with AP+rice flour - see the little bit of flour gathered in the left? I dumped those out after.
Needless to say, I will make this again, maybe try the other flavor variation in the book to combine fennel and raisin with semolina.
Sending this to Yeastspotting.