February 15, 2007 - 10:55am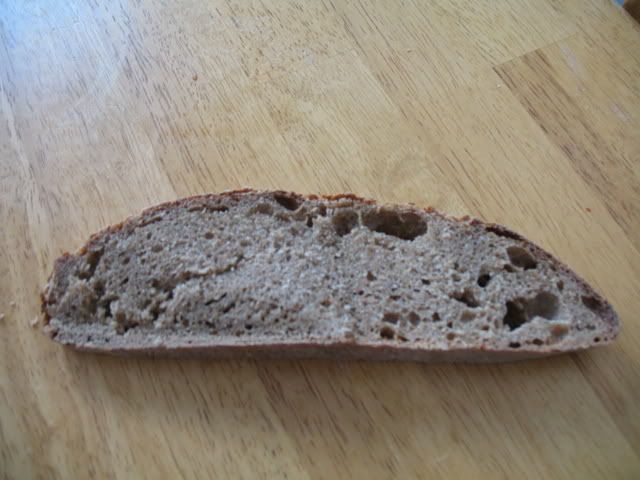 Well, I had mixed success with TomsBread's method. I mixed 450 grams of whole wheat flour with 388 grams of water (85% hydration) and just a pinch of yeast. I put it in the beer-cooler incubator at 85 degrees F for 3 hours, and than popped it in the fridge for about 15 hours. I then pulled it out, let it warm at 85 degrees for an hour, and tried my best to mix in 1 tsp yeast and 9 grams of salt. Wasn't easy, though, because the dough was very well developed by this point.

I then did a stretch and fold every half hour for a total of three, shaped it and let it rise for about 90 minutes. I forgot to slash the loaf, but I baked it in the cloche at 500 degrees for about 45-50 minutes, with 30 of those minutes covered.

The bread tastes great -- wheaty, sweet, a buttery after-taste with very little dry, bitter bran flavor. The texture is weird, though, which probably comes from my not mixing the yeast up well enough. Big holes in places with very dense sections elsewhere. "Fault lines" where the bread easily splits apart, as you can see on the lower left. I imagine thats from a layer of yeast that didn't get mixed. But I did learn that big (or moderately big) holes are possible and that 85% hydration doesn't have to mean flat bread. Next time, I think I'll try a combo of pain a l'ancienne with the NYT / Sullivan St. Bakery method. Mix up the full dough with cold ingredients and just 1/4 tsp of yeast. Pop it in the fridge for 12 hours or so. Then, pull it out, do three stretch and folds once per 45 minutes to an hour, shape and let it rise. Slowly.

Maybe I'll try it this weekend. If I do, I'll post how it went.