October 18, 2010 - 9:59am
3 variations on 36 hour soudough baguette - when it's good to play with your food
I am so glad that some of you tried and liked the 36 hour sourdough baguette formula. I am still making it every week - it's our Friday "treat". Of course, I just can't help messing with a good thing, so I modify the original formula a little bit each time, some turned out really well, the following 3 are my recent favorites:
1) Pumpkin baguette - a.k.a. I don't care it's still nearly 90F out, it's FALL!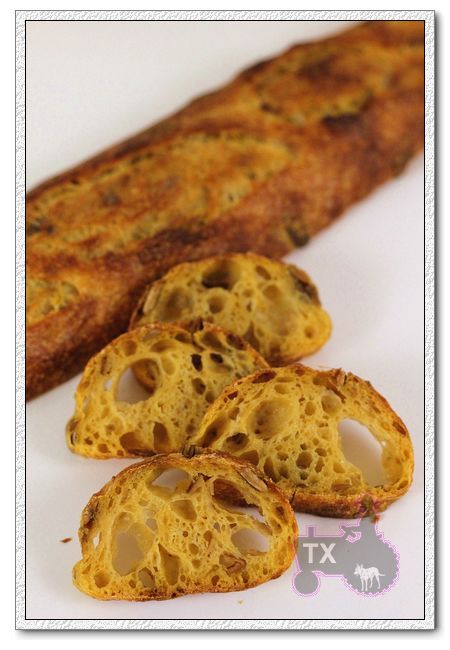 The idea came from this blog post, but I used pumpkin instead of butternut squash, toasted pumpkin seeds instead of sunflower seeds, and my basic 36 hour sourdough baguette formula.
AP Flour, 425g
pumpkin puree (I used canned), 165g
ice water, 223g
salt, 10g
starter (100%) 150g
pumpkin seeds, 50g, toasted and crushed a little
-Mix flour, pumpkin puree, ice water and autolyse for 12 hours.
-Mix in salt, starter, and seeds, then follow the basic 36 hour sourdough baguette formula here.
I find pumpkin puree generally makes bread moist but "sticky", which does make the crumb of these baguettes less open than the basic formula, but I think the brilliant golden color makes up for it, how very autumn-like.
Pumpkin seeds are bigger than sunflower seeds, so I crushed them a little before adding into the dough, they still "blocked" some holes, but the crunch and flavor they add to the bread was great.
I counted 50% of the pumpkin puree weight is water, which turned out to be a good assumption. The dough felt similar to my usual 75% baguette dough, and I think I am getting better at scoring this wet baby.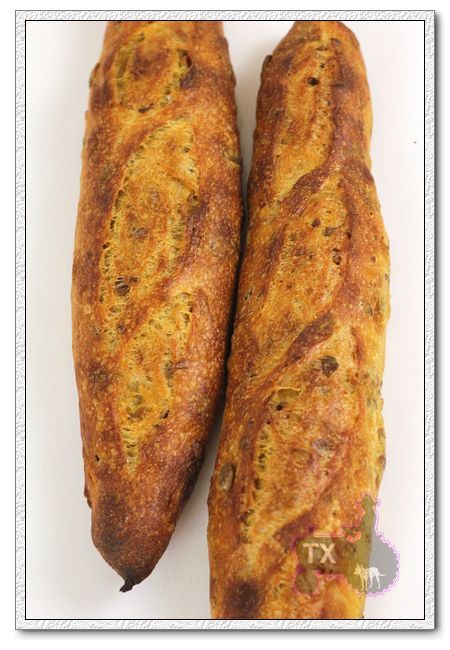 2) Wheatgerm baguette
This is inspired by a formula we did at the SFBI baguette workshop. I love baking with wheatgerm, even my hands smell nice after touch the dough.I noticed at the workshop that wheatgerm tends to absorb extra water and make the dough a little dry, so I added extra water to compensate. The hydration ended up being 78%.
AP Flour, 425g
ice water, 315g
salt, 10g,
starter (100%), 150g
toasted wheat germ, 11g
- Mix water, flour and wheat germ, autolyse for 12 hours. Then follow the basic 36 hour sourdough baguette formula here.
The increased hydration worked, I got very open crumb AND fragrant wheat germ flavor.
If you really look, you can see the wheat germ grains on the wall of those big holes
After making, and photographing so many baguettes, I was excited to find a new way to present it - in a paper bag!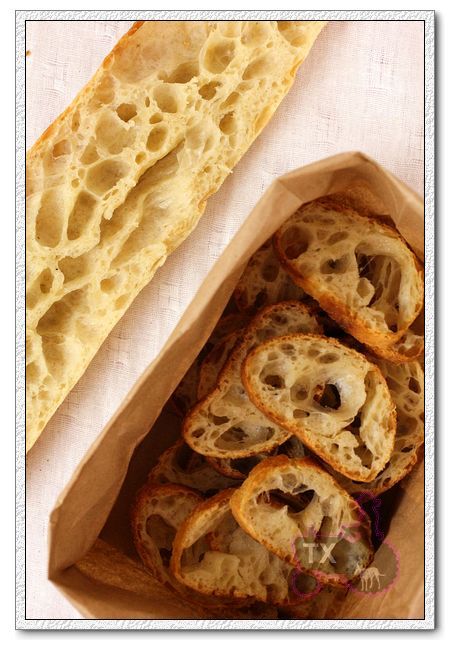 I was in love with the flavor, and thought it ahs become my favorite variation, until I made the next one...
3) Rye starter baguette - MY FAVORITE SO FAR!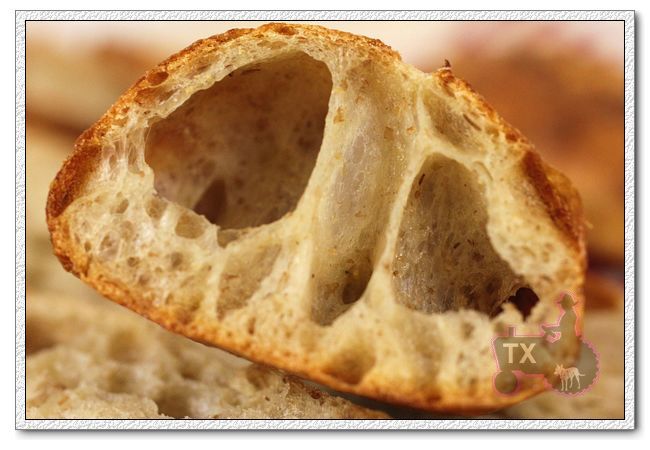 I have been wanting to add rye or other whole grain flour in the 36 hour baguette for a while now. In order to keep the open crumb, and the classic baguette mouth feel, I know I can't add too much. However, I do want to add enough to really taste the whole grain taste I love. This past weekend, I had a thought: instead of adding rye in the main dough, why don't I "add" it in the starter? Why not just use my rye starter instead of the white one? Since the formula has 30% of starter, which means the dough would have 15% of rye. The result is fantanstic, rye starter reallly adds noticable flavor even though rye ratio is low, at the same time, the crumb remains open, and crust is still thin and crisp.It's now my official favorite variation of 36 sourdough baguette, I am very happy that this experiment turned out so well!
Note that I did increase the hydration to 80%, mostly because I have been making breads from Tartine Bread Book, and its ww and semolina dough are both 80%+ hydration. Only that I forgot baguettes are a lot more tricky to shape than boules, oh, don't forget the minor details of scoring. I can now tell you first hand that scoring 80% wet baguettes is punishingly challenging. Crazy. Both I and the damn dough!:P
AP flour, 425g
ice water, 325g
rye starter (100%), 150g
salt, 10g
- follow the basic 36 hour sourdough baguette formula here.
Such open crumb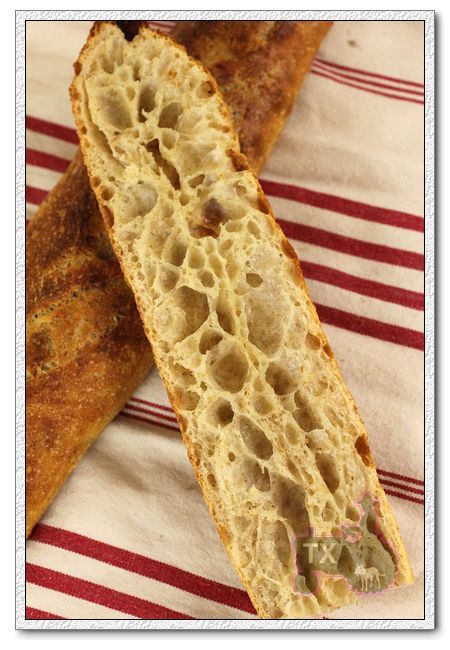 One can get lost in these holes. Can't you just see the rye? YOu can taste it too! From the wall of the holes, yu can really see how moist the crumb is.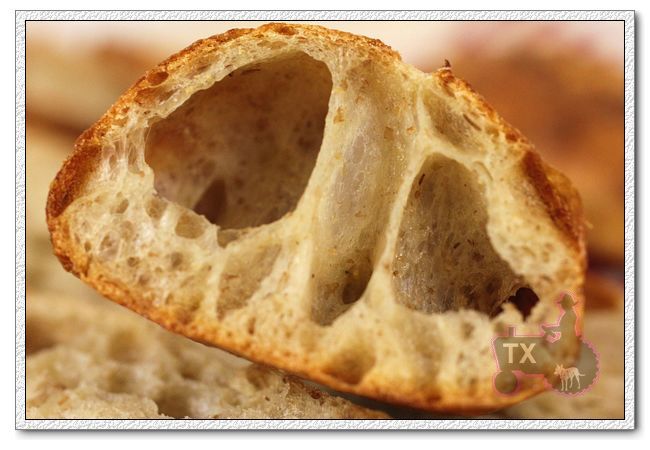 But the scoring left much to be desired, no matter, I know I will have plenty of opportunities to practice!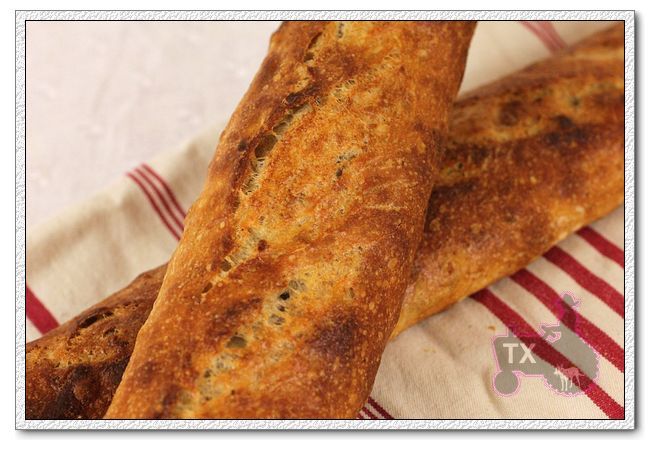 We usually eat these baguette as is, or simply with some butter or cheese, but I actually "loosely" followed a recipe from Tartine Bread Book and made a sandwich out of these rye baguettes. Tuna confit, roasted sweet pepper, fresh spinach, Yum!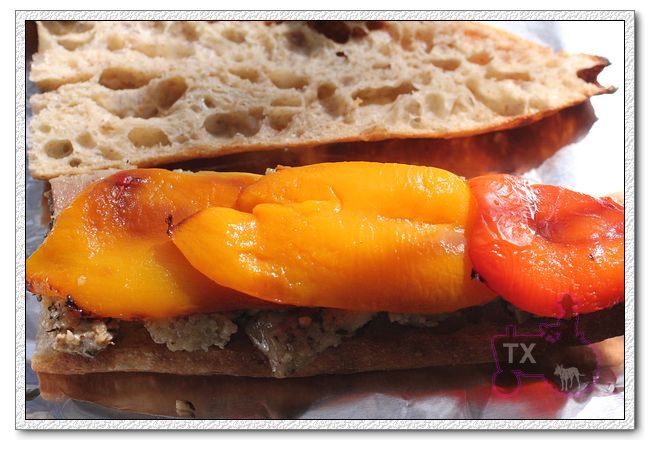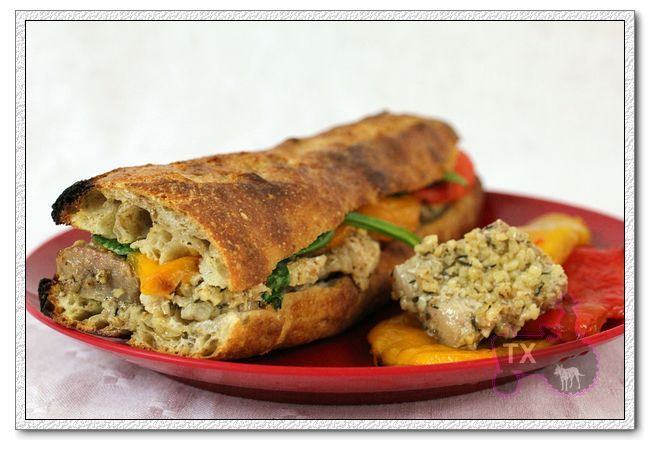 Submitting to Yeastspotting.