October 10, 2010 - 4:10pm
Tartine Whole Wheat Loaf - "hole-y" grail?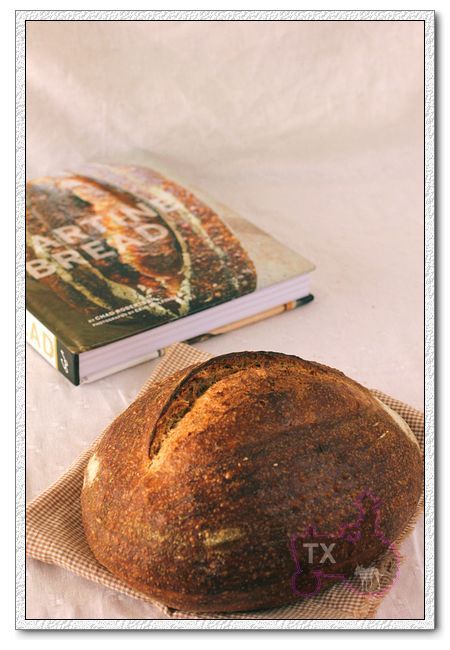 This is the WW loaf from the new "Tartine" Book, the procedure is very similar to the basic country loaf (which I posted about here), just with more WW flour(~70%) , even more water(80%+),  and slightly lower mixing temperature since whole grain flour fermentate faster.
One thing that bothers me about the book is his math - when he calculate baker's percentage for ingredients, he doesn't count flour in the levain. He doesn't use a lot of levain, so in reality it probably doesn't matter, but it bothers my engineering brain. That's why I adjusted the formula, so the ww amount is really 70%, both in levain and final dough. Phew, feel a lot better after that.
-Levain:
100% sourdough starter, 1/2 tbsp (I used 8g)
WW flour, 140g
white flour, 60g
water(78F), 200g
1. Mix and put in a cool place until it grows by 20%. If you pinch a bit of levain and put it in water, it should float. About overnight at 65F.
-Final dough
200g levain
700g ww flour
300g bread flour (book says AP flour but I used BF for the extra lift)
water(75F), 800g (I used a bit more, probably 20g)
salt, 20g
2. Mix levain, flour, 750g of water. Autolyse for 40 to 60min. Add the rest of water and salt, mix to combine.
3. Bulk rise around 80F for about 3 hours until it increase about 30% in volume. S&F every 30min in the first 2 hours, after that S&F according to what the dough needs. If mix with cooler water and let rise in cooler temp, the bulk rise time can be adjusted.
4. Divide and round, bench rest for 20min
5. Shape and proof upside down in floured brotform. I retarded my shaped dough in the fridge (40F) overnight, then warm up for another 30min before baking. The dough can also be proofed right after shaping for 3 to 4 hours at 75F to 80F.
6. Bake with steam for 45min at 450F.
Awesome oven spring, crackling thin crust that sang loudly. Since it's a very soft high hydration dough, at the begining of the bake, it tends to spread a bit, so I kept the oven temp at 500F for the first 5min, then dropped to 450F after that. The finished loaves are quite round and tall.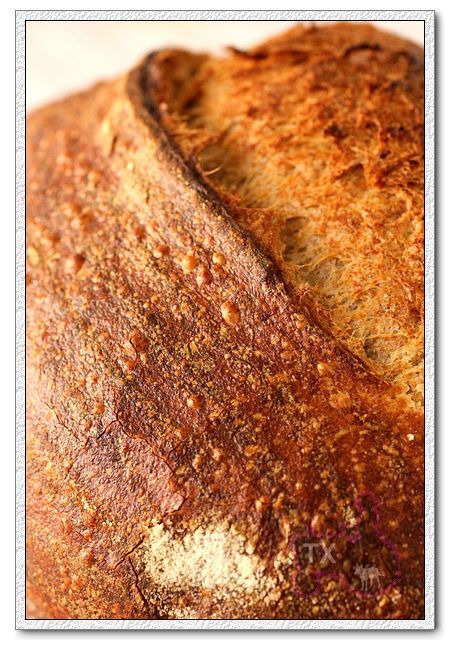 Quite an open crumb for so much ww
It's not quite as "hole-y" as the basic country loaf. Chad Robertson says whole grain hearth bread can indeed have open crumb, even though it might depend on many things including the type of the flour. I might increase the hydration even more to see how much I can push it.
Just like the basic country loaf, this bread is not noticably sour, but very sweet, very fragrant with whole grain flavor. Next up, I want to try the semolina formula.
Sending this to Yeastspotting.